If you're after the best loot-based games on PS5, you've come to the right place.
While loot-based games aren't everyone's cup of tea, there's something to be said for taking down hordes of enemies and being rewarded with a piece of gear that boosts your stats. Loot-based games seem to have become more popular in recent years too. Perhaps that's due to the success of the Borderlands series, which proved that the formula could work outside of isometric hack and slash RPGs. And so, if you're lucky enough to have a PS5, you might be wondering what are the best loot-based games available on it.
Luckily for you, we have you covered. As fans of loot-based games ourselves, we've sunk tens of hours into all of them. That means we're in a good position to let you know which ones are the best of the best. With that in mind, we've put together a short list of the best loot-based games on PS5 for your perusal. Take a gander, and you might just discover your next gaming obsession.
If you want more of the best loot-based games you can play on PS5, you can check out our list of the best loot-based games on PS4, too. They're all playable on PS5 thanks to backwards compatibility.
Want to support GameSpew? If you decide to buy any of the games on this list, please consider doing so via our affiliate links. It won't cost you anything extra, but we'll get a small slice of the purchase.
1. Diablo 4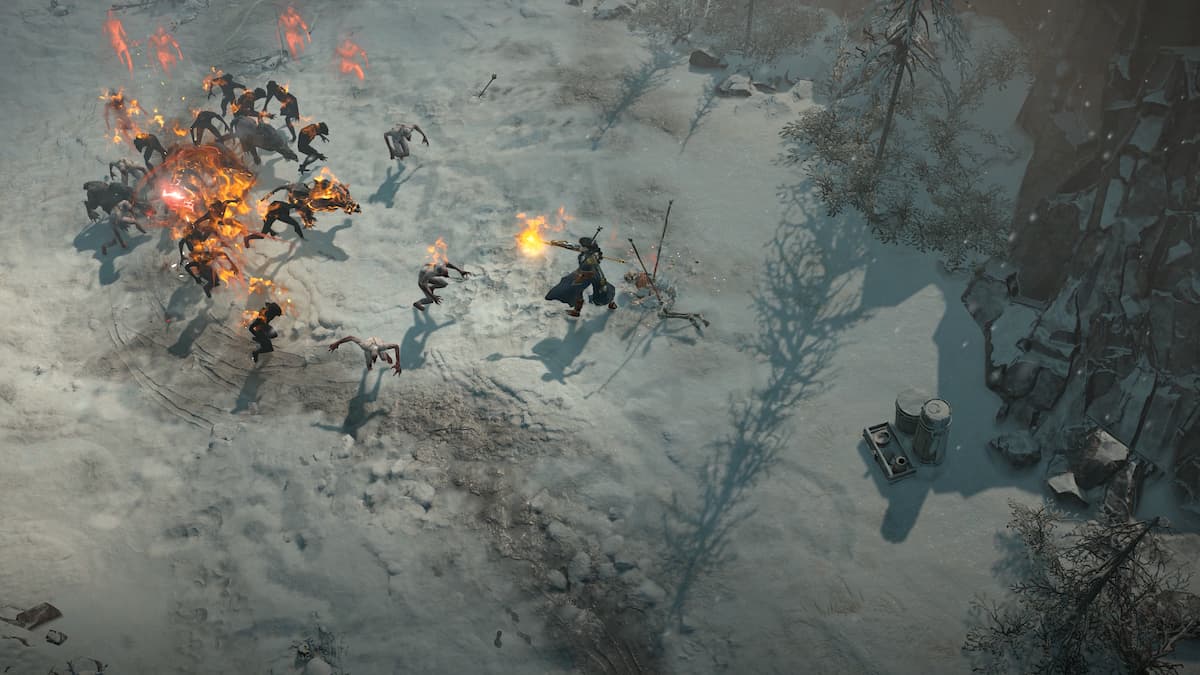 The latest entry in the Diablo series is finally here, and you know what? It might just be the best loot-based game ever made, regardless of format. Still, it looks and plays absolutely brilliantly on PS5, with crisp, detailed visuals, a silky smooth framerate and quick loading times.
For the most part, this is the Diablo that you know and love, combining the dark aesthetic of Diablo 2 and the improved quality of life features of Diablo 3. But this is the biggest Diablo game yet, with a massive open world to explore, a campaign with a story that's more engaging than ever, and lots of endgame activities.
With five character classes to choose from, each with their own unique skills, perks and more, you can have huge amounts of fun exploring the game's world, finding items and putting together builds that allow you push up the difficulty level and continue your adventures. And while this is an always-online affair, you can either go it alone or team up with others.
One of the most notable things about Diablo 4 is the new Aspects system. Basically, you can gain build-changing powers by completing dungeons and finding Legendary items. These can then be imprinted on your items to truly change how you play. So, if you're after the best loot-based games on PS5, consider this a must-have.
Check the price of Diablo 4 on Amazon
2. Outriders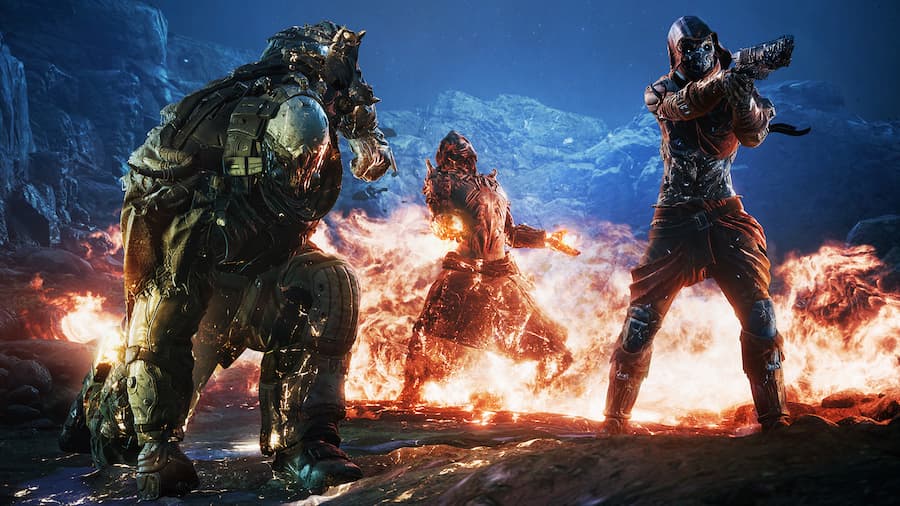 From People Can Fly, the creators of Bulletstorm, comes Outriders, a looter-shooter that combines Gears of War with Diablo.
In Outriders you're an Altered; a being with supernatural abilities thanks to coming into contact with an anomaly on an alien planet. The abilities available to you are dependent on the class that you choose at the start of the game, though thanks to online co-op for up to three players, you won't have to rely on just your own. But that's not to say that Outriders isn't enjoyable when played solo – the truth is, it's a blast however you play.
Combat in Outriders has a similar intensity to that of DOOM Eternal; it may look like a cover shooter, but it really wants you to take the fight to the enemy and stay on the move. There's also the fact that your primary method of healing is killing enemies and using weapons that leech the lifeforce from them. Needless to say, how you build your character is very important in Outriders, so you'll need to hunt down and customise the best loot if you want to see your journey to its end.
If you're after the best loot-based games on PS5, you need Outriders. It's as simple as that. There's an expansion available now, too. Worldslayers adds a new campaign, endgame activity, and close to 100 pieces of legendary gear. Along with other changes, it's a must-have for those really wanting to get the most out of the game.
Check the price of Outriders on Amazon
3. Tiny Tina's Wonderlands
For its latest game, Gearbox took inspiration from one of its best expansions for Borderlands 2. The result is Tiny Tina's Wonderlands.
In this spin-off from the Borderlands series, Tiny Tina finds herself playing her favourite game, Bunkers and Badasses, with a new bunch of friends. And so with a story created and narrated by her, you know you're in for something crazy.
Ultimately, this feels like a Borderlands game but with a few key changes. There are melee weapons, for example, and grenades are replaced with spells. Perhaps the biggest difference is that there's an actual overworld you can explore, complete with quests to complete and random battles to survive. In any case, whether you're a Borderlands fan or not, Tiny Tina's Wonderlands wonderlands is likely to prove to be a highly entertaining endeavour if you're after the best loot-based games on PS5.
Read our review of Tiny Tina's Wonderlands
Check the price of Tiny Tina's Wonderlands on Amazon
4. Borderlands 3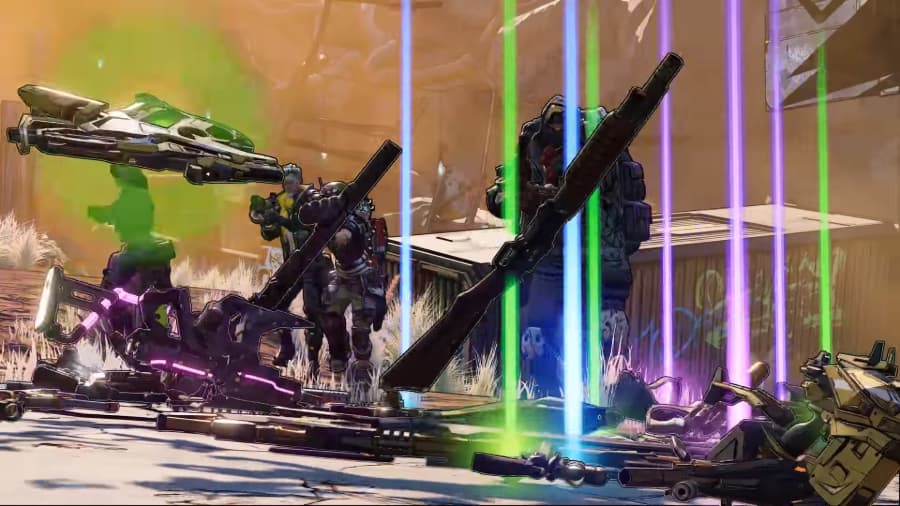 While Borderlands 3 was originally released on last-gen consoles alongside PC, it's truly come into its own now that it's also available on next-gen consoles including PS5. Even better, if you already own the PS4 version, you get a free PS5 upgrade.
The latest in the Borderlands series is the best – at least from a gameplay perspective, anyway. While Borderlands 3's story might not captivate you like that of Borderlands 2's, it's still enjoyable if you're into silly humour. But what really matters is that Borderlands 3 is a much better game; it has more varied environments, better build options and way more loot.
Honestly, no game has more guns than Borderlands 3. There's just so many of them, with so many unique properties. It makes your fast-paced first-person antics all the more fun; you'll find yourself killing bandits and troublesome creatures across multiple planets forever in the hope that you'll find a new weapon that puts your current one to shame. Perfectly playable solo, Borderlands 3 does particularly shine when you play it in co-op, however; more firepower means more chaos. And once you're done with the game's lengthy campaign, there's yet more fun to be had if you pick up either of the season passes available. It's perhaps not the best loot-based game on PS5, but it's up there.
Read our review of Borderlands 3
Check the price of Borderlands 3 on Amazon
5. Gotham Knights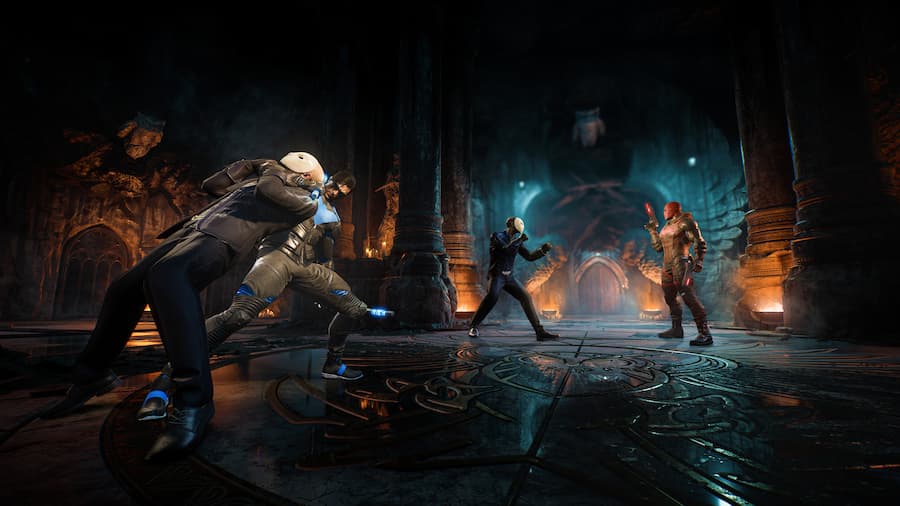 Fancy yourself as a superhero? Gotham Knights presents an interesting scenario: Batman is dead, and so as one of his proteges it's up to you to figure out what led to his demise and clean up the streets of Gotham.
Each night you'll head out onto the streets, cracking down on opportunistic crimes and those that have been meticulously planned, all the while collecting information about the bigger goings-on around Gotham City. Once you've gathered enough evidence there are main story missions to complete, as well as a wealth of side-content that will have you going up against some familiar villains.
While you choose one of four characters to play as at the start of Gotham Knights – Batgirl, Robin, Nightwing or Red Hood – you can change between them if you wish. Each has their own assortment of skills and abilities, but to truly get the best out of them you're going to need to find powerful gear. And that's where much of the fun in Gotham Knights lies – looting everything you can in the hope of growing ever more powerful.
Gotham Knights has its issues, but if you're after the best loot-based games on PS5 and love DC, it's well worth playing.
Read our review of Gotham Knights
Check the price of Gotham Knights on Amazon
6. Soundfall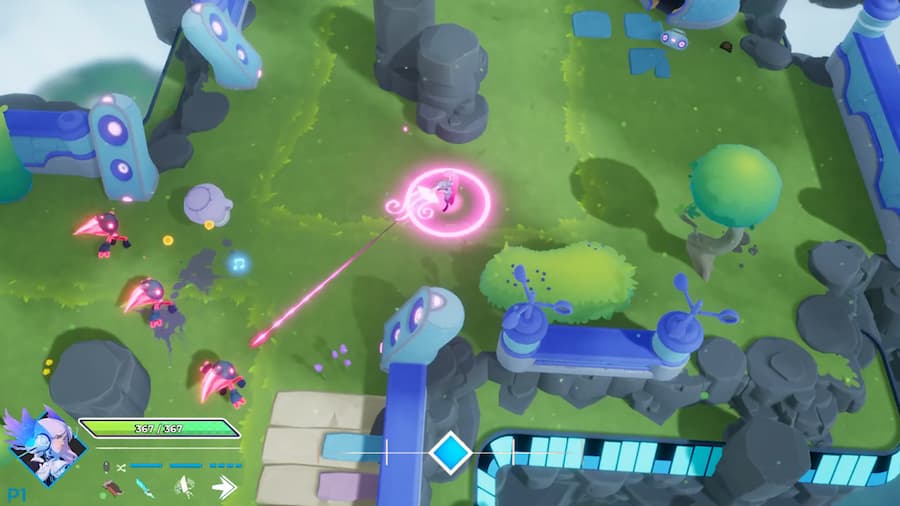 Soundfall is a little different from the other titles on this list of the best loot-based games on PS5. While it does have plenty of loot, it isn't as much a key focus as some of the other games. Rather, Soundfall is more about rhythm: a dungeon crawler with twin-stick mechanics, it challenges you to shoot your enemies to the beat of the soundtrack.
Its world is also more colourful than most other loot-based games, too, making for a refreshing change. Its soundtrack, a mix of dance, rock and pop, will keep you bopping along, hitting the trigger in time to the rhythm. Each level is only short – typically the length of the song – but it's by going off the beaten track that you'll find more loot.
It's hidden in chests, and you'll also be rewarded with various bits of gear as you play. New guns and other pieces of equipment can drastically change your experience, so it's worth seeking out as much as you can. It might not be your typical game filled with loot, but Soundfall is well worth a try, particularly if you fancy something a bit different.
7. Godfall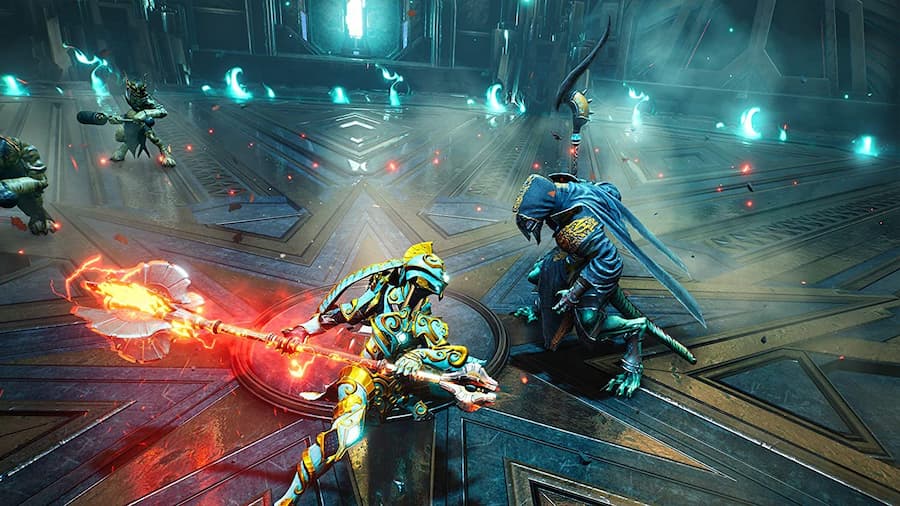 Godfall is pretty unique. A third-person action role-playing game, it allows players to unlock a range of Valorplates that not only change their character's appearance, but also their class.
Of course, characters can also be customised further. Augments can be used to tweak each Valorplate to their user's needs, and then you have five weapon classes to consider. Whether you choose a longsword, dual blades, polearm or any of the two other available, you're likely to have a dramatically different gameplay experience. At least one thing will remain constant, however; a focus on tense, exhilarating combat. And you don't have to engage in it alone – like all good loot-based games, Godfall lets you team up with others online.
Godfall hasn't received the warmest reception from critics, but those seeking out the best loot-based games on PS5 should definitely give it a try. For those who love collecting loot and building their characters it's an interesting proposition, and the fact that it looks so nice is just the icing on the cake.
Check the price of Godfall on Amazon
8. The Division 2
This sequel to Ubisoft's 2016 looter-shooter hit is an improvement in pretty much every way. Shifting the action from Manhattan to Washington D.C., the scenery is more varied, making your journey through the game's story much more visually appealing. On top of that, there are many gameplay enhancements, improvements to the game's loot system, and much, much more.
While The Division 2 is technically a PS4 game, it has received a patch that enables it to tap into the power of the PS5. That means you can enjoy playing it at an improved resolution and a silky smooth 60fps. And it makes a major difference in a game like this, where just one hiccup can make all the difference between saving the day and grabbing some valuable loot, or being downed and having to go back to the last checkpoint.
It's true that there's already a third-person looter-shooter on this list, but The Division 2 is so far removed from Outriders that it deserves its own spot. Here, cover is something that you'll actually want to use, and the action is much more grounded and serious. So, if you want to try to save America and collect mountains of loot as you go, seriously consider picking The Division 2 up.
Read our review of The Division 2
Check the price of The Division 2 on Amazon
9. Warhammer: Chaosbane Slayer Edition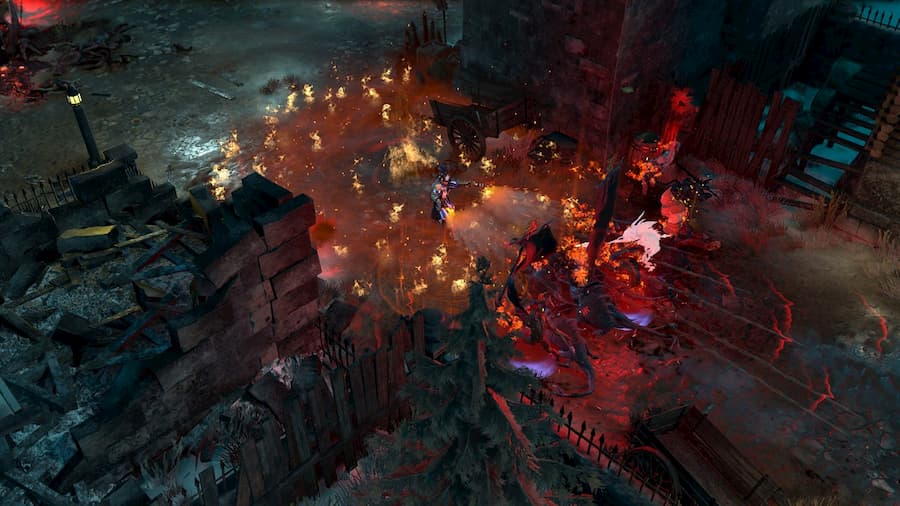 When it comes to isometric action RPGs with mountains of loot, we've already established that Diablo 2: Resurrected is perhaps the best there is on PS5. But if you're a Warhammer fan, then it also might be worth considering Warhammer: Chaosbane Slayer Edition.
Bundling up the base game with all post-launch content, as well as improving the visuals, Warhammer: Chapsbane Slayer Edition takes a solid action RPG full of loot and makes it even better. In a lengthy campaign you'll take control of one of numerous characters and battle your way through an assortment of foes. And it's the skills you learn and gear you equip that allows you to hit harder and survive more damage.
It doesn't quite have the depth as Diablo 2: Resurrected, nor does it feel quite as fine-tuned or enjoyable to play. But those familiar with the Warhammer universe will get an extra kick out of it, and it's good fun even for those who aren't. So, definitely give it some consideration, especially once you've exhausted some of the games above and still want more.
Read our review of Warhammer: Chaosbane Slayer Edition
Check the price of Warhammer Chaosbane Slayer Edition on Amazon
10. Diablo 2: Resurrected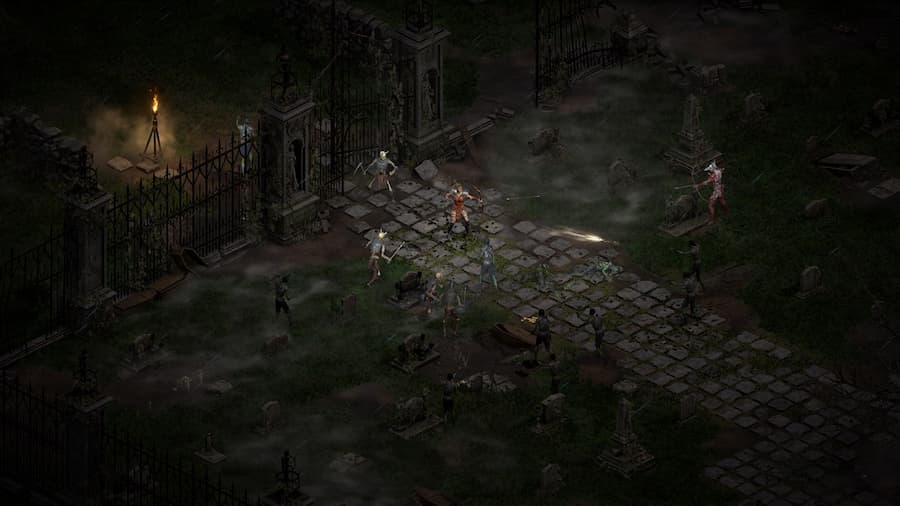 There's already a Diablo game on this list of the best loot-based games on PS5, but it wouldn't be complete without this remake of the classic Diablo 2.
Released way back in the year 2000, Diablo 2 has been given a new lease of life thanks to Diablo 2: Resurrected. It takes the original game and places snazzy 3D graphics over the top, ensuring its gameplay stays true to the original while its visuals appeal to modern audiences. There have been some tweaks, though, not only to make it a little more accessible, but also to build upon and enhance its gameplay.
You can play with a controller, for example; a must-have on PS5. And recently, an update was released that added more Rune Words to the game, a feature that allows you to create items, as well as additional character balancing. In any case, this game may be more than 20 years old now at its core, but it's still quite possibly the king when it comes to the best loot-based games on PS5. Make sure you give it a try.