We always wonder how Codemasters is going to improve its entries in the F1 series from one year to the next – sometimes it seems like an impossible task. Things were perhaps a bit easier this year thanks to the lacklustre F1 Life mode that was introduced in F1 22. It's no surprise that it doesn't make a return, and what has been added makes F1 23 a more rounded and enjoyable experience for all.
For a start, the Braking Point story mode is back. Braking Point 2 continues where the story previously left off, with Aiden Jackson still trying to raise his profile. Now at a new team, he's hampered, however, by the fact that his teammate is also his biggest rival, the troublesome Devon Butler. While the gameplay remains pretty much the same, with challenges to complete in each event, there's much more drama this time around and some neat twists. Between races you sometimes get to be the manager of the team, for example, making important decisions that may have an effect further down the line. And Aiden Jackson won't be the only person you'll be racing as on the track.
Forget Braking Point 2, though: the biggest and perhaps best new feature of F1 23 is F1 World. This inexplicably replaces your general quick race and time trial options, but we'll forgive the extra legwork now required to set up such events. F1 World is essentially a new, more gamified, career for you to get stuck into. Starting with a basic car, you can jump into a wide range of events such as races, time trial events and even challenges in sports cars, and your efforts are rewarded with cash and other rewards such as car upgrades.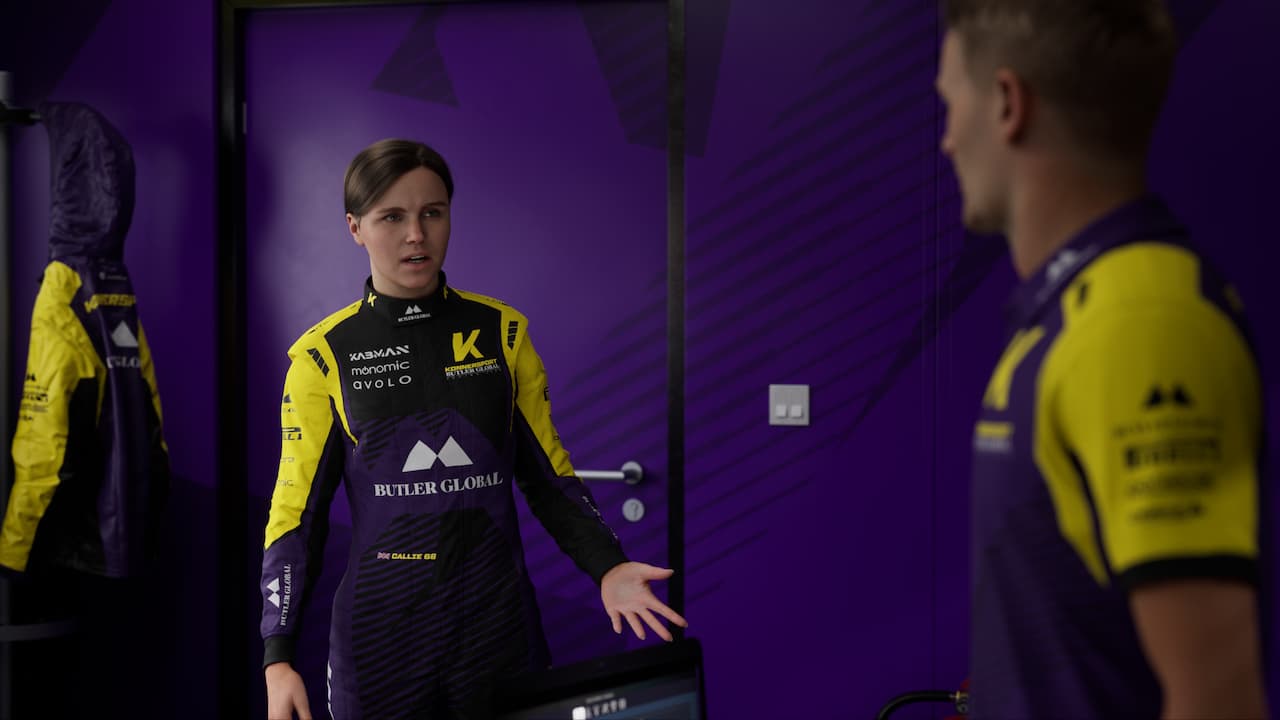 Elements of last year's F1 Life are incorporated, too, if you somehow miss being able to customise your own space, show off your trophies and display your collection of exotic cars. Ultimately, F1 World feels like what F1 Life should have been: a place to race online or off, in a wide range of events that inject a bit more fun into proceedings. Racing etiquette is also drummed into you here, with a licence system rewarding those who practice safe and skilled racing.
Related: The Best Racing Games on PS5
These new additions perhaps come at the expense of any real advancements to the staple career mode found within F1 23. It's pretty much business as usual, with you choosing whether you want to run your own team or simply be a driver, and then choosing whether to jump straight into F1 or make your way up from F2 . In fact, it's hard to spot any notable improvements in career mode, but honestly, it's not really an issue,especially considering some of the global changes that improve the game on the whole.
The new Las Vegas circuit is included, for example. And Qatar. They make all modes a little more exciting. There's also a new 35% race length option, which will please esports fans and those who found the previous options either too short or too long. And Red Flags are now a possibility during events, bringing races to an unfortunate end should there be a serious incident. They may be rare, but it's another thing that makes F1 23 more unpredictable and authentic.
All of this is in addition to the usual yearly tweaks. F1 23 has all the latest teams and drivers, as you'd expect, and the physics and handling models have been adjusted to not only take into account the latest regulations, but also make the game play better with a controller. As a result, you'll find that vehicles are a bit more responsive to your commands and also a little less unruly in certain scenarios. Even the colour grading has been given some attention this year, leading to a more realistic looking presentation.
We've been playing F1 23 on PS5 for review, and we have to say that it looks and runs great. In quality mode the game runs at a solid 60fps and the visuals are wonderfully crisp. Those wanting a higher framerate can opt for performance mode if they wish, and the game still looks great. Great use is made of DualSense features, too, with haptic feedback, adaptive triggers and the controller speaker all made use of to further immerse you in the racing action.
F1 23 is pretty much a faultless racing experience. While its career mode may be lacking in innovations this year, the return of Braking Point and the new F1 World mode more than make up for it. Add in other improvements and features, and you have what is undoubtedly the best F1 game yet. If you're an F1 fan this is an absolute must-buy as usual, but even racing game fans in general would be wise to add this to their collection. With its wealth of content, brilliant handling and sublime presentation, F1 23 is simply racing at its finest.
---
F1 23 Review – GameSpew's Score
This review of F1 23 is based on the PS5 version, with a code provided by the game's publisher. It's available on PS4, PS5, Xbox One, Xbox Series X/S and PC.