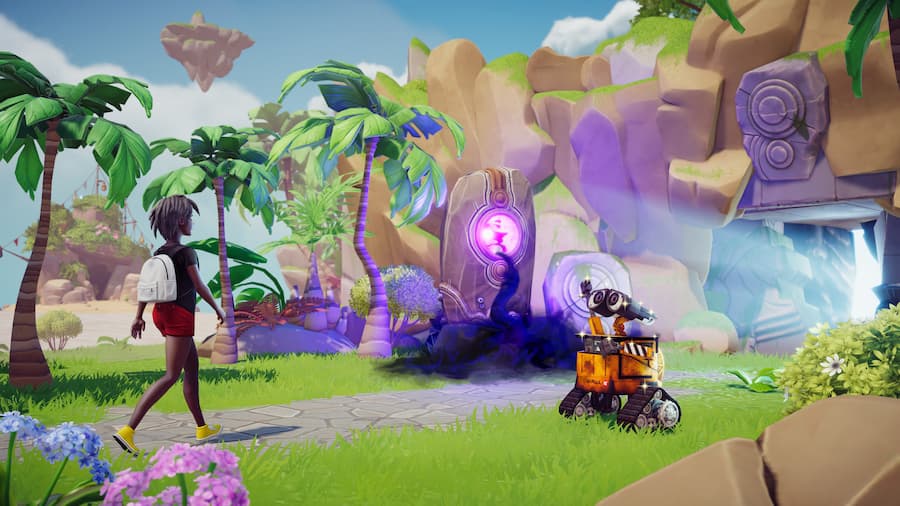 Do you need help completing 'The Forgotten Relics' quest in Disney Dreamlight Valley, a brand new story quest that's part of June's update to the game? We've got you covered. The Forgotten Relics will become available in Disney Dreamlight Valley a day or so after completing 'Miracles Take Time'. You don't need to do anything other than continue playing, or wait. When enough time has passed, you'll find the quest available to select in your quest list.
To start it, you'll need to go talk to Merlin. You'll talk about the Forgotten, and the strange cracks that are starting to appear all over the valley. Following your conversation, you'll need to follow him to outside of Mickey's house. When you're there, talk to Merlin again.
Enter Mickey's house: you need to find something connected to the Forgotten. We found a book on his coffee table that was glowing with black smoke. Pick it up and take it to Merlin. Turns out there are three more forgotten relics to be found in Disney Dreamlight Valley – and we're going to have to hunt for them ourselves.
Where to Find the Forgotten Relics in Disney Dreamlight Valley
The relics are scattered all over the Valley. To hunt them down, you need to pay attention and look for the purple, glowing cracks. Where those cracks appear, you'll find a relic. For each relic you find, you'll also need to uncover its story, and that means talking to the character related to it.
For the book we found in Mickey's house, simply talk to Mickey. Read on to find out where we found each of the other three items, and what you need to do to uncover their story.
In the cave on the beach: You'll find a bucket and spade in the cave where you first met Ursula To find out its story, first talk to Ursula and then Moana.
In Scar's cave: You'll find a drawing of scar on the floor in Scar's cave in Sunlit Plateau. Talk to Scar about it to uncover its origin.
In the cave in Frosted Heights: Enter the mystical cave at the back of Frosted Heights, where you'll find a blanket tucked in the corner near the bookshelf. Talk to Olaf, then talk to Elsa to find out its story.
Go hand the relics to Merlin, and you're done. The next quest – The Dark Castle – will begin immediately, taking you through a portal to a darker realm. Spooky.