There's currently over 400 (!) games available on Xbox Game Pass. And so trying to pick a game suitable for all the family can be quite a tall task.
But with so many games to choose from, it at least means, buried amongst more violent games for adults, are plenty of games that kids, parents and grandparents alike can enjoy together. Whether it be a local multiplayer game that everyone can play together, or something fun and colourful that's easy to take turns with, there are lots of great family games on Xbox Game Pass.
Wondering which ones are the best family games on Xbox Game Pass? We've got you covered right here. Read on to see our recommendations.
This list was originally published in October 2021 and has been updated periodically since.
Check latest deals on Xbox Game Pass
1. Hot Wheels Unleashed
Kids and adults alike love Hot Wheels cars. They're colourful, they're fun, and collecting them can be a blast. But what's also a blast is racing them around the multitude of tracks in Hot Wheels Unleashed, an exhilarating racing game that sees you performing loop-de-loops, whizzing over boost pads and avoiding crazy obstacles. It's one of the best family games on Xbox Game Pass hands down, and split screen allows you to go head-to-head. Though it's just as much fun to pass the controller around in single player mode, too.
Read our review of Hot Wheels Unleashed
2. LEGO Star Wars: The Skywalker Saga
In our opinion, LEGO games make the perfect family games, and the latest – LEGO Star Wars: The Skywalker Saga is now available via Game Pass. This epic game spans all nine mainline Star Wars films, retelling the story with LEGO's signature humour. There's drop in and drop out co-op, so two players can join forces to smash their way through bricks and droids. Playing through the campaign is great, but there's just as much fun to have by hanging around in one of the game's many open areas and hunting down collectibles. There's dozens upon dozens of hours of gameplay here, and it's a must-have for families of all ages.
Read our review of LEGO Star Wars: The Skywalker Saga
3. Pac-Man Museum+
Pac-Man Museum+ is exactly what its title suggests: a museum of various Pac-Man games. By wandering around your own digital arcade, you can walk up to any machine and jump into a Pac-Man machine. The originals are here, providing a great introduction to classic arcade games to younger players. There's also a bunch of Pac-Man games you probably didn't even know existed, and the more moden (and excellent) Pac-Man 256.
Read our review of Pac-Man Museum+
4. Tinykin
Tinykin is one of our favourite platforming adventure games of recent years. In it, you play as a tiny spaceman who finds himself trapped in an alien landscape. That alien landscape, however, is one very familiar to us humans: it's the inside of a very normal-looking home. You'll explore this vast and strange land by climbing onto shelves, looking underneath the sofa, jumping ship into the bathtub, and more. It's a huge amount of fun, and parents and kids alike will get a huge kick out of playing.
5. Disneyland Adventures
We love Disneyland Adventures, and if your family is a fan of Disney, then they will too. Disneyland Adventures is essentially a digitally recreation of Disneyland. There are rides, attractions, shopping streets, Disney characters to meet, and even a huge enchanted castle. As a game, it's an open world for players to do whatever they want in. You can even ride the rides if you want! You can dress up your character in all kinds of outfits, collect autographs, and simply enjoy the fun of being at Disneyland without any of the queues. It's one of the best family games on Xbox Game Pass simply because it's like being at Disneyland together. Well, okay. Not quite. But it's the closest thing most of us can ask for without getting on a plane.
6. Overcooked! 2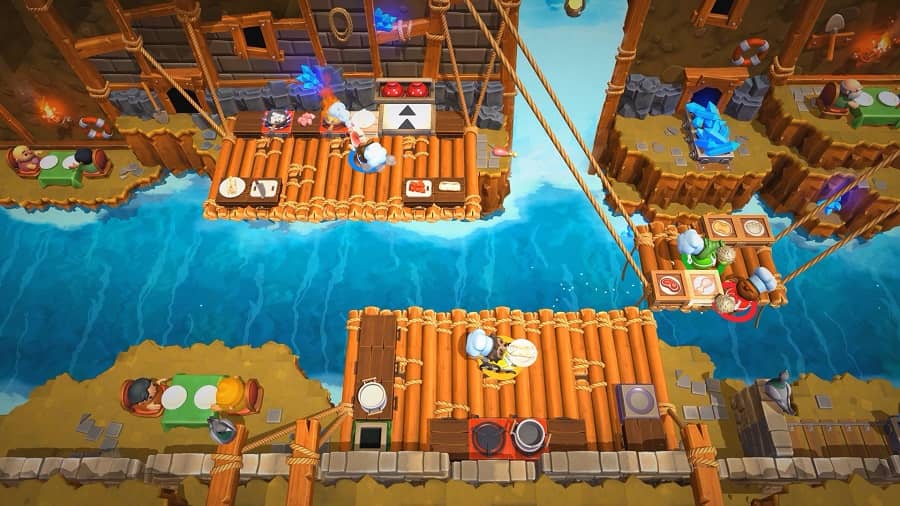 When it comes to suggesting family games that everyone can enjoy together, Overcooked! 2 is always one of the first titles that comes out of our mouths. Why? This chaotic but fun game is all about working together, and the situations you'll find yourself in are simply hilarious. The goal is to deliver meals to your customers – so you'll need to wash plates, prepare food, and serve it up. But you'll be doing so in some rather… interesting situations. How about a kitchen that splits in two after an earthquake? Or a kitchen that's suspended high above river rapids, as in the picture above? Up to four players can join in Overcooked! 2, and it really is a case of the more players you have, the more fun it becomes.
Read our review of Overcooked! 2
7. Rare Replay
Rare Replay isn't just one game. It's a collection of thirty – and some are more family friendly than others. Not everyone will enjoy playing Perfect Dark for instance, but the adorable Viva Pinata makes for one of the best family games ever made. The 30 games are a bit of a mixed bag, but this collection offers a wonderful lesson in video game history for younger players. You see, the collection goes back right to the start of Rare's existence, with their earliest 2D games included. They may be a little dated now, but we think it's great fun to show kids how far games have moved on in the last 30 years. But amongst all the games are some really great games for all the family. And so if you have Xbox Game Pass, it's well worth adding it to your library.
Read our review of Rare Replay
8. Rush: A Disney Pixar Adventure
When it comes to the best family games on Xbox Game Pass, you can't get much better than Rush: A Disney Pixar Adventure. A 3D adventure game, it takes place in six popular Disney Pixar worlds: Ratatouille, The Incredibles, Up, Cars, Toy Story and Finding Dory. Each world has its own story, allowing players to take control of their favourite Pixar characters, and explore their worlds. Even as adults, we got a huge kick out of Rush. But this is absolutely designed with younger players in mind, with some adventuring and platforming challenges that even the youngest of players can get to grips with. It looks fantastic too; it's easy to imagine that you're actually part of a Pixar movie while playing.