Can't get enough of Vampire Survivors? As simple as its gameplay may be, there's something enticing about it. Once you start, it's hard to put down: you're craving the next upgrade, desperate to see how far you can get. But what if you've exhausted it, or you're looking for something similar but perhaps with a different theme or setting? We've got you covered: here, we've rounded up a selection of the best games like Vampire Survivors on PC.
Each game on this list has been tried and tested (and loved) by us. They all offer something slightly different, but at their core, they share the same values as Vampire Survivors. You'll spend your time cleaning screens filled with enemies, collecting experience and upgrades as you go along, forever getting better weapons and skills.
So: look no further than our list below of the best games like Vampire Survivors on PC. The best thing? Most of them are available for the price of a coffee or less on Steam. So you've got no excuse not to jump in. We will warn you, though: you'll find each and every one of them just as hard to put down as Vampire Survivors.
1. Yet Another Zombie Survivors
Despite having an awful, awful name, we absolutely love Yet Another Zombie Survivors. Like several titles on this list of best games like Vampire Survivors, it's currently in Early Access. That means it's pretty barebones at the minute: there's only one map available, but more will be added in time. Don't let that put you off, though. It sports great 3D visuals, and getting to shoot and dice your way through hordes of zombies never gets old.
What sets Yet Another Zombie Survivors apart is that you don't just play as one character: you can recruit three. Each character has their own weapon and skillset, and so by choosing the best team you can create some pretty neat synergies. Our favourite so far is the Technician's Tesla gun combined with the Tank's spinning blade drones. Perfection.
Read more about Yet Another Zombie Survivors
2. 20 Minutes Till Dawn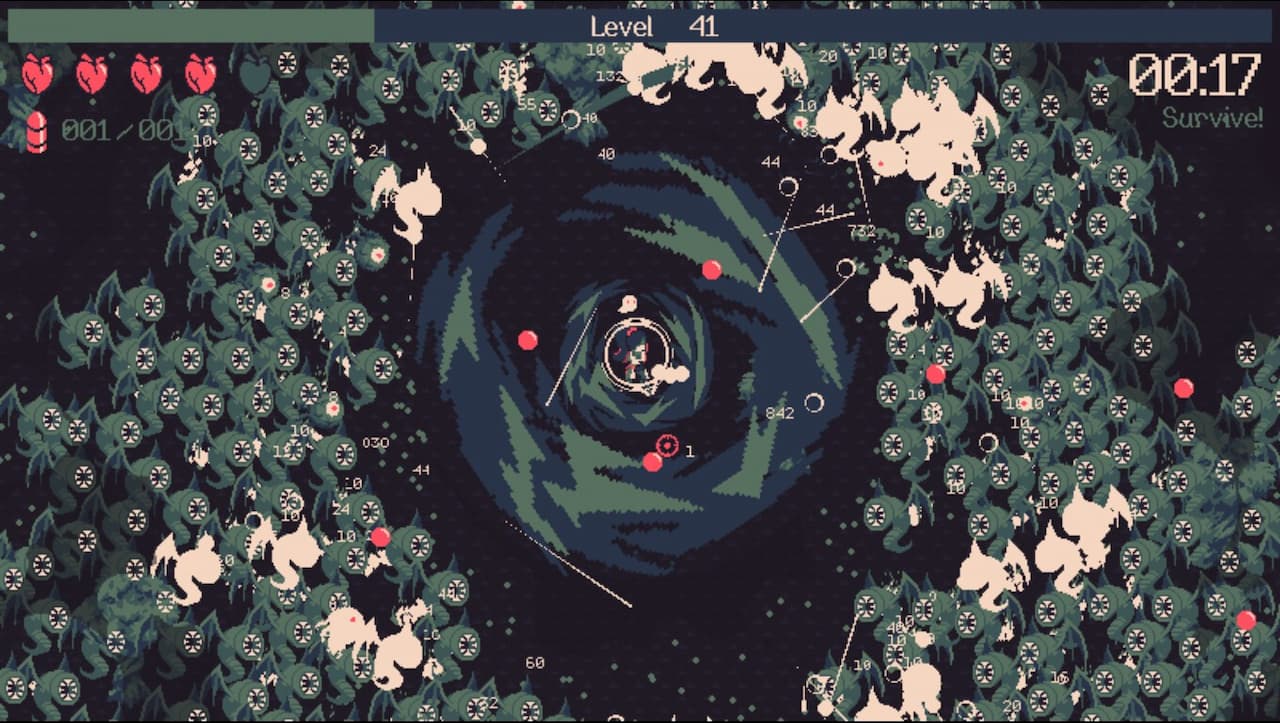 20 Minutes Till Dawn isn't exactly like Vampire Survivors, but it's close enough (and good enough!) that it still deserves a place on this list. You see, it's the only game we've selected that doesn't auto-attack for you. It's more like a twin-stick shooter in that you have to aim with the right stick and fire your weapon with the right trigger. But, just like Vampire Survivors, collecting experience orbs will level up your character, granting you a host of cool abilities and powerful upgrades.
As the name may suggest, the goal of 20 Minutes Till Dawn's main mode is to survive 20 minutes. It doesn't sound very long, but it's tough, with enemies getting stronger and stronger as the clock ticks down. With multiple gun upgrades and killer abilities like spinning blades and whirlwinds that spin through the hordes, you'll become pretty strong yourself in no time. And even if you don't make it to 20 minutes? You'll simply dust yourself off and jump straight back in.
3. Soulstone Survivors
Perhaps the most frenetic of all the games like Vampire Survivors on this list, we absolutely love Soulstone Survivors. Despite being in Early Access at the time of writing, it has plenty of content to go at, with multiple levels, several characters and some really funky abilities. Forget simply firing arrows or swinging a sword: in Soulstone Survivors you'll be unleashing bolts of lightning, dangerous void pits and chaos golems, to name just a few.
What we particularly like about Soulstone Survivors is that you have a very specific set of goals to work towards. By killing a number of small-fry monsters, you'll unleash a powerful boss, and after destroying a full set of bosses, you can choose to end your run or move on to the next, harder stage.
4. Halls of Torment
Firstly, props to Halls of Torment to choosing not to stick the word 'Survivors' in the title! Here's another game currently in Early Access, but again, there's enough content here to keep you going for a while. Halls of Torment has been described as "Diablo meets Vampire Survivors" and we're inclined to agree. Its hellish setting certainly does remind us of early Diablo, and that health globe in the bottom-left corner looks very familiar. But it's the inclusion of equipment along with abilities and level-ups that sets Halls of Torment apart.
You see, after defeating a boss enemy, you might see a chest fall on the ground. Open it up, and you might find a piece of armour: maybe some gloves, or a chest piece. Your loadout will improve your skills and your overall survivability, and so it's worth seeking out bosses to defeat along with levelling up by defeating standard enemies. It's a tough one, but you'll be keen to keep jumping back in to see how far you can get.
5. Nordic Ashes
We're absolutely digging Nordic Ashes' gorgeous, modern animated style. It may look like a kid's cartoon, but don't let that lure you into a false sense of security, however: of all the games like Vampire Survivors we've tried in the process of putting this list together, Nordic Ashes is definitely up there among the toughest. But its challenge is what makes this one of the best: we just keep coming back for more.
Like Vampire Survivors, your character in Nordic Ashes auto attacks. But you don't automatically assign a new skill each time you level up. Rather, you gain a skill point, and it's up to you to plant that skill in your skill tree. Each different character class has their own tree, which will provide new abilities, attack upgrades and an ultimate skill. You'll need to activate your ultimate skill yourself, though, so keep a sharp eye on when's the best time to unleash it.
6. Brotato
Perhaps the simplest of all the games like Vampire Survivors, Brotato is also one of the most charming. You play as a potato, of all things. And rather than having a large map to explore, you're limited to one fixed screen. Brotato's played in waves, and all you need to do is survive the wave. Simple, eh?
Between each wave, you'll get the chance to spend currency you've collected on new weapons and items. You can have a (seemingly) unlimited number of items, but only six weapons. Whether you want melee, ranged or a mixture of both is up to you, but be sure to choose wisely. The items you purchase will give you various upgrades to your attack, defense, movement speed and more, and so you'll be starting each wave a little stronger than the one before it. But so will the enemies, so you'll need to bring your A-game to survive.