You'll never want to tune into a radio again after playing Oxenfree II: Lost Signals.
This supernatural, dark adventure takes place five years after the events of its predecessor, Oxenfree. You're going to get more out of Oxenfree II: Lost Signals if you've played the first game – naturally – but putting you in the shoes of a new protagonist, Riley, you can still enjoy it as a standalone tale. The stories exist separately, but overlap in surprising and exciting ways so you'll miss out on some additional context without having played the first. Will it ruin the experience for you, though? Absolutely not.
With a running time of approximately four to five hours, Oxenfree II: Lost Signals kept us hooked from start to finish. There's no slow, meandering introduction here: within minutes, the weird, supernatural happenings of Camena, the island where the game's set, show their faces. As Riley, you've arrived back in your childhood hometown to take a job placing some radio transmitters. It's a physical task: she'll be doing a lot of trekking to reach the highest points of the island to put the beacons in place. Upon placing the first transmitter, however, Riley encounters more than she'd bargained for. Something very strange is going on here.
Oxenfree II's story is without a doubt the main draw here. And we're reluctant to talk about it in too much detail: we aren't one for dishing out spoilers. Safe to say, if you've played the original Oxenfree, you'll have a good idea what to expect in terms of its radiowave-related horror. It's heavily dialogue-driven, and even as you're exploring the island you'll often be engaging in conversation, either with your work partner, Jacob, or people over the radio. You'll often be asked to make dialogue choices. Some options might not matter so much – or at least they might not appear to – but every decision you make has the potential to shape the story in some way.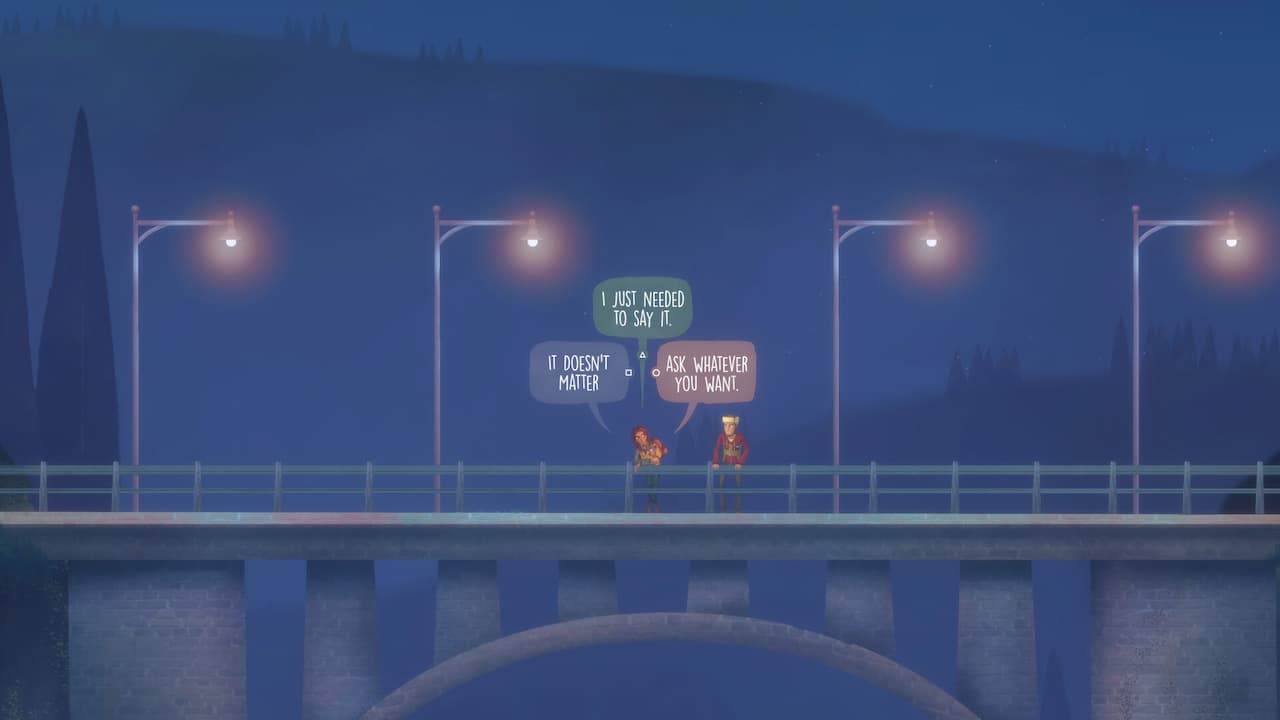 All dialogue is fully voiced, and the cast in Oxenfree II is just as talented as the first game's. Elizabeth Saydah does a phenomenal job of bringing your protagonist Riley to life, making her a character that's instantly likeable despite her obvious depth and insecurities. Equally, it's impossible not to like Jacob, played by Joe Bianco, even if he does spend a lot of time chit-chatting nonsense to you. There's something very natural and real about the conversations in Oxenfree II. Forget the supernatural subject matter and it's easy to believe you're simply listening in to chatter between friends.
Related: 20 Best Story-Driven Games on PS4 and PS5
That's not to say you're simply walking around and waiting for conversation to unfold, though. There are some great gameplay elements to engage with, whether it's tuning your radio to an abnormal frequency or figuring out how to get around Camena's uneven landscape. There's a lot of verticality to the game, so you'll be doing a lot of climbing up rocks and ropes, and jumping over ledges. Oxenfree II is far from being a platforming game, but there are certainly rudimental elements of the genre. It's perhaps the puzzles that we've enjoyed the most, though.
There's nothing that will have you straining your brain cells too much, but figuring out some of Oxenfree II's more logical gameplay sections is incredibly rewarding. Figuring out the sequence to light candles in a darkened church, for example, or how to crack a lock that can only be opened with a certain radio frequency. We'd have perhaps liked to have seen a few more of these moments, but it's hardly a dealbreaker: as it is, Oxenfree II: Lost Signals is well-paced, and the balance between traversal, puzzle-solving and conversation feels just about right.
Is Oxenfree II scary? Not exactly, but it certainly has plenty of creepy moments that may well make the hairs on the back of your neck a little tingly. Its supernatural themes – touching on ghosts, the afterlife, and disturbances in time and space – fall more into 'thriller' category than outright horror. You're still going to be kept on the edge of your seat though – and if you're like us, you'll probably be left thinking "man, we really need an Oxenfree TV series". Hey, now Netflix owns Night School Studios, who knows what might happen.
There's a lot to love about Oxenfree II: Lost Signals. Its spooky, supernatural tale will get its hooks in you instantly, helped along by fantastic voice acting and characters that you can't help but want to know more about. Night School Studios has once again proven itself to be a master of storytelling: it's been a long wait for Oxenfree's sequel, but now we're even more excited to see what the team might do next.
---
Oxenfree II: Lost Signals Review – GameSpew's Score

This review of Oxenfree II: Lost Signals is based on the PC version of the game, via a code provided by the publisher. It's available on PS4, PS5, Switch and PC.