Ever since playing Broken Sword all those many years ago, we've had a keen interest in the Knights Templar. Being a real-time strategy game The Valiant only has one gameplay element in common with that title: you point and click on things. But outside of gameplay, it's also another game with the Knights Templar being central to its story.
The Valiant isn't entirely new – it launched on PC late last year. It's now also available on PS5 and Xbox Series X/S, however, allowing more players to experience its story-driven campaign and accompanying modes.
The campaign is probably the best place to start. It thrusts players into the shoes of a valiant knight called Theoderich, who though disillusioned with war gets drawn into it once again after learning that an old ally is putting the world in danger. It's all down to a part of an ancient relic that you discovered years ago, but back then you didn't comprehend its power should it be completed. The fate of the world rests on your shoulders, then, though thankfully you have allies to help back you up. You'll come to rely on them during your adventure, and will have to develop them if you wish to stand a chance of success.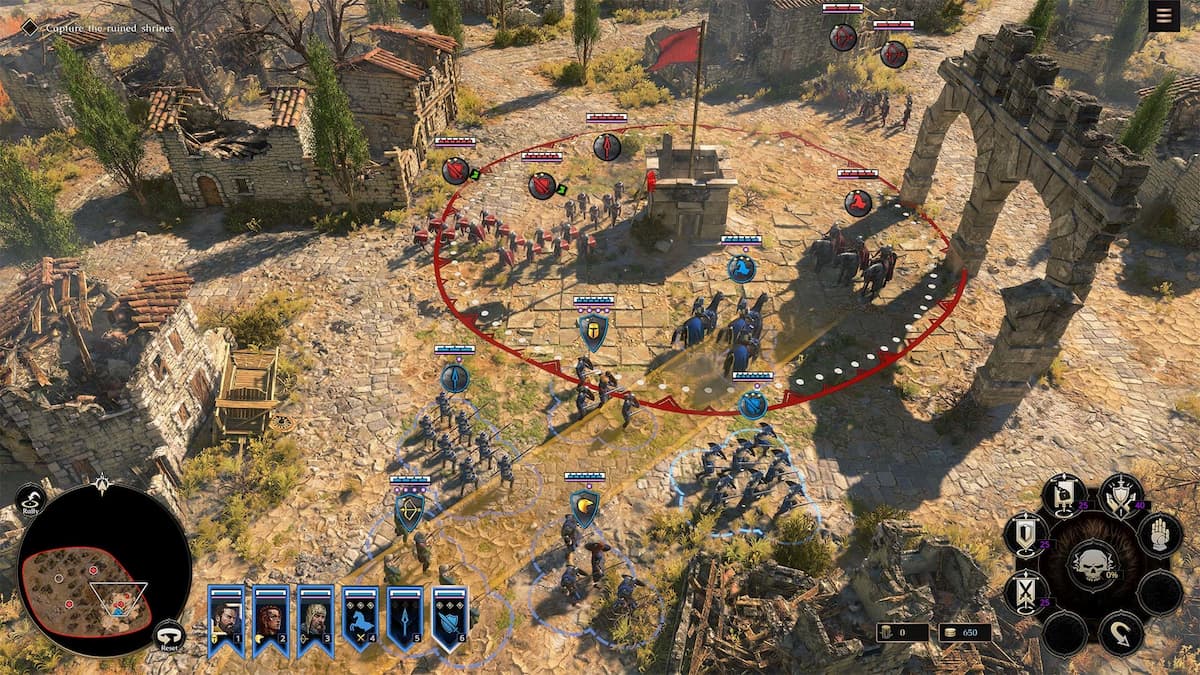 It has to be said that The Valiant is very challenging. This is perhaps not the game for those new to the RTS genre, which is unfortunate if the Knights Templar theme resonates with you. Hell, even the tutorial missions are brutal, to the point where some might even give up before even getting into the game proper.
On console, the controls don't help. Adapting real-time strategy games to be intuitive when played with a controller is always a bit of an ask, and The Valiant does, er, a valiant job of it, but it still feels clunky at times. The main issue is camera control. If you want to zoom in and out or rotate the camera, for example, you need to hold the left shoulder button then use the right stick. In the heat of the action, it can all be a bit fiddly.
Ultimately, though, it's the nature of The Valiant itself that is its biggest enemy – it simply likes to throw huge swathes of enemies at you all too often. It all just gets a bit tedious, and makes the difficulty feel too artificial.
If you do get on with it, however, then there's plenty to go at. Beyond the lengthy campaign, Skirmish mode lets you quickly jump into a battle against the AI, while a competitive mode also lets you take on human adversaries either one-on-one or in teams of two. Rounding everything out is a Last Man Standing mode, you can team up with up to two comrades and attempt to defend supply wagons from waves of enemies. Needless to say, there's a little something for everyone.
It's unfortunate for The Valiant that real-time strategy games aren't as rare as they once were on consoles. The truth is, there are better ones already available. But if you're drawn in by the medieval setting and don't mind the high level of challenge, then chances are you'll get some enjoyment out of it.
The Valiant is available now on PS5, Xbox Series X/S and PC.