Whether you're wanting to grow your Gamerscore or rack up some Microsoft Rewards points, there are plenty of easy achievements to plunder via Xbox Game Pass games. But what games on Game Pass have the easiest achievements?
With over 300 games currently available via Xbox Game Pass, it's only natural that some of them will have very easy achievements to obtain. Sure, you should be playing a game to enjoy its story and its gameplay. But sometimes, earning some achievements is good for the soul. It's also helpful if you're trying to rack up Microsoft Rewards points. Because you know what they say: points make prizes!
Thankfully, there are plenty of games with easy achievements on Xbox Game Pass, covering a wide range of genres. We've rounded up 8 of them here, with many of them giving up 1000G in a matter of hours. Enjoy boosting that Gamerscore!
1. Townscaper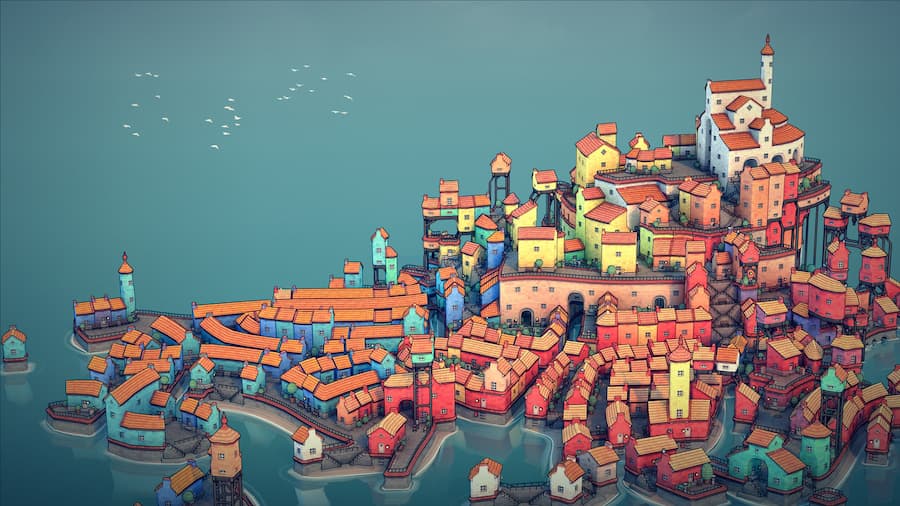 Time to 1000G: Less than an hour
No missable achievements
Townscaper isn't so much a game as it is a sandbox. You'll create a town by placing a series of buildings and… that's about it. You don't need to worry about the people who live in your town; just how it looks. So go crazy by stacking buildings, making them as tall and as wonky as possible. It's rather cathartic.
All the achievements are just for building certain things, and so you'll whizz through the achievement list in no time. Townscaper has some of the easiest – and quickest – achievements on Xbox Game Pass.
2. Unpacking
Time to 1000G: 2-3 hours
No missable achievements
Ahh, we love Unpacking. This is one of the most relaxing games on Xbox Game Pass, and also one with some of the easiest achievements. You can 1000G the game in just a couple of hours. The only problem? It leaves little reason to come back, and you'll be dying to go through it all again.
Unpacking is a game literally about unpacking boxes. You'll follow a character through from childhood to adulthood, charting the moves they make from their childhood bedroom all the way up to their final family home. The items you uncover tell a story of their life, which is touching and wonderfully done – and the act of finding a home for everything is seriously enjoyable. You'll get all the achievements for finishing the game and interacting with certain objects.
3. Tell Me Why
Time to 1000G: 10 hours
Some missable achievements, but can use chapter select
From Dontnod, the studio that developed Life is Strange, Tell Me Why is a three-part episodic drama that follows twins Tyler and Alyson as they return to their home town for the first time since their childhood.
Like Life is Strange, this is a game about making choices, exploring your surroundings, and uncovering a story bit by bit. Aly and Tyler's story is gripping; it's an emotional rollercoaster that'll have you glued to your seats for the entirety.
It's also a game with easy achievements – and each episode has 500, meaning there's a total of 1,500 points to grab here. Most you'll unlock simply by playing through the game, though some achievements require you to make certain choices, or interact with certain items. Thankfully, once you've finished an episode you can access a chapter select menu to go back to specific sections and pick up any achievements you've missed.
Read our review of Tell Me Why
4. Costume Quest 2
Time to 1000G: ~5 hours
One missable achievement
An oldie, but a goodie. Ridiculously cute adventure game Costume Quest 2 isn't only a lot of fun, it's also one of the games on Xbox Game Pass with the easiest achievements. Most achievements you'll unlock simply by playing through the game. Just make sure you always fight with Candy Corn in your party to get the 'Hardcorn Mode' achievement – that's the only missable one in the game.
Costume Quest 2 is set at Halloween, that sees you play as a group of costume-wearing kids. Different costumes allow you to access different powers, and you'll want to try out as many as you can. The goal? To thwart the evil Dr. Orel White, a dental hygiene-obsessed villain who wants to banish Halloween – and Halloween candy – for good. And we can't have that, can we?
5. The Walking Dead: Michonne
Time to 1000G: 3-4 hours
No missable achievements
All Telltale games have easy achievements, but The Walking Dead: Michonne has perhaps the easiest. To get all 1,000 Gamerscore from The Walking Dead: Michonne, a standalone miniseries, all you have to do is simply play though it. Better yet, it's rather short, and there's nothing trying about it. It's pretty much just an interactive movie, really.
Play The Walking Dead: Michonne while it's on Xbox Game Pass and you'll come out of the experience just over three hours later with 21 easy achievements worth 1,000 points. You can't get much better than that.
Read our review of The Walking Dead: Michonne
6. Pikuniku
Time to 1000G: 4-5 hours
Some missable achievements
If you like weird games, you'll love Pikuniku. This colourful 2D adventure is simply joyous, and you'll struggle to wipe the grin off your face as you make your way through its bizarre world.
Laden with puzzles, if you don't have your head screwed on Pikuniku could drive you up the wall. If things click for you though, you'll be raking in the easy achievements left, right and centre. If you want to get all of Pikuniku's achievements in the shortest amount of time, however, use a guide. That way, you'll be done in about five hours. Not bad, eh?
7. Hellblade: Senua's Sacrifice
Time to 1000G: 8 hours
1 missable achievement
Hellblade: Senua's Sacrifice is one of the best games on Xbox Game Pass, so you definitely should play it. And to sweeten the deal, it has plenty of easy achievements for you to pick up.
There are no difficulty-related achievements in Hellblade: Senua's Sacrifice, so play through it on easy if you like. All but one of its achievements are story-related, so you can't miss them. For the last, missable achievement (Stories from the North), you need to locate all of the Lorestones in the game. Chances are you'll find most of them as you play, but if you want to make sure you get them all, perhaps follow a guide.
All in all, you'll get 90% or 100% of Hellblade: Senua's Sacrifice's achievements in about eight hours. And you'll love every minute of it.
Read our review of Hellblade: Senua's Sacrifice
8. My Friend Peppa Pig
Time to 1000G: Around an hour
No missable achievements
Alright, we admit you are probably not the target audience for My Friend Peppa Pig. This adorable kid's game puts you directly in an interactive episode of the pre-school TV series, being squarely aimed at three to six year olds. And so you're not really going to earn yourself any street cred by playing it. But if you've got children of your own? Perfect excuse to let them loose on your profile. And even if you haven't? Don't worry: we're not going to tell anyone that you secretly enjoyed playing it.
My Friend Peppa Pig has some of the most easy achievements to be earned on Xbox Game Pass. This cute adventure simply has you exploring the small world of Peppa Pig. All you need to do is interact with a series of things in each environment, and 1000G is yours. Annoyingly, you might have to check a guide to ensure you don't miss anything though.