Piloting an aircraft is no easy feat, and for most of us, we can only dream of doing it. But thanks to a wealth of flying games, we can have the thrill of flying our own plane without ever leaving our living room. Sound good? Read on to see our picks of the best flying games on PC.
There's a huge range of flying games on PC. You'll find plenty of deep, realistic sims that will let you pilot real-life commercial and fighter planes. There's also a range of more arcade-style games, for those who simply want the thrill of flying with none of the technical know-how. We've included a mixture of both in our list below, so no matter what type of flying game on PC you want to jump into, you'll find something to suit right here.
1. Microsoft Flight Simulator
Undoubtedly amongst the biggest and best flying games on PC, Microsoft Flight Simulator should be the first port of call for anyone looking for a realistic experience. Around for more than 40 years, the latest iteration of Flight Simulator is by far the deepest and most realistic yet, allowing players to pilot a huge range of real-world planes, from tiny gliders to commercial jets. Perhaps the coolest thing is that it uses Google Maps to provide real maps, so you can literally fly anywhere in the world.
Read our review of Microsoft Flight Simulator
Buy Microsoft Flight Simulator
2. War Thunder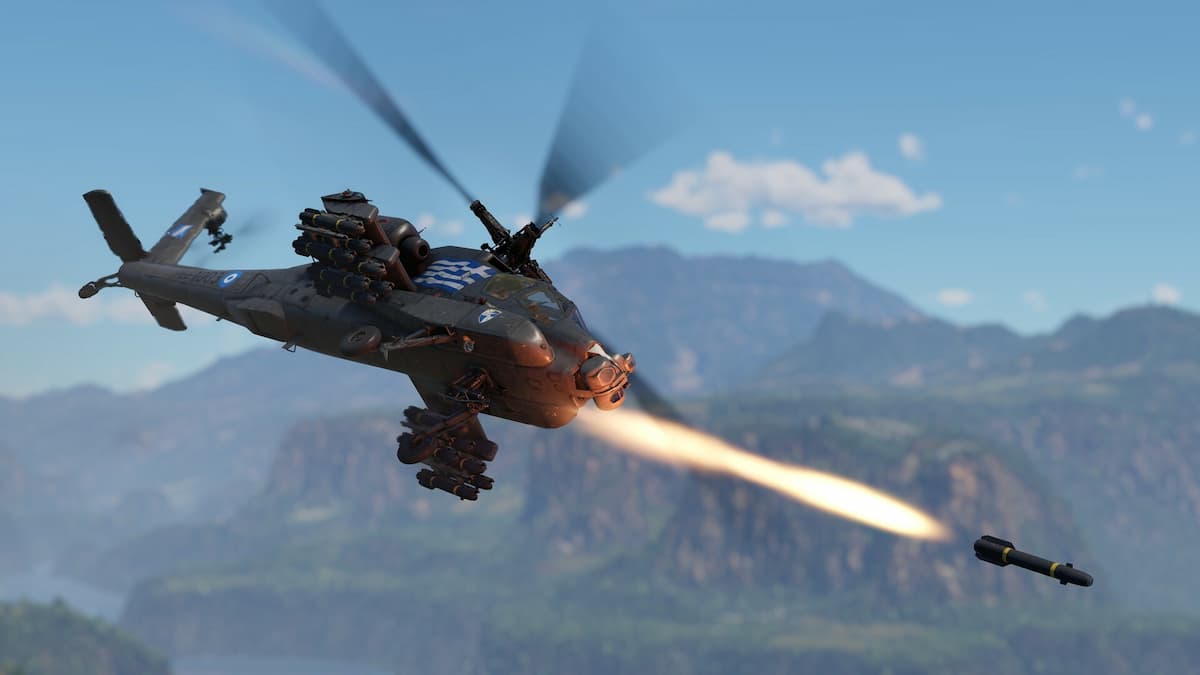 Since it released back in 2013, War Thunder has expanded exponentially, adding in land vehicles like tanks alongside its fleet of aircraft. But flying still remains a key focus of this free-to-play military combat game. Every plane you can step inside is based on a real military aircraft, and so you'll find yourself piloting everything from a MiG to an Apache helicopter, and just about everything in between – there's over 2,000 vehicles in the game now. Phew.
Buy a War Thunder starter pack
3. Ace Combat 7: Skies Unknown
Here's another aerial combat game, but this time a little more arcadey than War Thunder – and, in our eyes, much more entertaining. Bandai Namco's Ace Combat series has been around for many years, and this latest entry, Ace Combat 7: Skies Unknown is easily the best yet. Getting in the cockpit of a number of fighter jets leaves you feeling like Tom Cruise in Top Gun, as you weave through the air, engaging in combat and avoiding enemy fire. There even is official Top Gun: Maverick DLC available – what more could you want?
Read our review of Ace Combat 7: Skies Unknown
Buy Ace Combat 7: Skies Unknown
4. Star Wars Squadrons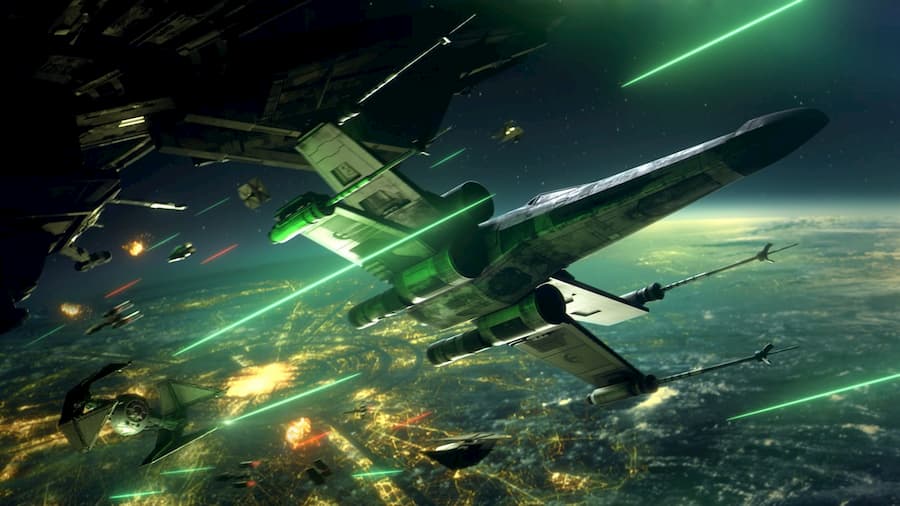 Prefer your aerial combat entirely less realistic? Enter Star Wars Squadrons, one of the best flying games on PC for those who prefer science fiction. If you're a Star Wars fan, flying games really don't get much better than this, letting you step into the cockpit of a range of your favourite Star Wars ships. And we can confirm that flying through space in an A-Wing is every bit as exhilarating as you'd hope.
Read our review of Star Wars Squadrons
5. Project Wingman
It's been around since 2020, and in that time Project Wingman has garnered thousands of "Overwhelmingly Positive" reviews on Steam. You probably don't need us to tell you that it's one of the best flying games on PC, then… but here we are anyway. This combat flight action game doesn't try to be a deep simulator: instead it focuses on providing a fast-paced, adrenaline-fuelled experience as you fly through the skies, shooting down enemies and avoiding their incoming fire. You really will feel like a badass as you get stuck into every dogfight, weaving and twisting above real-world environments like the Redwoods or Yellowstone.
Read more about Project Wingman
6. The Crew 2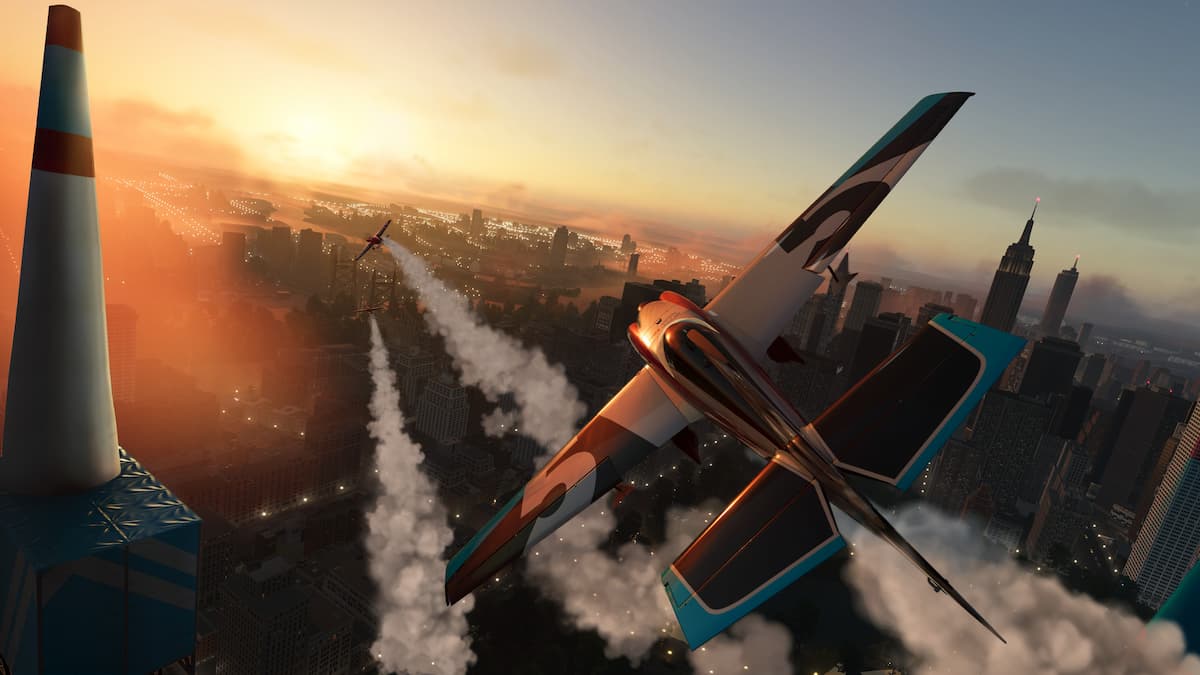 The Crew 2 as one of the best flying games on PC? Sure – hear us out! Planes might not be the main focus of this open-world racing game from Ubisoft, but if you're looking for something a little less serious, it's well worth jumping into. Switching from road to water to sky is part of the fun, although you can mostly stick to aircraft if you'd rather. There's no need to concern yourself with realistic controls here: simply swoosh through the sky and enjoy the feeling of speed as you race against other planes and explore the game's open world recreation of the USA.