Why be a human when you can be a giant, hulking mechanical contraption? There are plenty of video games out there that put you in control of a mech, and some are better than others. We've rounded up eight of the best mech games on PS5, all letting you live out your very best power fantasies.
While they're all different, the best mech games on PS5 have something in common: they're all combat focused. Of course they are. You're not going to step foot in a giant mech to simply enjoy the view and take a walk through the countryside, are you? No: these games are all about destruction, combat, and letting loose with powerful weapons. Sometimes you're fighting against other mechs, but some of these games mix things up by throwing in different enemies in, too. How about dinosaurs?
So: read on to see our picks of the best games that let you control a mech on PS5. You're not going to be disappointed.
1. Armored Core 6: Fires of Rubicon
After a 10-year hiatus the Armored Core series is back. Armored Core 6: Fires of Rubicon makes use of the power of the PS5 to deliver stunning visuals and lightning fast action. And despite the screen being awash with gorgeous effects and a huge number of particles, the frame rate remains silky smooth. If you like building mechs and taking them into missions this is the game for you, although it can be difficult at times. For those who are brave, online matches are even an option. As far as mech games on PS5 go, this is the best of them.
Read our review of Armored Core 6: Fires of Rubicon
Check the price of Armored Core 6: Fires of Rubicon
2. Exoprimal
We love mechs, but you know what else we love? Dinosaurs. Needless to say, we've very much enjoyed our time with Exoprimal, a game which combines the two. In this multiplayer focused action game, a range of mech suits are available, each one giving you access to a unique range of skills and weapons. And what do you use them for? Cutting down hordes of dinosaurs. So, whether you like to slice and dice velociraptors at close range or snipe pteranodons from a distance, chances are Exoprimal will put a big smile on your face.
3. MechWarrior 5: Mercenaries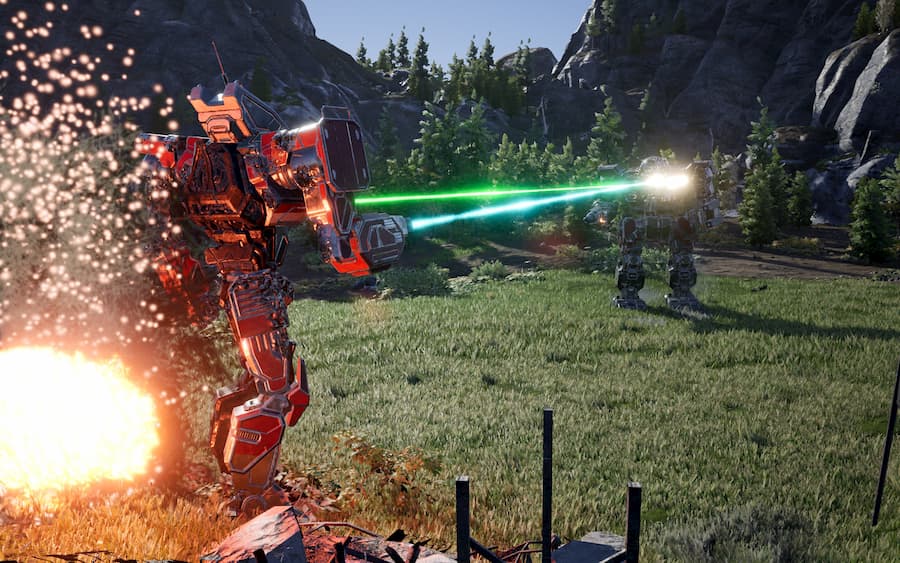 While lots of mech games are anime inspired, with their robots zipping around at speed, the MechWarrior series takes a different approach. Pick up MechWarrior 5: Mercenaries and you'll find that it offers a more realistic take. The mechs here are generally slow and cumbersome, and require some serious coordination to pilot effectively. Don't let that put you off, though; if you put the effort in the results are very rewarding. Building and maintaining your mechs here is engrossing, and completing a mission unscathed genuinely gives you a feeling of accomplishment.
Read our review of MechWarrior 5: Mercenaries
Check the price of MechWarrior 5: Mercenaries
4. Front Mission 1st: Remake
All the entries on this list of the best mech games on PS5 so far have been action-focused, but Front Mission 1st: Remake offers something a little bit different. A remake of the classic strategy role-playing game by Square, here it's all about employing tactics to outmanoeuvre your adversaries and unravel a riveting story. You'll move your mech units around a gridded field, using action points to move and attack your enemies. The gameplay is a little bit dated by today's standards, but it looks pretty decent. And customising your mechs is fun, as always.
5. Relayer
Another mech-based strategy RPG, Relayer is more modern than Front Mission 1st: Remake. It also has a more anime-centric aesthetic, and visual novel elements. Still, there's a lot to love here for mech fans. As you'd expect, your mechs can be leveled up and upgraded over time. And changing things like weapons alters the look of them. Ultimately, Relayer won't be for everyone, but it offers hours of entertainment for those who gel with it.
6. War Tech Fighters
The first game on this list that doesn't have a native PS5 version, War Tech Fighters is playable on Sony's latest console thanks to backwards compatibility. You shouldn't let that put you off, though, as this indie effort is a hell of a lot of fun. A strictly single-player affair, War Tech Fighters tasks you with with developing a mech and using it to complete a large number of missions. It's just a shame that the action gets repetitive after a while, especially if you make plentiful use of melee executions.
Read our review of War Tech Fighters
7. Zone of the Enders: The 2nd Runner MARS
Like War Tech Fighters, Zone of the Enders: The 2nd Runner MARS is another game that unfortunately has to be played on PS5 via backwards compatibility. A remaster of a PS2 game, this offers intense mech action along with a deep story that could possibly have you hooked. We say could because it's a Hideo Kojima game through and through; if you don't pay close attention, certain story elements may go way over your head. If you're able to use your original PSVR headset on your PS5, there's a VR mode to immerse yourself in as well.
Read our review of Zone of the Enders: The 2nd Runner MARS
Check the price of Zone of the Enders: The 2nd Runner MARS
8. Override 2: Super Mech League
While we weren't blown away with Override 2: Super Mech League when we reviewed it, we can't deny it offers a lot of fun when played with family or friends. This is essentially a 3D fighting game, where multiple players fight it out to emerge victorious. 1v1, 2v2 and 4-player brawl matches are all on offer, letting you control how chaotic you want the action to be. In our experience, the more chaotic the better. You can play alone against bots if you want, but it's just not the same.
Read our review of Override 2: Super Mech league