If you liked Cuphead, there's a good chance you might also like Enchanted Portals, an intense platforming game set to release this September.
It's clear that Enchanted Portals has been heavily inspired by Cuphead. It sports the same old-timey cartoon art style, and it's equally as challenging – veering into frustrating – as Cuphead. To set itself apart, this isn't just a boss rush adventure, though: Enchanted Portals throws a bit more platforming into the mix.
The preview build of Enchanted Portals that we've had our hands on, however, did throw us straight into a boss: an epic battle against a space cow. Split into three distinct sections, the first had us avoiding falling weights from the ceiling while also jumping over bowling balls rolling towards us on the floor. The second stage saw us cursed with, er, disco fever, dancing across the screen and avoiding disappearing sections of floor. Enchanted Portals is nothing if not quirky, and you can expect this sort of humour to litter it throughout.
The final section of the space cow battle took us to the skies on the back of a broomstick, with the action becoming more of a bullet hell experience: us shooting our weapon while dodging an ever-growing barrage of attacks from the cow. When it's over, we breathed a big sigh of relief that we'd survived: it took a few attempts, and each time we were returned right to the beginning of the fight.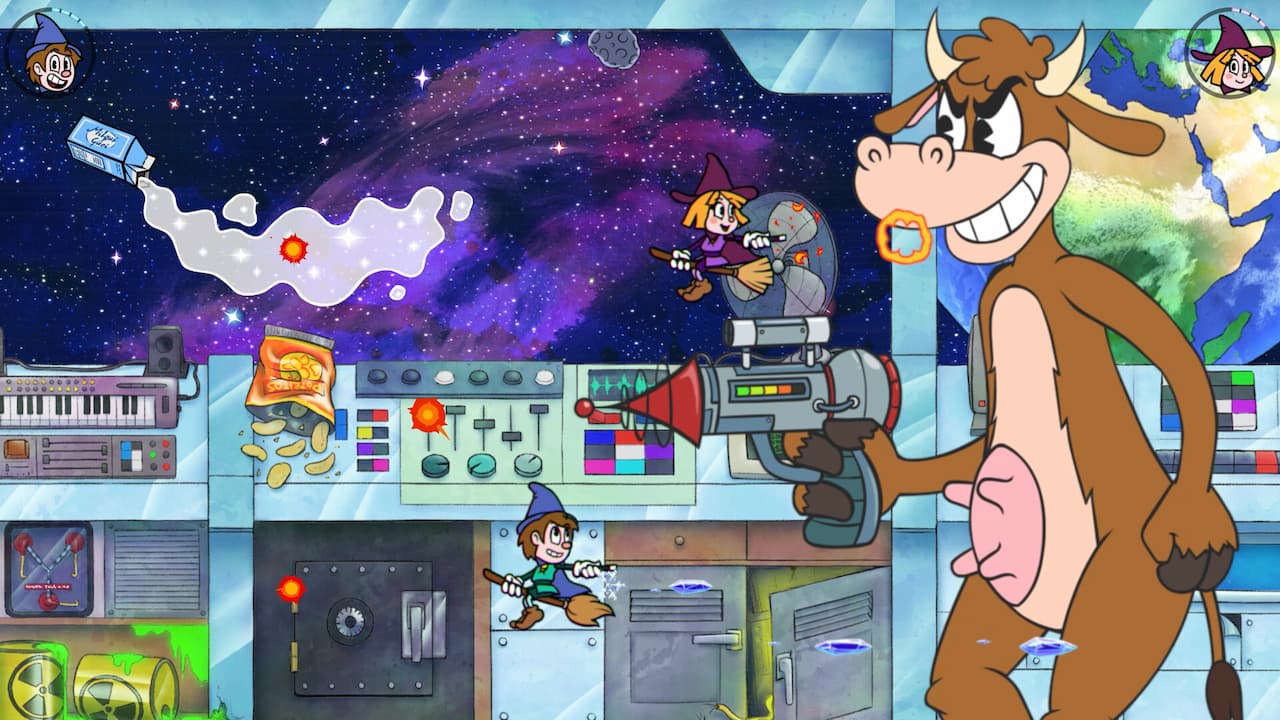 And so, just like Cuphead, Enchanted Portals requires a lot of patience. Its hard-as-nails gameplay isn't going to appeal to everyone: even its platforming sections are tough, throwing smallfry enemies at you with no reprieve and expecting you to constantly keep your wits about you. A section taking us through a swampy jungle tasked us with using crocodile heads as platforms to cross a body of water: time your jumps wrong and you'd end up either drowning or getting gobbled up. Neither one exactly ideal.
There's no denying how wonderful Enchanted Portals looks. The cute protagonists, wizards Bobby and Penny, are delightfully animated, but it's the cleverly designed enemies that really shine here. Their over-the-top facial animations are as sinister as they are entertaining, and you really could believe that you're part of a hyper-colourful interactive cartoon. Yes, it might have all been done before, but it doesn't make it any less engaging.
If more Cuphead is something you'd like, then, you'd do well to keep Enchanted Portals on your radar. It's coming to PS5, Xbox Series X/S, Switch and PC on 6th September, with PS4 and Xbox One versions set to launch a few weeks later.