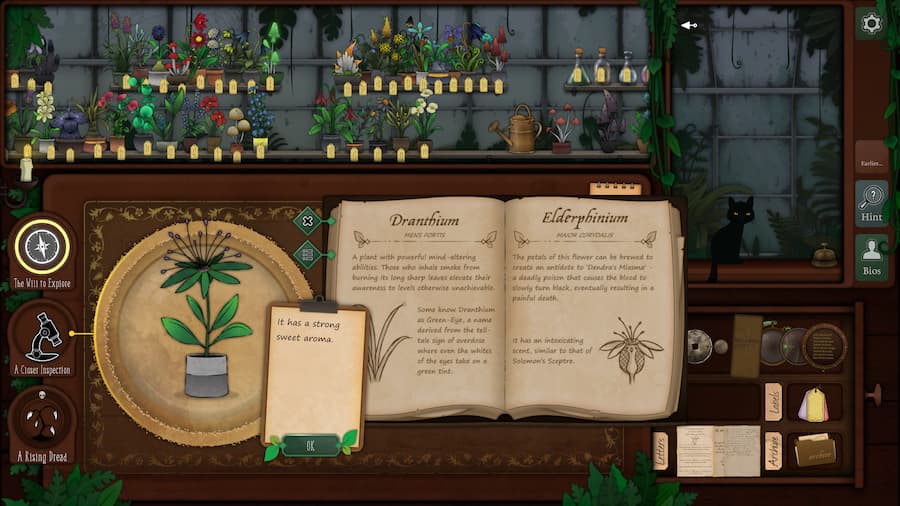 Strange Horticulture, a game about running a plant shop in a strange English village, is one of our favourite hidden gems of last year. Previously only available on PC and Switch, it's now landed on Xbox.
If you're unfamiliar with Strange Horticulture, let's give you a little run-down. You take on the role of a plant shop owner in a Lake District village – but this is no regular plant shop. And your customers aren't exactly looking for nice flowers to plant in their garden. You'll be dealing with all kinds of weird and wonderful plants, many of which have poisonous or other nefarious properties.
It's your job to correctly label your plants in Strange Horticulture, and you'll have to rely on a big old book to work out what everything is. Everything's a bit of a puzzle, then, but it feels really nice to be completely in control of your own stock and how everything's labelled up. Getting the right plant for a customer is extremely satisfying.
When we reviewed it back in January 2022, we gave it an outstanding 9/10, saying:
"There's something so very enthralling about Strange Horticulture; the way it lets you take the lead and figure out everything by yourself will really appeal to those with an analytical mind. The story could perhaps be a little more engaging, but it serves its purpose. Ultimately, it's going to be Strange Horticulture's puzzles, its delicate but eerie presentation, and its satisfying and calming gameplay that will keep you hooked. Something very special awaits for those curious enough to enter Strange Horticulture."
That's pretty strong praise, then. And so if it sounds like something you want to dive into on Xbox, don't miss out. It's available from today priced at £12.99/$14.99.