The Talos Principle is a strange but brilliant game. Putting players in control of a robot, it asks: what makes us human? In that endeavour, it throws one puzzle at the player after another, forcing them to think, and then throws philosophical text at them to further get their grey matter in a fluster. But what's really perplexing is that this is from the developer of Serious Sam; a game that's on the opposite side of the spectrum. You circle strafe, you shoot, and that's about it. We love them both, by the way.
It's our love of The Talos Principle that has us very excited for the sequel that's just been announced. And having been privy to a hands-off preview of The Talos Principle 2, we're pretty confident our excitement is justified. Alongside stunning visuals, this is a game that's going to deliver yet more brain-teasing puzzles alongside a story that'll make you think even once you've put your controller down.
While Croteam explored what makes us human with The Talos Principle, The Talos Principle 2 asks what makes a society. Playing as the very same robot from the first game, you've ascended after completing your many trials, only to find that you're now a part of a community of robots. Learning from the mistakes that humans have made in the past, these robots aim to create the perfect society. But what exactly does that entail? Of course, it's not something that they can all agree on.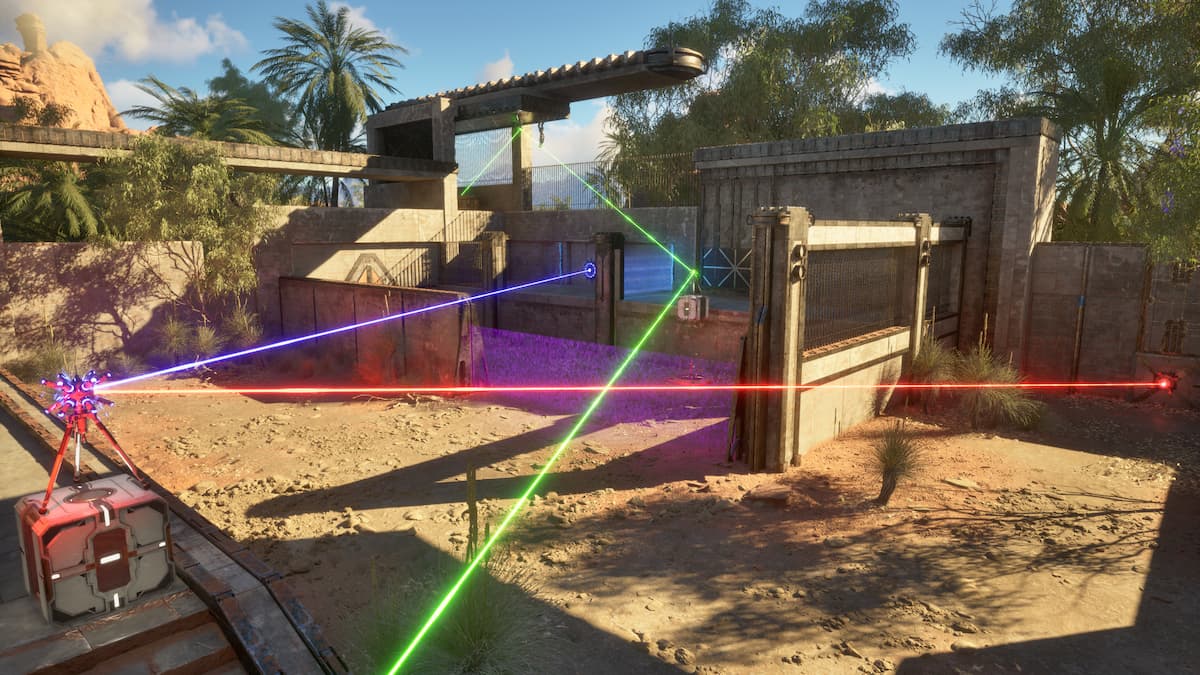 Also pressing in this futuristic utopia is the issue of a mysterious island that's been found. This island, that contains a megastructure, is where much of your time will be spent in The Talos Principle 2. In and around the structure you'll find an abundance of puzzles, and you'll tackle them region by region. It appears those who have played the original game will be able to quickly familiarise themselves with the gameplay in this sequel: it shares the same mix of exploration and problem solving. But of course, there are new elements that will not only keep the gameplay fresh, but also intriguing.
There are new puzzle mechanics, for example. Beams continue to play an integral role here, but sometimes you'll be tasked with matching up new coloured beams with the appropriate receptacles. To further complicate matters, you might have to combine beams to create new colours. We also witnessed a puzzle which required the use of a new drill tool, making a hole in a wall which a teleportation device could then be placed through. And another puzzle required players to jump from one robot to another like a paranormal entity to achieve their goal.
Each region in The Talos Principle 2 will house multiple puzzles, but you won't need to complete them all in order to progress through the game. In fact, whereas in the original The Talos Principle the puzzles started simple but then got progressively harder, here, the puzzles will range from easy to hard in each region. Hidden in each region will also be an item or two which allows you to skip a puzzle. It'll be up to you, then, to decide which puzzles you want to complete in order to progress the story. But those who complete all puzzles will be rewarded with additional story elements and lore.
Overall, it appears that The Talos Principle 2 will be just as clever and thought-provoking as its predecessor, but also more accessible to players of all skills levels and more varied in terms of its puzzles. That's a win in our eyes. Croteam isn't reinventing the wheel but rather reiterating and expanding on it, making its next outing a more enjoyable and smoother ride for everybody. And after what we've seen, we can't wait to get philosophical while gawping at picturesque environments once again.
The Talos Principle 2 launches later this year on PS5, Xbox Series X/S and PC.