We absolutely loved Horizon Chase Turbo when it raced onto consoles and PC in 2019. An old-school arcade racer, it brought back memories of the likes of OutRun, while also offering something new. Now, some four years later, a sequel has found its way onto PC and Switch, and while it doesn't revolutionise the formula defined by its predecessor, it does improve on it in about every single way.
The main draw of Horizon Chase 2 is once again World Tour mode, which challenges players to complete events across six real-world locations. Starting in the United States, players will then progress onto the likes of Brazil and Italy, competing in circuit and point-to-point races, as well as time trial events. It's not all just about trying to beat the competition though – as you race across each track, it's also a good idea to try and collect as many Blue Coins as you can. Finish in first while collecting all Blue Coins, and you'll nab yourself a coveted special trophy.
By completing events and collecting Blue Coins, you'll unlock upgrades for your favourite vehicles which you can then purchase with upgrade points. Gold coins earned can also be used to buy a range of cosmetic upgrades, such as body kits, rims and paint jobs. It makes for a rewarding gameplay loop, where you're gradually improving your best cars to keep up with the competition. And you'll need to, because while Horizon Chase 2 starts out fairly breezy, by the time you're halfway through World Tour things really start to heat up.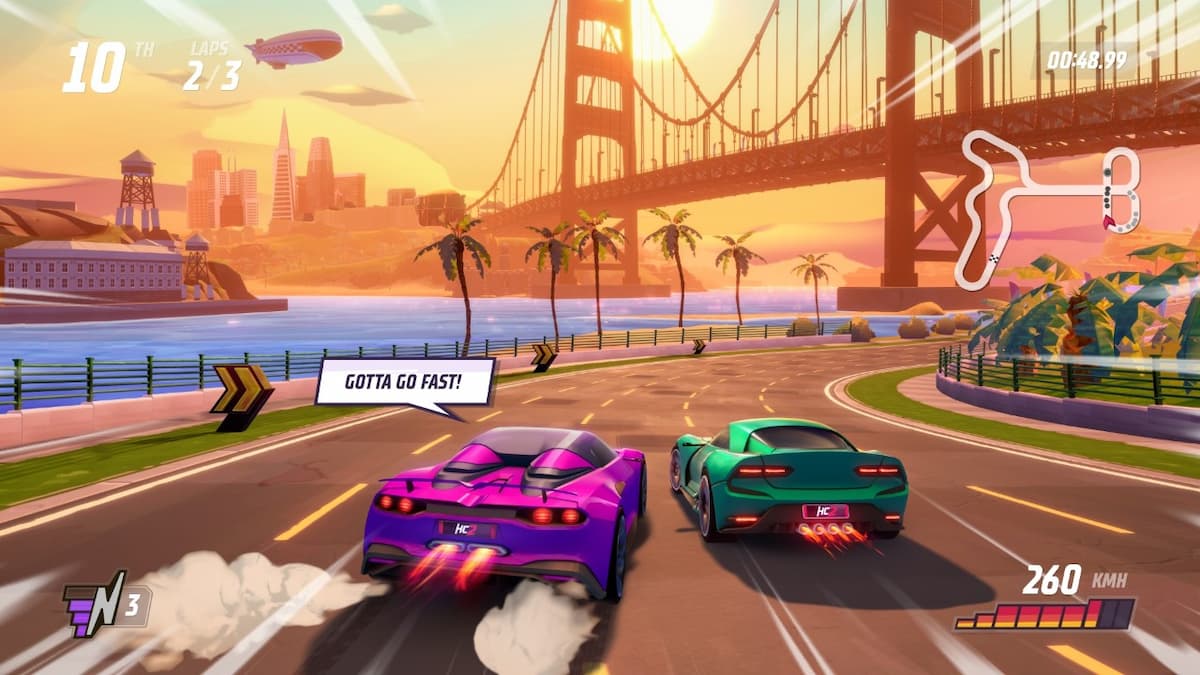 The racing presented here is the type that's exhilarating from the get-go. You don't really need to worry about braking for corners – at most you might just have to tap the brake to prevent yourself from crashing into an opponent or veering off the side of the road if its a particularity sharp curve. And adding an element of strategy is a limited number of Nitro charges – using one will give you an intense burst of speed, perhaps catapulting you ahead of the competition. It's pure arcade action, and we love it.
Related: The Best Arcade Racing Games on Switch
It can feel like you're on a roller coaster at times though – like arcade racing games of old, your car does automatically follow the track somewhat. Your input still determines whether you're successful or not, so it doesn't matter too much. And aside from that, we don't really have any more complaints, other than it's happy to simply be more of the same game as its predecessor rather than trying to innovate or switch up the formula.
One aspect of this sequel that we really like is its new visual style. Horizon Chase 2 fully embraces 3D, and it results in an experience that feels more dynamic and immersive. The visuals are crisp, and a bold colour scheme makes everything pop off the screen. Factor in occasional changes in the time of day and weather while you're racing, and there's more of a wow factor. Driving through a sandstorm is particularly impressive.
In addition to World Tour mode, which can be played with others locally or online, a number of tournaments can also be unlocked, and both online races and challenges are available. All in all, there's a decent amount of content here given the game's budget price, and those who love a bit of local co-op fun will particularly get some life out of it.
You could argue that Horizon Chase 2 plays things safe, but when what's on offer is this much fun, does it really matter? Developer Aquiris may have stuck to its tried and tested formula, but with a bold new visual style and improved gameplay across the board, there's enough here to make the experience feel fresh. And whether you like to race alone against the CPU or online against others, there's something for you here. For arcade racing game fans eager for something new to test their skills with, this is very highly recommended.
---
Horizon Chase 2 Review – GameSpew's Score
This review of Horizon Chase 2 is based on the PC version, with a code provided by the game's publisher. It's available on Switch and PC.