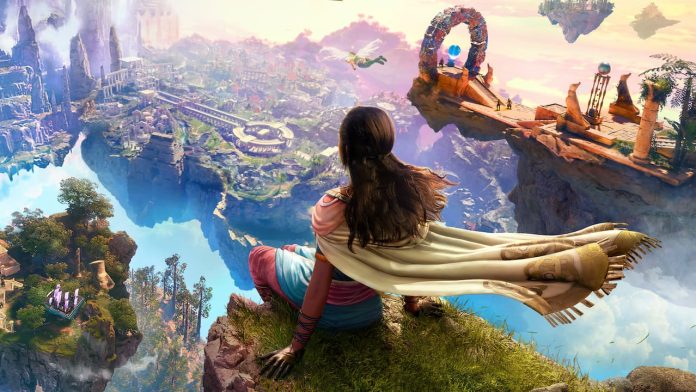 It's currently in pre-beta, which means it's far from its finished state and still needs a lot of polish, but that hasn't stopped us being incredibly impressed with what we've played of Islands of Insight. This shared-world puzzle game from Behaviour Interactive and Lunarch Studios was revealed during this summer's PC Gaming Show, and we liked the look of it. But getting some hands-on time with it has shot this title right up to the top of our most-anticipated list. If you're a fan of puzzle solving, you're really going to want this on your radar.
When you hear Behaviour Interactive, you undoubtedly think of Dead by Daylight – and Islands of Insight couldn't be any different, tonally and conceptually, from the multiplayer horror behemoth. There's not an iota of blood and gore to be found here: in fact, there's no combat whatsoever. Islands of Insight is purely about solving puzzles as you explore a gorgeous, sprawling world. It's like a puzzle book that you can walk through, tackling its challenges in any order you see fit.
There's not just one type of puzzle, either. Some of Islands of Insight's puzzles are built into the world: there are speed challenges, tasking you with touching a series of glowing orbs as quickly as you can, and hidden blocks that you need to match up into pairs. There are invisible archways and rings that you'll uncover as you explore the world, and interlocking rings that you need to look at from the right perspective in order to solve. Other puzzles will take you out of your immediate environment, asking you to arrange black and white blocks in a certain pattern, or join them up in a certain way.
There's a good amount of variety, then, and even similar puzzles offer differing levels of challenge. Perhaps the best thing is that most puzzles don't have to be solved. Sure, there are some you'll need to beat in order to progress through the story, but the majority here are optional, and so if you find something that's truly perplexing you, you can leave it. Build up your confidence by solving other puzzles, then head back to it. Or completely ignore it: it's your choice.
The world that Islands of Insight is set in looks absolutely gorgeous: it's a rich world, brought to life with flora and greenery, with man-made structures set into valleys and hillsides. No two areas look alike, and thanks to a wealth of traversal skills they're a joy to move around, too. Boost pads send you flying into the air, giving you great height and allowing you to reach new areas. And you'll also unlock the ability to fly, making getting from island to island an absolute cinch. There's no fall damage here, either, so the world literally is your oyster with no fear of dying.
The only part of Islands of Insight that has left us scratching our heads a little bit is the shared world experience. While we were playing, we encountered a couple of players going about their own business, and when other players in our instance completed a puzzle, a message told us so on the side of the screen. It gave us the feeling that we weren't alone, at least, but doesn't seem to impact gameplay in any way. Our puzzles are still our own to solve, so we're not really sure what it adds to the experience, other than a sense of belonging. Maybe that's the whole point.
We can't wait to see what else this rich puzzle game has in store for us. We've loved solving the puzzles that Islands of Insight has offered up so far, and we're excited to work our way through more. There's a story to enjoy, along with a key questline to follow, and a multitude of daily quests to complete. And all set within a beautiful, well-realised world? We might have something rather special on our hands with this one, we think.
There's currently no release date for Islands of Insight, but you can try out the playtest for yourself right now. Head on over to the Steam page to download it for free.