Released in arcades in 1999 and then on SEGA Dreamcast a year later, Samba de Amigo is one of the most ludicrous but entertaining games ever made. Taking hold of a pair of maracas, it challenges you to shake them in time with the music to score big. All the while, colourful visuals are played out on-screen, generally focused on a stylised monkey – the titular Amigo. It's the type of game that you can't help but be drawn in by, and to play it is to love it. That's why, then, we're overjoyed that a version has now made its way to Switch. Samba de Amigo: Party Central takes everything we love about the original and expands on it, making it a treat for rhythm game fans – albeit with one caveat.
Rather than forcing up the price of Samba de Amigo: Party Central on Switch by bundling it up with a pair of toy maracas, the Joy-Cons are used instead. With a Joy-Con in each hand, it's the position you hold them in that matters here as you then give them a shake.
As ever, there are three positions in which your maracas – or Joy-Cons – can be shook. Keep them held vertically and shake to recreate shaking maracas up high. Hold them horizontally and shake to simulate shaking maracas at body level. Point your joi cans down at the floor and give them a shake to recreate shaking maracas down low. It's a system that makes sense, and, for the most part, it works rather well.
Jump into any one of the songs included in the game's substantial playlist – which has everything from Latin pop hits to videogame tracks and a whole lot of general pop tracks in between – and you'll find that you can shake your Joy-Cons with a fair amount of accuracy. However, when the difficulty gets ramped up (and it doesn't take long), mistakes can very easily be made.
Related: The Best Music Rhythm Games on Nintendo Switch
Still, it doesn't occur enough to diminish your enjoyment of Samba de Amigo: Party Central to a considerable degree. For those who'd rather not deal with motion control shenanigans or who only have a Switch Lite to play with, there's another control option, too. Joy-Con shakes can be replaced with button presses if you wish, though in our opinion it does make the game more challenging.
Whichever control system you choose, the gameplay here remains pretty much the same as ever. Across a range of modes, you're tasked with completing songs, hitting enough notes to at least complete your goal. As well as completing maraca shakes with either your Joy-Cons or buttons, you'll sometimes be tasked with posing, with can be completed by holding your Joy-Cons in the displayed positions or holding buttons. And, if you have the feature enabled, sometimes a roulette wheel will briefly appear on screen, activating a random minigame or modifier when it stops. You might find the action simply speeds up for a short while, or you might have to run on the spot to see how far you can get.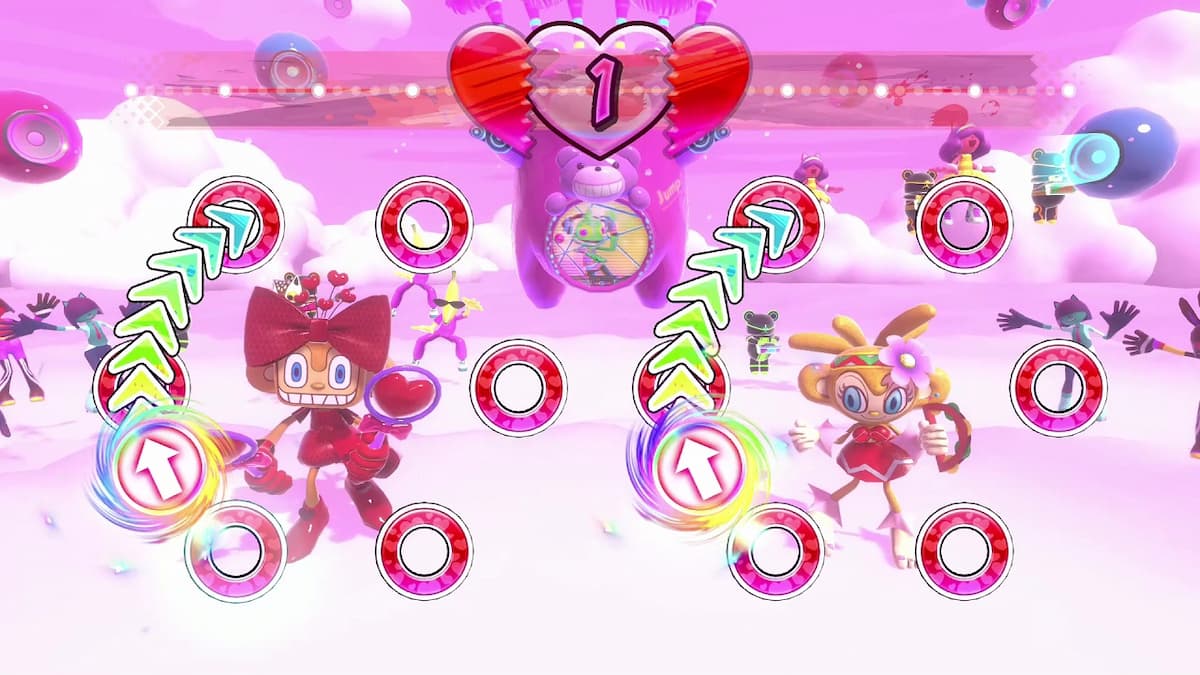 For those who gel with the gameplay on offer here, there are a lot of modes to get stuck into, whether you want to play alone or with others. It's easy to simply jump into a song of your choice, and there are multiple difficulty levels to choose from and more. You can also compete against another local player if you wish, or take the action online in what is essentially a small-scale Battle Royale. And no matter what mode you choose, you'll be earning experience and coins as you go. It's just a shame that there's not much use to them other than unlocking and buying a range of vanity items for your Amigo avatar. Still, if you've ever wanted to play dress-up with a cartoon monkey, here's your chance.
Using Joy-Cons to play Samba de Amigo may not be quite as good as replica maracas, and buttons even less so, but the core experience here remains as entertaining as ever. With its eclectic selection of songs and a wide variety of modes, Samba de Amigo: Party Central has a little something for everyone, and is fun whether you're playing it alone on a rainy day or with others at a party. If you're a fan of the series or simply love rhythm games, chances are this will put a big smile on your face, even if you feel like you're sometimes cheated of a perfect score.
---
Samba de Amigo: Party Central Review – GameSpew's Score
This review of Samba de Amigo: Party Central is based on the Switch version, with a code provided by the game's publisher. It's available on Switch and mobile.