Thanks to the Switch's portable capabilities, it's perhaps the best format to play Metroidvania games. You can play them on the big screen when at home, then carry on exploring in handheld mode when you're away or the TV isn't available. Historically, the Castlevania series has been one of the best sources of portable Metroidvanias; from Castlevania: Circle of the Moon on Game Boy Advance, to Castlevania: Lords of Shadow – Mirror of Fate on the 3DS. Some of those are now finally available on Switch, but there are many other Metroidvania games worth jumping into as well. But what are the best Metroidvania games on Switch, you might be wondering?
Thankfully that's a question we can help you with. Having played the majority of the Metroidvania games available on Switch, we've put together a list of what we believe are the best of them. So, if you're after Switch games that promote exploration throughout an interconnected world, filled with plenty of platforming and light RPG elements, you've come to the right place. Scroll down, and you might just find your next Metroidvania obsession.
1. Gato Roboto
It may look like a game from yesteryear, but don't let its visuals fool you; Gato Roboto is undoubtedly one of the best Metroidvania games on Switch.
After your ship crash lands on a strange outpost, all hope rests on your cat. It's not just any old cat though, it's a cat that can take control of various mechs to get things done. And so your adventure begins, taking control of the plucky feline to explore an alien labyrinth in an attempt to save your stranded owner.
Gato Roboto isn't the biggest Metroidvania available, but that's reflected in its budget price. It's gameplay is great though, and there are many upgrades for you to find that will not only make you more capable in battle, but also give you access to new areas. If you're after a retro-styled Metroidvania to pass away a few hours with, be sure to add this to your collection.
Read our review of Gato Roboto
2. Ori and the Will of the Wisps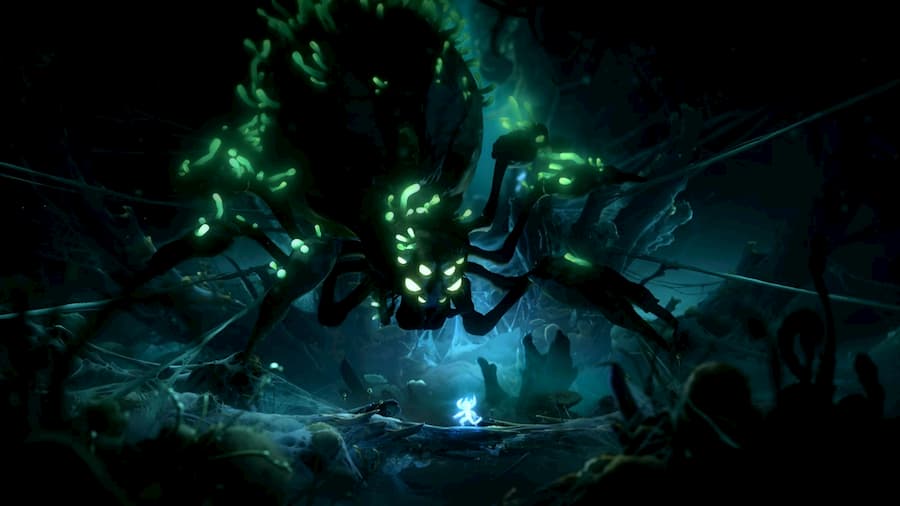 Do you want to cry? Better play Ori and the Will of the Wisps.
Ori and the Blind Forest opened with one of the saddest scenes in video games. Ori and the Will of the Wisps, however, says "Hold my beer!" throughout.
Like any Metroidvania, Ori and the Will of the Wisps has plenty of platforming to be done. It also has an upgrade system so you can develop Ori over time, and by gaining new abilities you gain access to new areas, allowing you to progress further into the game.
Everything about Ori and the Will of the Wisps is improved compared to its predecessor. It looks nicer, plays better, has more combat options; the list goes on. It's been brilliantly ported to Switch, too. Whether you play it handheld or docked, you're going to be impressed by its detailed visuals and smooth framerate. This is perhaps the best of the Metroidvania games available on Switch right now.
Read our review of Ori and the Will of the Wisps
3. Death's Gambit: Afterlife
You might have heard of Death's Gambit before. You might have even played it on another format. Now available on Switch in the form of Death's Gambit: Afterlife, however, it's almost an entirely new game.
Death's Gambit wasn't much of a Metroidvania, really – it was more or less a 2D platformer with brutal combat. But players seemingly wanted it to be more Metroidvania-like, so the developer of the game has gone back to the drawing board and reworked it. Now there are more areas, more weapons and more freedom. Along with it there are also new skills that, once learned, allow you to explore more of the interconnected world. Throw in loads of other tweaks and improvements, and you have a game that really fulfils its potential.
If you're after the best Metroidvania games on Switch and don't mind a challenge, se sure to give Death's Gambit: Afterlife a try. Between its pleasant visuals, enjoyable soundtrack and brutal-but-fair combat, there's a lot to like.
4. Castlevania Advance Collection
If you have a Switch, chances are you might have owned previous Nintendo handhelds as well. But have you ever played the Game Boy Advance exclusive Castlevania games? If not, you can't go wrong with Castlevania Advance Collection.
Bundling up three Castlevania games in the Metroidvania format that were previously only available on the Game Boy Advance, Castlevania Advance Collection offers exceptional value for money. Take a trip to eBay and you'll find the three games included – Circle of the Moon, Harmony of Dissonance, and Aria of Sorrow – all fetch a reasonable sum these days. And there's a reason for that – while they're all a little dated in the looks department, they're all still very enjoyable to play.
Pitting you against the troublesome Dracula, in each game you'll have to explore his castle, defeating his cronies and gaining new skills until you can finally gain access to the prince of darkness himself. So, if you have a Switch and are after the best Metroidvania games to play on it, consider this a must-have.
Read more about Castlevania Advance Collection
5. Hollow Knight
Presenting you with a vast world and little direction, Hollow Knight is a Metroidvania for you to truly get lost in.
There's little in the way of story; Hollow Knight is more about atmosphere than narrative. Like Dark Souls or Bloodborne, you'll encounter few friendly characters on your adventure, but it just makes those meetings more meaningful. Enemies, however, are plentiful.
Initially, Hollow Knight's combat may seem rather basic. As you collect Charms and equip them in your limited selection of available slots, however, you'll discover a great deal of depth. Before you know it, you'll be customising your equipped Charms frequently to more effectively deal with pesky bosses and arduous enemies.
If you like your Metroidvania experiences to hold your hand a little, you might lose interest in Hollow Knight after a while. If you like being given the freedom to explore, however, you'll be absolutely enthralled by it.
Read our review of Hollow Knight
6. Yoku's Island Express
Yoku's Island Express is part pinball, part platformer, and yet all Metroidvania.
Cast as a tiny dung beetle unsurprisingly named Yoku, Yoku's Island Express has you delivering mail all across Mokumana Island. And of course, it's not all plain sailing.
With no combat to speak of, the challenge in Yoku's Island Express comes in the form of its pinball elements. Yoku is attached to a ball much bigger than himself, you see, and making use of flippers and suchlike is the quickest way to get around.
As you make your way through the adventure you'll acquire new items and skills that allow you to access new areas and make your job a little easier. Every second spent with Yoku's Island Express is an absolute delight though. It just seeps happiness and fun from every pore.
Read our review of Yoku's Island Express
7. Steamworld Dig 2
Unsurprisingly, Steamworld Dig 2 requires you to do a lot of digging. It's all worth the effort though.
On a quest to find your friend Rusty who's gone missing, as Dorthy you'll have to create your own path through unexplored mines. How far you can get on any given journey, however, will be limited by your current abilities.
Collecting valuable items to sell back in town plays a large role in Steamworld Dig 2. As you amass a wealth of riches, you'll be able to buy new equipment which will allow to dig further, and also make you much more of a sturdier adversary to the enemies you encounter. It's not all digging and fighting though, as there are puzzles to solve, too. And also plenty of platforming challenges that will truly test your skills.
While the original Steamworld Dig is available on Switch, Steamworld Dig 2 is bigger and better in almost every way. You don't need to have played the first game to enjoy it, either. So, what are you waiting for? Add Steamworld Dig 2 to your Switch library as soon as you can if you really love Metroidvanias.
Read our review of Steamworld Dig 2
8. Axiom Verge
Developed by just one man, Tom Happ, Axiom Verge is one hell of a game. This wouldn't be a list of the best Metroidvania games on Switch without it. Taking cues from Metroid itself, this sprawling 2D shooter certainly wears its influences on its sleeve, but it has enough of its own unique features and quirks to make it stand out as a classic in its own right.
Putting you in control of a character called Trace, Axiom Verge tasks you with finding out how exactly you ended up in an alien world. Though your priorities will change as you play. Its controls are crisp and responsive, making it a pleasure to play, and there are a wealth of weapons for you to acquire and upgrade. Axiom Verge is one of those games that you can get lost in for hours, investigating areas you haven't searched before and trying to find secrets.
Axiom Verge's bosses are no doubt the stars of the show though, each being epic in scale and enjoyably challenging. Honestly, Axiom Verge is so good that once you've completed it you'll want to jump right back in on a harder difficulty or in speedrun mode.
Read our review of Axiom Verge
9. Guacamelee! 2
We loved Guacamelee!, the Super Turbo Championship Edition of which is available on Switch. But its sequel is superior in every way. It's one of the best Metroidvania games on Switch, in fact, which is why it's on this list.
Guacamelee! 2 is very much like its predecessor, only it looks nicer, plays better, and is a hell of a lot funnier. Four player co-op makes a return, allowing you to play Guacamelee! 2 with friends for the most riotous Metroidvania experience you can have. Although it's still an absolute blast when played alone.
Honestly, Guacamelee! 2 might just be the funniest Metroidvania game there is. Get it added to your Switch library pronto if you like a laugh.
Read our review of Guacamelee! 2
10. Blasphemous 2
Blasphemous 2 is the Metroidvania for fans of the genre who like more of a challenge.
Playing as The Penitent One, Blasphemous 2 is as mysterious as it is punishing. You'll make your way through atmospheric environments, avoiding perilous traps and combating vile enemies. And if you want to succeed, you need to explore every nook and cranny and find secret areas in order to gather the items you need to increase your health and upgrade your weapons.
While it's ideal that you've played the first Blasphemous before jumping into Blasphemous 2 it's not entirely necessary. And while the original game does have Metroidvania elements, they're really brought to the forefront in this sequel. Ultimately you should play both titles, as they're absolutely fantastic.
Read our review of Blasphemous 2
11. Bloodstained: Ritual of the Night
Ten years after the release of Castlevania: Order of Ecclesia, Koji Igarashi is back with Bloodstained: Ritual of the Night.
A spiritual successor to his previous works, Bloodstained: Ritual of the Night doesn't have you going up against Dracula but the gameplay is typical of previous Castlevania games using the Metroidvania formula. You'll explore a castle, defeat grotesque enemies and gain new abilities that will enable you to access more areas. But thanks to Koji Igarashi's touch, everything is just magical.
There are loads of weapons to find and craft, every enemy has a shard for you to absorb which grants you a new skill, and there are secrets aplenty. If you've ever played Castlevania: Symphony of the Night you should know what to expect. Only Bloodstained: Ritual of the Night is bigger, prettier, and dare we say it… just better. If you own a Switch and love Metroidvanias, you need this game.
Read our review of Bloodstained: Ritual of the Night
12. The Mummy Demastered
While 2017's The Mummy disappointed cinema-goers, this video game spin-off developed by WayForward was a very pleasant surprise.
The Mummy Demastered is a Metroidvania with beautifully designed 16-bit visuals. In it, you take control of an unnamed Prodigium soldier, sent in to deal with the evil forces of Princess Ahmanet. And there's a very good reason why your soldier is unnamed: it's because they're expendable.
Dying in The Mummy Demastered has you taking control of yet another soldier. In fact, if you go back to the place where you just died, you'll find the reanimated corpse of your previous soldier shambling around. Kill them, and you might be able to recover some of your precious goodies.
Patched since launch to make the game a little more manageable, The Mummy Demastered is one of the best Metroidvanias of recent years. As such, it's definitely worth picking up if you're a Switch owner after some solid Metroidvania action.