Nintendo Switch might not seem like the most obvious choice for horror games, but this handheld console has more than its fair share of frightful experiences.
Look past Mario, Kirby and Zelda, and you'll find a wide range of horror games from third-party developers. There are some huge titles on there – like Capcom's long-running Resident Evil series – and some indie gems, like Outlast. But which ones are the best horror games on Switch? Let us help you find them.
If you're down for some truly scary horror games on Switch, we've got you covered. We've rounded up 13 of the best horror games on the platform – in our opinion, anyway. Some of these focus on jump scares, while others simply create a tense and spooky atmosphere. Either way, we wouldn't recommend playing any of these unless you've got nerves of steel.
Make sure you keep the light on and read through to find out our picks of the best horror games on Switch. If you're brave enough, of course.
1. Resident Evil
There have been a lot of Resident Evil games over the years – and many of them are now available on Switch. However, there's just something special about the first one. Resident Evil has been remastered in HD, and Switch is now perhaps the perfect way to experience this 90s classic.
This horror classic sees you lead the S.T.A.R.S. team into a mysterious mansion nestled in the forest outside of Raccoon City. Filled with horrifying encounters at every turn, this is a game that's led the way to many modern horror games. If it wasn't for this, the genre would look very different. And so, if you're looking for the best horror games on Switch, you just have to consider Resident Evil. If you'd prefer something a little more modern, you can play the recent Resident Evil 2 and 3 remakes via the cloud.
2. Horror Tales: The Wine
While Horror Tales: The Wine isn't particularly long, it does pack in a great little horror story. It's the first in what's set to be a saga, telling the story of a man travelling to an island that's been ravaged by a pandemic. To cure his family who are currently sick with Devil's Fever, he's going to have to traverse the island in order to find the cure. And that cure just so happens to be a bottle of red wine.
Free of any combat, Horror Tales: The Wine uses its environment to make you feel uncomfortable. You'll need to run away from ghostly encounters more than once, and the environment provides you various puzzles to solve as you move from one area to the next. It packs in a unique story, a wonderfully atmospheric setting and some genuinely hair-raising moments. If you're looking for one of the scariest horror games on Nintendo Switch, then, make sure this is high on your list.
Read our review of Horror Tales: The Wine
3. Tormented Souls
Tormented Souls arrived on other formats before making its way to Switch. But thanks to a fantastic port, Nintendo's handheld may just be the best way to play this spooky survival horror.
Cast as Caroline Walker, Tormented Souls throws you into investigating the disappearance of twin girls from a hospital. Of course, nothing is going to be quite what it seems. And, taking cues from classics like the Resident Evil series and Alone in the Dark, this is perhaps one of the scariest horror games of recent years. You'll need to scavenge around your environment to find useful items – but of course, you'll never know quite what's going to be waiting for you. You won't regret diving into this one – trust us.
Read our review of Tormented Souls
4. The Dark Pictures Anthology: Man of Medan
The first of four games in the Dark Pictures series, Man of Medan is a fantastic and frightening story-driven experience that puts you in the shoes of five young people on an adventurous diving expedition. When they come across what appears to be a ghost ship in the middle of the sea, though, things take a rather dark turn. Curiosity gets the better of them – and they all end up aboard the mysterious abandoned warship. And well, things go downhill rather quickly.
What's very neat about Man of Medan is that the fate of each of its protagonists is in your hands. The actions you take and decisions you make as you play will directly influence whether a character lives or dies. And this game doesn't hold back: absolutely nobody is safe; death can come when you least expect it.
Read our review of Man of Medan
5. Nun Massacre
Nun Massacre isn't for the faint of heart. But if you're here, perusing our list of best horror games on Switch, then we don't suppose you are faint of heart. And so Nun Massacre might just be right up your street.
From indie horror legend Puppet Combo, Nun Massacre is akin to a low-budget straight-to-VHS horror movie from the 80s. It's purposefully rough around the edges, with lo-fi visuals that certainly aren't going to wow anyone. But that's part of its charm. And it doesn't stop Nun Massacre being absolutely terrifying. Being chased by a nun with a knife in her hands never fails to scare, no matter how many times you run into her. It's a short game, and it'll end if you get caught – but you'll be willing to jump in again and again. If you're not too scared, of course.
Read our review of Nun Massacre
6. Little Nightmares II
Few games manage to be cute and terrifying at the same time. But Little Nightmares, and its much-improved sequel Little Nightmares II, manage it with gusto. Casting you as Mono, Little Nightmares II is all about escaping from an evil world filled with larger-than-life horrors. Mono isn't alone in his journey, though: he's accompanied by the raincoat-clad Six, who you'll recognise if you've played the first game.
You don't need to have to enjoy Little Nightmares II, though. This is an adventure that stands on its own two feet, packing in some genuinely hair-raising terrors along the way. From being chased by a giant hunter with a shotgun, to making your way through a room filled with mannequins that move when you turn out the light, there's so much here to get your blood pumping. It isn't your typical horror game, but it is still one of the best on Switch.
Read our review of Little Nightmares II
7. Outlast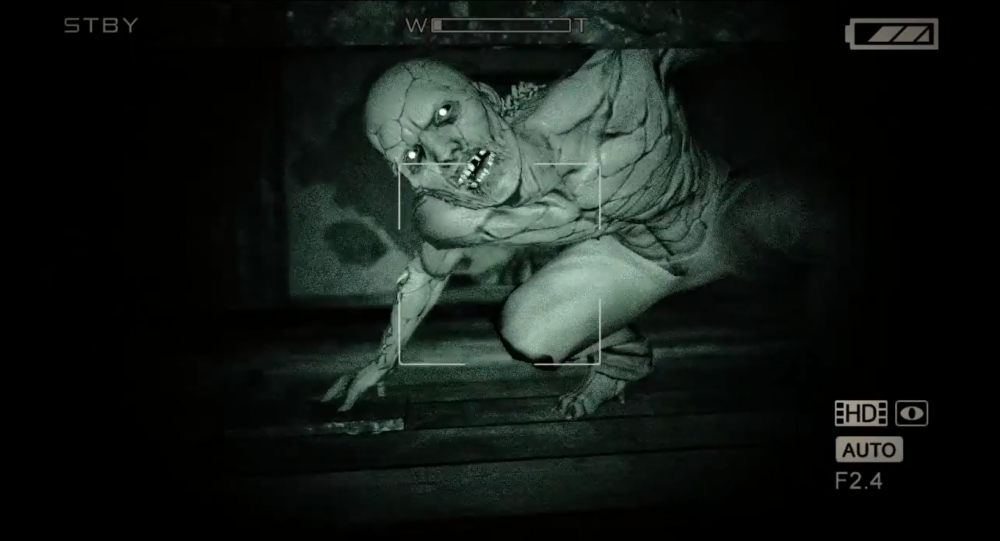 Both Outlast and its sequel Outlast 2 are some of the best horror games we've had in recent years. And with a third game – The Outlast Trials – currently in Early Access, there's never been a better time to play them.
Outlast feels a little like a found-footage movie, but one that you play. You take on the role of Miles Upshur, an investigative journalist who has travelled to an abandoned asylum buried deep in the mountains of Colorado. A tip from an anonymous source told Miles that a secret research project is being carried out there – but nothing can quite prepare Miles for what actually is waiting for him.
Outlast is survival horror at its finest, and only the bravest souls among us should try it out. Prepare to be chased, jumped out on, and petrified from just about every angle. It's fantastic.
8. Blair Witch
When we reviewed Blair Witch on Switch back in 2020, we didn't think it was the best format for the game. While we loved Blair Witch on PC, the Switch version's reduced graphical fidelity took something away from the experience. The darkness of the Black Hills Forest becomes murky and it's hard to make anything out. But with the advent of the Switch OLED, it's now a little better to play. And if you can put up with a lower resolution than the PC or home console version, this is a fantastic horror game worth diving into.
Offering a true sequel to 1999's The Blair Witch Project, Blair Witch puts us in the shoes of police officer Ellis. He's investigating a disappearance that takes him into the now-infamous Black Hills Forest outside of Burkittsville, Maryland. Of course, we've seen the movie; we know what's waiting for Ellis. But that doesn't make it any less terrifying. Whether you're a fan of the film or simply a fan of compelling horror games, this is one of the best you can play on Switch.
Read our review of Blair Witch
9. The Suicide of Rachel Foster
The Suicide of Rachel Foster isn't exactly a straight-up horror game. It's more of a slow-burning narrative drama. But set in an empty hotel, the atmosphere it creates is greater than most other modern horror games. You'll be fully expecting something to jump out at you at any given moment, putting you constantly on the edge of your seat.
You take on the role of Nicole, a young woman who has returned to the hotel, now closed, that her parents owned. They've both passed away, and so it's Nicole's job to complete the sale of the hotel and wash her hands of it forever. But as a freak storm blows in, she finds herself trapped there for a few days. And the secrets she uncovers are far darker than she could have imagined. Telling you more than that will certainly spoil the surprise – this is the type of game that's best played with as little knowledge as possible. Trust us, you won't be disappointed.
Read our review of The Suicide of Rachel Foster
10. Amnesia: Collection
This three-in-one collection contains Amnesia: The Dark Descent, Amnesia: A Machine for Pigs, and Amnesia: Justine. The first in the trilogy, The Dark Descent, first released back in 2010, and despite now being 13 years old, it holds up incredibly well. In fact, it's often touted as the game that kickstarted the 'Let's Play' video revolution. It's something of a cult hit, then.
Both The Dark Descent and A Machine for Pigs are full-length first-person horror games, while Justine is an expansion of the first game. Each game will immerse you into a dark, gruelling world where you'll uncover nightmares, visit people's worst nightmares, and remain constantly on the edge of your seat. Horror games on Switch don't really get much better than this.
Read our review of Amnesia: Collection
11. Alien: Isolation
It may be a little long in the tooth now, but that doesn't stop Alien: Isolation being one of the best horror games on Switch. Or indeed one of the best horror games ever made. It's perhaps the best thing to come from the Alien franchise in decades, and rightly so. Alien: Isolation casts you as Ellen Ripley's daughter, Amanda, on a quest to find out what really happened to her mother.
And so you'll spend your time exploring the seemingly deserted corridors of the Nostromo, looking for clues as to what happened Ellen and her crew. But of course, Amanda isn't alone. She's being stalked by a deadly alien, hiding in the shadows. Alien: Isolation creates an incredible sense of tension, knowing that only one predator is hunting you down. It proves you don't need swarms of enemies to create something truly terrifying.
12. Infliction: Extended Cut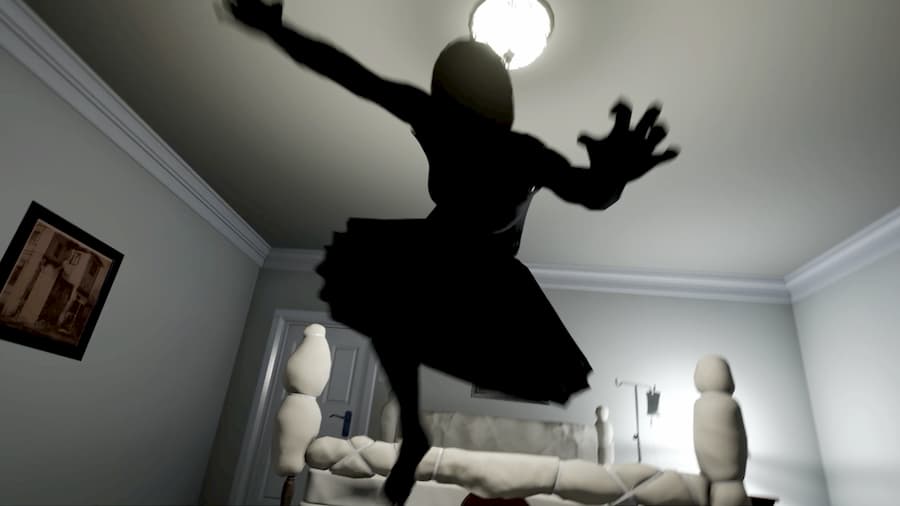 Like many horror games of recent years, Infliction: Extended Cut takes its cues from P.T., the playable teaser designed to reveal the ill-fated Silent Hills. And while it doesn't quite reach the heady heights of that 30-minute-long demo, Infliction does come closer than most to creating a truly scary, tense atmosphere.
Playing in first person, Infliction has you exploring an empty family house. It all looks rather normal, at least to begin with. It's clear a family was once happy here, but the further that you explore, the more dark secrets you'll uncover – and it quickly becomes apparent that not everything is as it seems. There are some truly scary moments here, and a seemingly-ordinary house makes a surprisingly good backdrop for this type of horror game.
Read our review of Infliction: Extended Cut
13. Layers of Fear: Legacy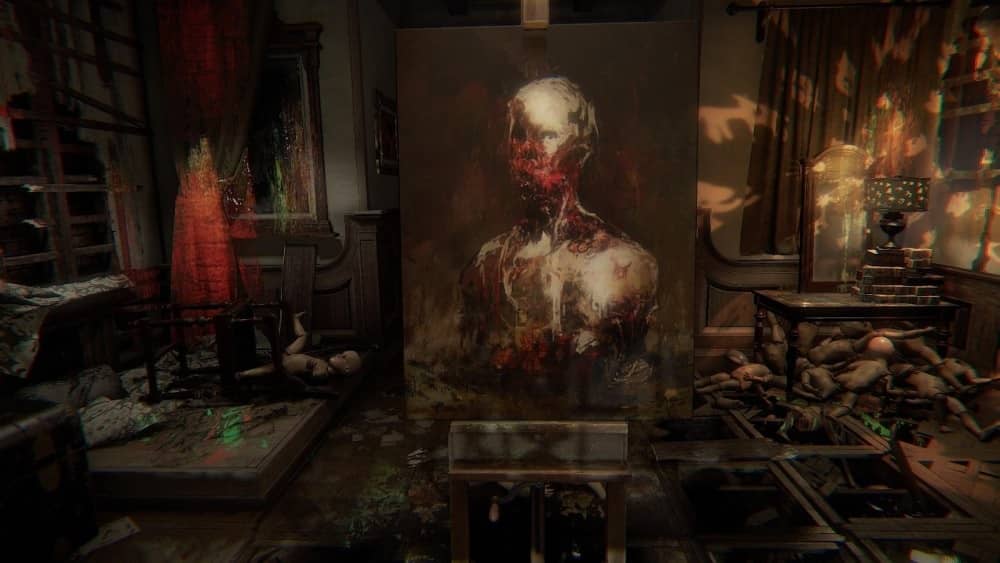 Layers of Fear could probably be described as a 'walking simulator'. After all, you don't have a weapon in your hands, and there's not much you can do other than walk around and occasionally pick up an item to take a closer look at it. But it doesn't matter. What Layers of Fear lacks in interactivity, it makes up for in scary atmosphere and tension.
During its three-hour runtime, Layers of Fear sees you exploring an opulent mansion – the home of an artist. Your home, in fact. You're the artist. But as often is the case in these horror games, not everything is quite as it seems. Something isn't right. Either with you, or with the house. What starts out as a seemingly innocuous journey around a fancy home soon becomes a psychedelic trip that will have you questioning absolutely everything. You don't need monsters and nightmarish creatures to create great horror, and Layers of Fear proves that.