For years now, Tetris has been keeping players glued to their screens, trying to create full lines with randomly dropped blocks in order to clear them. Tetris is quite simply timeless, and so it's no surprise that every few years or so a new version is released. You can of course play regular Tetris on Xbox thanks to the excellent Tetris Effect Connected, but if you're looking for more Xbox games like Tetris, we've got you covered.
All of the Xbox games on this list have you matching items of some sort in order to clear your screen and score points. They may not all be quite as good as Tetris, but they'll keep you entertained into the early hours of the morning if you like dropping shapes. We don't think you'll be disappointed.
1. Treasure Stack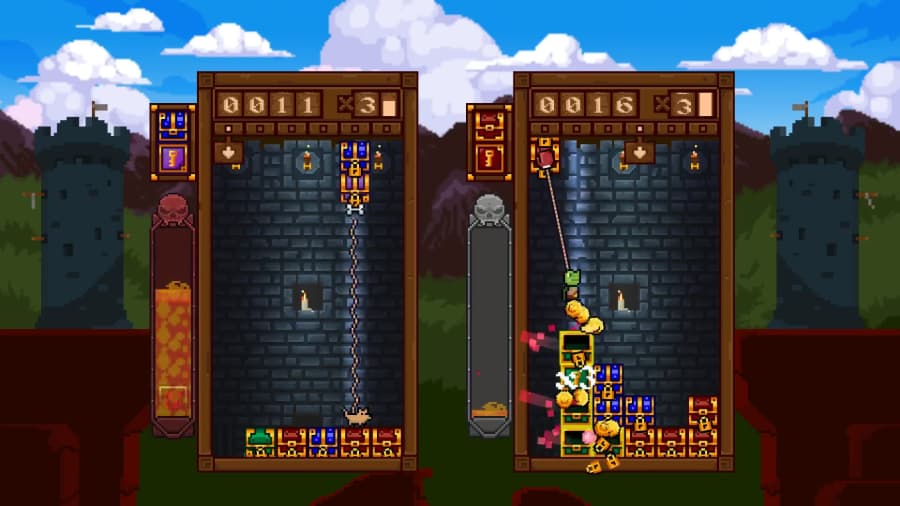 Treasure Stack is rather unique in that instead of taking control of blocks as they fall, you control a character who manages the blocks. Also, the blocks are mainly treasure chests, with some keys and useful tools thrown in for good measure. You have to successfully group chests of the same colour together before placing a key on or next to them to open them up and make them disappear. Making things harder, however, are the black bricks that drop that prohibit access to the chests already on the screen.
Primarily a multiplayer game, Treasure Stack does have a single player mode, but it pales in comparison to facing off against another human opponent. Be sure to pick it up if you're after a great Xbox game like Tetris.
Read our review of Treasure Stack
2. Tumblestone
While Tetris was originally designed to be a solitary affair, Tumblestone is all about competition. Here, rather than blocks falling from the top of the screen, you start the game with all the blocks in place. The goal is to clear your screen before your opponents do, by removing them in sets of three matching colours. It's not that easy though: colours often have to be cleared in the right order to avoid being stuck with stray blocks that can't be removed.
It's a challenging game, then, in the same way that high-speed Tetris is challenging. Tumblestone packs in tonnes of content with a huge campaign to work through, with each world introducing new features and 'special' blocks. If you're looking for one of the best games like Tetris, this is one definitely worth trying.
Read our review of Tumblestone
3. Tricky Towers
Tricky Towers is best described as 'Tetris without walls'. It's very similar in that tetronimos fall from the top of the screen, and you have to rotate and place them to the best of your ability. But here you're not trying to clear lines; you're trying to build stable towers. With a fairly narrow playing field, it's easier said than done.
Tricky Towers can be played alone, but it's best enjoyed in local or online multiplayer. There are three game modes to challenge your friends to: puzzle, race, and survival, all changing up the gameplay somewhat. Of all the games on this list of Xbox games like Tetris, it's the one most similar, but with an interesting twist. It's one of our favourites, for sure.
Read our review of Tricky Towers
4. Lumines Remastered
Lumines Remastered is a brilliant game that combines block-dropping action with banging beats. Featuring numerous game modes, each with their own unique twist, your basic task in Lumines Remastered is to connect blocks to form bigger blocks. When four or more are placed together, they'll merge, and as a line moves across the screen they are cleared. The question is, can you clear the blocks fast enough to keep the game going?
Like Tetris, Lumines Remastered becomes a mesmerising experience when you get into it. The music, visuals and gameplay all come together, putting you in a trance-like state, until you either emerge victorious or fail. Needless to say, if you love games like Tetris you'll love Lumines Remastered on Xbox.
Read our review of Lumines Remastered
5. Chime Sharp
Combining beautiful music with block-placing antics, Chime Sharp is a challenging but enjoyable puzzler. Blocks of various shapes drop into the screen, and it's your job to piece them together so that by the time the timer expires, you've covered as much of the base grid as you possibly can. It sounds simple, but it's more difficult than it sounds.
It's a great deal of fun, though. And we can't help but keep jumping back in to try and beat our best score. With a variety of modes, Chime Sharp is the type of game you can return to time and time again.
Read our review of Chime Sharp
6. Frozen Freefall
Candy Crush isn't available on Xbox, but Frozen Freefall is, and it offers a very similar experience. In Frozen Freefall, your task is to clear the screen of icy gems by matching them up. The problem is, you only have so many moves in which to do so. You'll need to think ahead and master the art of matching gems to succeed, then. And to help you out, you do have some helpful power-ups to call upon too.
Perhaps the best thing about Frozen Freefall is that it's absolutely free to play. That means you can download it and give it a go without risk. Don't like it? Nothing lost! It may not be exactly like Tetris, but its blocky shenanigans are bound to satiate some.
7. Gems of War
A match-three puzzler with RPG elements, Gems of War challenges you to effectively move gems to overcome enemies. To succeed in battle you'll need to match the right gems at the right time to perform attacks, and also bolster the power of your cards. Needless to say, it's tactical and engrossing. Those who like shifting blocks are sure to get a kick out of it.
Free to play, you don't need to buy Gems of War to jump into it. Those who want to give themselves a boost, however, can indulge in the game's available microtransactions, making their time with the game a bit less grindy.
8. Puyo Puyo Champions
Puyo Puyo has been around in one form or another for many years, often seen as a rival of Tetris. Heck, there's even the Puyo Puyo Tetris series, which combines the two games together seamlessly. But here, we're looking for games like Tetris on Xbox, and we can't hesitate to recommend Puyo Puyo Champions.
If you're not familiar, Puyo Puyo Champions is about arranging falling blobs on your screen, with the aim of clearing them and filling up your rival's screen with 'junk'. While Tetris is all about arranging by shape, here it's by colour. Grouping blobs of the same colour together will make larger blobs – and clearing multiple of these in a chain is the key to defeating your opponent. It's arguably a trickier game to get the hang of than Tetris, but once you've got your head around it, it's just as engaging and enjoyable.
Read our review of Puyo Puyo Champions
9. Super Puzzle Fighter 2 Turbo HD Remix
Originally released in arcades in 1996, it wasn't until it got ported to the original PlayStation that we fell in love with Super Puzzle Fighter II Turbo. It plays similarly to Puyo Puyo, with players connecting gems of the same colour and then destroying them. And with each character dropping gems in their own unique pattern, there's an element of strategy involved.
Unfortunately, Super Puzzler Fighter II Turbo HD Remix doesn't feature the excellent Street Puzzle challenge mode that was found in the PlayStation version of the game, and there are a number of other changes, too. Still, the core experience remains intact, and there are some new modes included to provide some variety. You can play a match-three variant of the game, for example, or play with rebalanced characters. Needless to say, if you're looking for the best games like Tetris on Xbox, you should really check Super Puzzle Fighter II Turbo HD Remix out.