If you've got a young Bluey fan in your household, then you might want to add Bluey: The Videogame to your Christmas shopping list. The latest offering from children's game publisher Outright Games does an absolutely fantastic job of turning the much-loved cartoon into a playable experience – and it's nothing short of adorable.
Bluey: The Videogame has four levels, each playing out like an actual Bluey episode. Enthusiasts will be pleased to know that Bluey's voice actors take up their roles here, and the game's visuals perfectly ape the art style of the cartoon, making for a truly authentic experience. Being aimed at young children, everything in the game is nice and simple: you'll run around with the left stick, and use only two buttons to run and interact.
Each level is made up of a healthy mixture of gameplay and cutscenes, with gameplay covering themes and activities that have made an appearance in the TV series. For example, there's a magic xylophone here, as well as a game of keepy-uppy and 'ground is lava'. While these games form the backbone of a level, you'll also unlock them once the level has been completed, allowing you to play them at any time.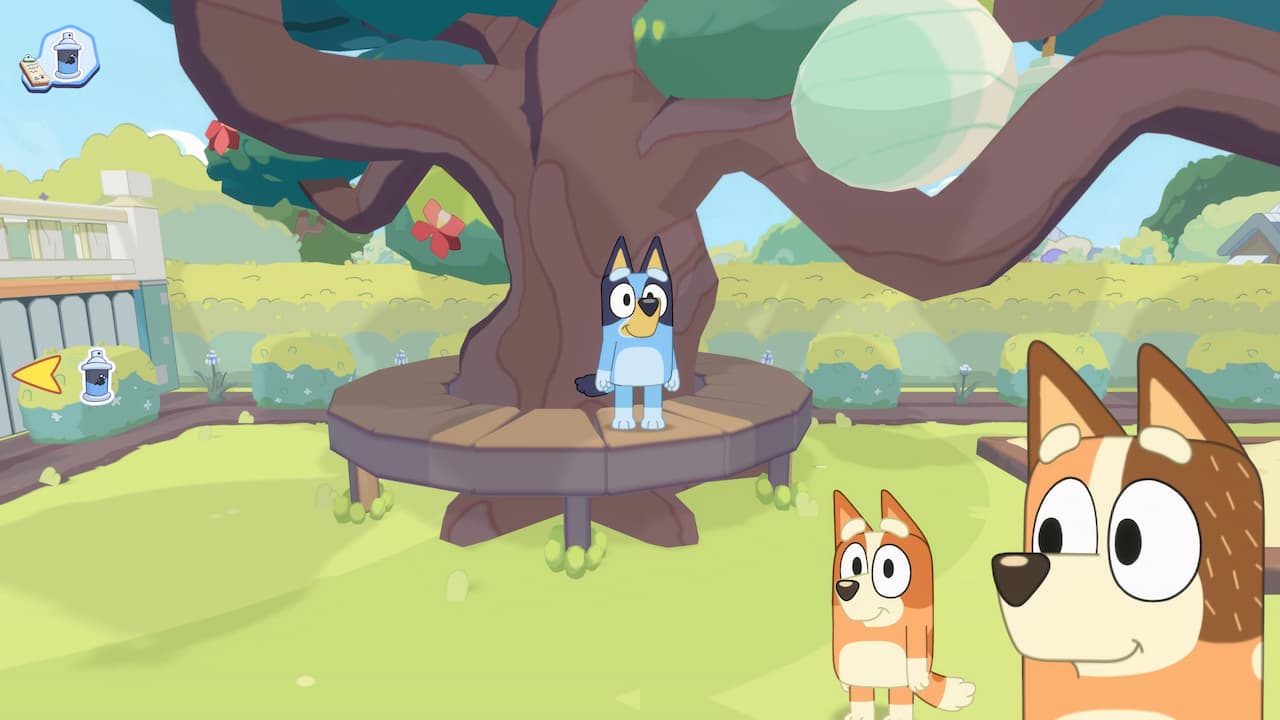 The minigames are entertaining enough in single-player, with players able to choose to take control of Bluey, Bingo, Mum or Dad. But they shine most when played in multiplayer. The whole game can be played with multiple local players, actually, but the competitive element offered up by the minigames makes them particularly fun. The magic xylophone minigame, for example, sees players run around and 'freeze' players by playing a note on the xylophone. Manage to freeze the most characters and you'll win. And a simple game of keepy-uppy can become riotous as other players try to take control of the balloon.
Related: The Best PS5 Games for 3 to 4 Year Olds
Outside of levels and minigames, Bluey: The Videogame offers up plenty for players to do. There's a wealth of collectibles to hunt down across five locations, but younger players will simply enjoy existing in environments familiar from the cartoon. Bluey's house and garden is fully explorable, as is the playground, beach and a woodland area. What's particularly great is that you can interact with just about any item you come across in an environment, picking up balls, boxes, toys and more, simply because you can.
If you do choose to collect everything in the game, each environment has 15 specific items hidden around it. There's also a suite of stickers to be found throughout the environments. To get some of the stickers, you'll have to water plants to get them to full bloom. It's a nice little interactive touch, as you'll first need to find a watering can and fill it up.
We tend to have limited expectations of games aimed at kids. All too often they're a mixed bag, lacking in quality and feeling too much like a rushed cash-grab. That couldn't be further from the truth with Bluey: The Videogame. You can tell love and care has gone into bringing this to life. It's a true recreation of the cartoon, featuring the same level of joyful, carefully-considered writing that you'd find in a TV episode. From a technical perspective, it looks great and for the most part, it plays wonderfully too. We've had a couple of instances of characters getting stuck on scenery, but nothing too immersion-breaking.
If your child is a Bluey fan, they are going to absolutely adore Bluey: The Videogame – it's as simple as that. An art style that matches the cartoon and the use of original voice actors make this an authentic experience, with simple and well-considered gameplay that's enjoyable for players of any age. Yes, this is an experience aimed at the youngest players – but even as adults, we've had some fun with this. It's a game you're going to be more than happy to play with your kids, let's put it that way.
---
Bluey: The Videogame Review – GameSpew's Score
This review of Bluey: The Videogame is based on the PS5 version of the game, via a code provided by the publisher. It's available on PS4, PS5, Xbox One, Xbox Series X/S, Switch and PC.