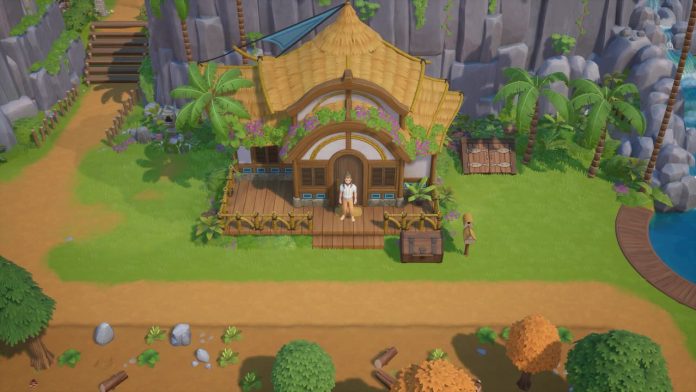 Coral Island: yet another game where you've somehow inherited a run-down farm from an old relative. So many games use the same premise that I almost want to roll my eyes. And yet, despite treading such familiar ground in some areas, Coral Island manages to feel fresh and exciting. This farming/life sim really does give Stardew Valley a run for its money, blowing it out of the water in some regards.
Funny I should mention water, actually, because while Coral Island does take place on land, the oceans surrounding your new island home are an important part of gameplay. There's an environmentalist slant here, and it's not long after moving onto Coral Island that you'll learn of an oil company set to destroy the beautiful coral reef surrounding the island. But by donning a diving suit and heading offshore, you can clean up the sea by picking up trash and restoring damaged coral.
It's just one of many activities you can do to pass the time in Coral Island, but perhaps one of my favourite. Of course, it's a farming sim, so you've got a huge patch of land in which you can grow crops, plant trees and otherwise live off the land. And this type of game wouldn't be complete without a monster-filled mine to explore, would it? Oh, and of course there are dozens of townspeople you can meet, befriend and even marry.
Yes, for the most part, Coral Island sounds rather derivative on paper. There's no denying that in terms of many of its features, it isn't wholly original. And yet. My summer has been packed with these types of games. I've poured hours into Moonstone Island, Paleo Pines, Fae Farm and Spirittea just to name a few. I've thoroughly enjoyed each and every one of them, but none have grabbed me quite the way Coral Island has.
Related: The Best Games Like Stardew Valley
Why is that? Is it because of Coral Island's gorgeous art style? It certainly helps. Developer Stairway Games has opted for a clean, modern art style here – and the game sports some of the most intricate and beautiful interiors I've ever seen. It's very clear a lot of love has gone into bringing the world of Coral Island to life, effortlessly making it a place you simply want to get lost in.
Or is it because there's just so much to do here? Boasting a wealth of activities isn't anything new in the farming/life sim genre. But Coral Island seems to take things to the next level by introducing the environmentalist angle – not to mention the narrative vein of spirit-flavoured magic that runs through the game. In other words, if you're not farming, chatting to people in town, fishing, catching bugs, diving, mining or foraging, perhaps you're busy completing a quest for the mysterious Island Goddess, or the Chieftain that lives out in the forest.
It also helps that, while Coral Island actively encourages you to play however you want, you're also provided a strong to-do list of quests and missions. You'll never be at a loss of what to do and you always have something to work towards. It provides a direction and sense of purpose, which is particularly useful for players who sometimes struggle to become invested in games that provide a little too much freedom. Rather, this offers the best of both worlds. There's no punishment for not completing the missions if you'd rather march to the beat of your own drum. That's entirely down to you.
Of course, Coral Island also offers plenty of space for players to be creative. Your farm can be decorated however you want, as can the inside of your house. It won't come easily, though, and you'll have to work hard to earn the materials you'll need to personalise any of your spaces. Nothing comes quickly here, so if you like instant gratification you might get frustrated by its relatively slow pace. But it does mean that progression feels satisfying; gathering enough materials to craft a new piece of equipment, for example, or simply growing enough fruit to complete a mission, is genuinely rewarding.
The farming/life sim space is bursting, and with many games offering a similar premise it's hard for anything to truly stand out. Indeed, on paper Coral Island sounds very much like any other. But in practice, it's one of the most satisfying games in the space and one I know I'll be going back to for months to come. It looks fantastic, it offers a robust mission system coupled with endless player freedom and has some genuinely unique ideas to boot. What more could you want?
---
Coral Island Review – GameSpew's Score
This review of Coral Island is based on the PC version of the game, via a code provided by the publisher. It's available on PS5, Xbox Series X/S and PC.