Home
Tags
Black Friday 2021
CD Keys has launched its weekend-long Black Friday sale, offering huge discounts on hundreds of digital goods.
Fancy a Nintendo Switch bargain? Amazon (US) is offering up to 1/3 off Nintendo Switch titles when purchased digitally.
With Dead Space's remake arriving next year, why not dive into the PC version of the original, only £1.99 from Amazon?
Looking to leap into virtual reality? Buy the Oculus Quest 2 at Amazon and get £50/$50 in Amazon Promo Credit.
If you're in the US, Target is selling Cyberpunk 2077 for a silly $9.99 on the Xbox One and PlayStation 4.
CD Keys has launched its weekend-long Black Friday sale, offering discounts of over 90% in some cases off a bunch of digital goods.
Smyth's Black Friday sale is in full swing, and it has some excellent savings to be had on new releases.
If you're in the market for some new gaming peripherals, Amazon UK has some deals on Razer gear worth checking out.
Three excellent games for less than £18? Sign us up.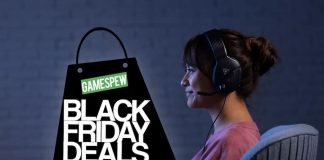 This Black Friday, Argos is offering the Turtle Beach Recon 200 Gen 2 headset for Xbox and PS4/PS5 for a bargain £34.99!
For Black Friday week, Currys is offering CD Projekt Red's large open-world RPG Cyberpunk 2077 for under £15 on both PS4 and Xbox One!
Normally £210, the LEGO NES has been reduced for Black Friday to £167.20 direct from the Nintendo UK shop.
A gamer's only as good as his tools.
Fancy a Switch, with two games and three months of Nintendo Online membership?
Ride the wave of the future with this HTC Vive Cosmos deal.
If you've managed to bag a ludicrously hard-to-find PS5 and have already filled it up with the latest games, have we got the deal for you.
Revel in the post-apocalyptic setting of Far Cry: New Dawn this Black Friday week for only £5.95 over at The Game Collection.
Thanks to Amazon UK's Black Friday sale, you can pick up Rainbow Six Siege Deluxe Edition for less than half price on Xbox Series X.
Wanting a god-awful but totally brilliant Christmas jumper for this festive season? Just Geek has you covered.
One of the best games of all time for less than £20? On PlayStation 5 no less? Count us in.