Buried under mounds of earth, you hoped for an escape. And you got it, only not in the way you would imagine.
Souldiers finds you introduced to a whole new world thanks to the handiwork of Valkyries. Though you might soon wish you'd simply accepted death. You see, there's no rest for you in the land you've suddenly found yourself in, only more challenges to overcome. Needless to say, you've got a lot of work to do if you want to get back home. If that's even possible.
A retro-styled metroidvania adventure, your first task in Souldiers is choosing your character class. Three are available, each with their own strengths and weaknesses. Those who like to get up close and personal with their enemies would be wise to choose the scout. For those who like to keep their distance there's the archer. And then there's the caster, who's for players that like to get technical.
Ultimately, the class you choose will determine how you approach combat. Beyond that, the gameplay of Souldiers remains pretty much the same; no class has access to unique abilities that allow them a different route through the game. But still, your choice is important, as your class can't be changed at a later date. There's no distributing stat points or the like to steer away from your core strengths.
Anyone familiar with the metroidavania genre won't really find anything that's new here. Players make their way through interconnected areas, solving puzzles and gaining new abilities that allow them to explore even further. Backtracking is often required, and is also recommended for those who want to develop their character to the max, with things like health upgrades and valuable resources hidden away in areas that are inaccessible the first time an area is visited.
Aside from exploration, there's also a large amount of combat. Regardless of the class you choose, you'll find that one button performs a light attack, and another a strong attack. You can also block, dodge, and make use of numerous secondary weapons to overcome your enemies. The use of secondary weapons is limited though, with ammo having to be collected or purchased.
Beyond the basics, a skill tree allows new skills to be learned, which further bolster the unique abilities of each character class. A range of elemental orbs are gathered during your travels, too, allowing you to imbue your attacks with their powers. Not only is exploiting enemy weaknesses highly effective, but these elemental abilities are also useful for passing otherwise inaccessible obstructions. For example, fire can be used to burn through thick spider webs.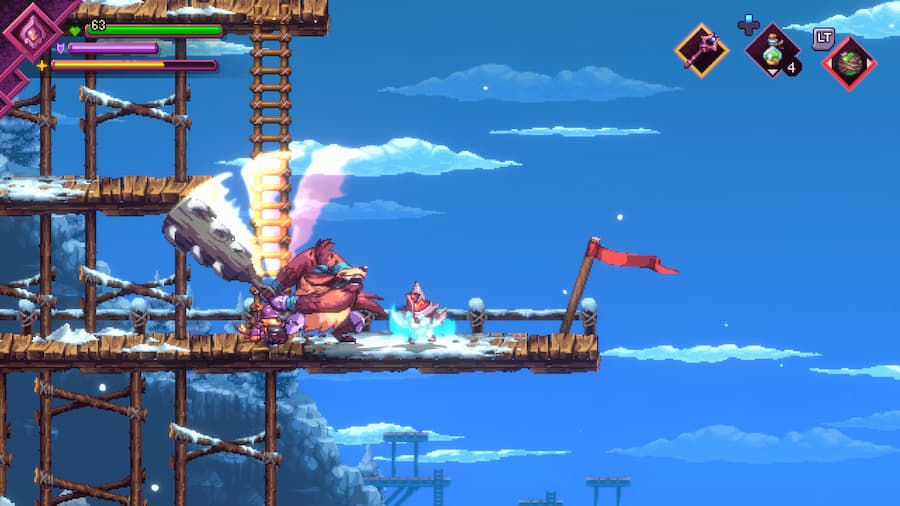 On paper, everything about Souldiers probably seems rather generic, and it is. But thanks to its responsive controls, charming visuals and enjoyable soundtrack, everything comes together to make it better than the sum of its parts. But there are some issues to bear in mind, the most problematic being its difficulty.
Related: The Best Metroidvania Games on PS5
On its standard difficulty, Souldiers starts out manageable but soon becomes rather frustrating. Even the strongest class, the Scout, doesn't have a massive pool of HP, and it can be depleted in no time at all. You're likely to die often, then. And that means a trip back the last check or save point, and they're not that regular.
Heath potions are available, but you can only carry a small number and you won't want to get used to buying them as they're relatively expensive. Many players may resort to lowering the difficulty if they find their progress halted too often, but it locks out certain trophies/achievements, and doesn't actually make things all that easier.
Playing on PS5 for review, we've also found that loading times are on the longish side, and there was a decent amount of screen tearing until a patch landed just before launch. For some reason that patch has now made saving the game take much longer, however. To top it all off, there's not much, if any, use of the unique features of the DualSense controller, either.
As it is, Souldiers is a very enjoyable entry in the metroidavania genre – providing you have plenty of skill and/or patience. It doesn't offer anything that's genuinely new, but most of its components complement each other well. If only more thought had been given to the player experience, as for many it will simply prove to be too punishing at times. And on PS5, it could do with a little more polish.
---
Souldiers Review – GameSpew's Score
This review of Souldiers is based on the PS5 version, with a code provided by the game's publisher. It's available on PS4, PS5, Xbox One, Xbox Series X/S, Switch and PC.