So you quite like playing games with other people, but couch co-op doesn't quite cut it. You prefer your allies to number in the hundreds, rather than single digits. Sounds to us like you're looking for an MMO. These massively multiplayer games are ideal for the gamer that likes a long term project. If your idea of a perfect Friday night is guzzling Monster while fighting your way through hordes of fantasy creatures with a group of perfect strangers just to get a chance at a stat or cosmetic upgrade, you've come to the right place.
Here are what we consider to be the best MMOs currently available on PlayStation 4. We've tried to include a range of different options to suit various tastes, including RPGs, hack and slashers, shooters, and more.
Want to support GameSpew? If you decide to buy any of the games on this list, please consider using our affiliate links, included below each entry. It won't cost you anything extra, but we'll get a small slice of the purchase. Thank you.
This list was first published in 2019 and has been periodically updated since.
1. Genshin Impact
Not only is Genshin Impact one of the best MMOs on PS4, it's also completely free to play. So, that's a win-win in our books. This gorgeous anime-styled adventure takes you to the mystical land of Tayvat. You've arrived as a traveller from another world and, along with the friends you meet along the way, you'll find yourself unravelling everything that Tayvat has to offer. That means exploration, adventuring, and of course plenty of combat.
Despite being a massively multiplayer online game, you can tackle Genshin Impact completely by yourself if you'd like to. Though, of course, you can play with friends or team up with other players. Up to four people can join in a party – and your co-players don't even need to be on PS4 thanks to crossplay across PC and mobile.
So: get ready to shape your character, master magical elements, find new equipment, and travel across some truly gorgeous landscapes. There's a lot of fun to be had in Genshin Impact. And did we mention it's free?
2. Final Fantasy XIV: A Realm Reborn
If you can afford the price of entry and monthly subscription fee, look no further than Final Fantasy XIV: A Realm Reborn. Not only is it  one of the most popular MMORPGs right now, it's also one of the most well-regarded Final Fantasy games to date.
There's an absolute wealth of content, including a well-written story, a wide variety of classes and jobs to choose from, guilds, player housing, a fashion system, crafting and gathering and, of course, hardcore raids to battle through.
It's also just received its latest expansion, Shadowbringers, which received an incredibly warm reception. Now's the best time to dig into one of the best MMOs on PS4, and perhaps of all time.
Buy Final Fantasy XIV on Amazon
3. The Elder Scrolls Online: Tamriel Unlimited
If the idea of paying a monthly subscription fee to play an MMO puts you off, you can't go far wrong with Elder Scrolls Online: Tamriel Unlimited. This takes place in the same fantasy world as Skyrim and Oblivion, though way back in time.
The huge appeal of Elder Scrolls Online is that it allows you to explore Tamriel in all its glory, from the alien-like landscape of Morrowind through the battle-torn Cyrodil all the way to the picturesque scenery of The Summerset Isles. Elder Scrolls Online has it all.
It doesn't skimp on the gameplay department either, providing a wealth of story content, questing, crafting and gathering, player housing, dungeons, trials, and large-scale open-world PVP warfare. Whether or not you've previously played an Elder Scrolls game, this is one of the best MMOs on PS4 that you can play right now.
Buy Elder Scrolls Online on Amazon
4. Destiny 2
If you prefer your spaceships to your dragons, Destiny 2 will definitely appeal. It's a more streamlined and focused affair than your typical MMO, but there's still an absolute ton of content to battle your way through.
The goal in Destiny is to collect loot, loot, and more loot across a wide variety of game modes. You've got story mode, planetary patrols, a variety of PvP modes in the Crucible, PvE and PvP combined in Gambit, and Strikes and Raids depending on your challenge level preference.
Destiny 2 has a great content loop that resets on a daily and weekly basis, absolutely showering you with rewards on a regular basis. If you're looking for one of the best MMOs on PS4, you can't go wrong with this.
5. Warframe
Destiny 2 and Warframe feel like two sides of the same coin. Both take place in a sci-fi universe, feature a wide variety of magical classes to play as, and focus heavily on the loot. Where they differ though, is in the pricing.
Warframe might feel less polished than Destiny 2, but it's entirely free to play. It also just so happens to have one of the fairest free-to-play monetisation systems going, so you can play entirely for free and miss out on nothing if you're willing to put in the grind.
And you'd better be willing to put in the grind, as Warframe is full of it. That's the core appeal of this shooter though. Everything you do earns you valuable resources that you can spend on new Warframes (basically classes) and weapons.
6. Neverwinter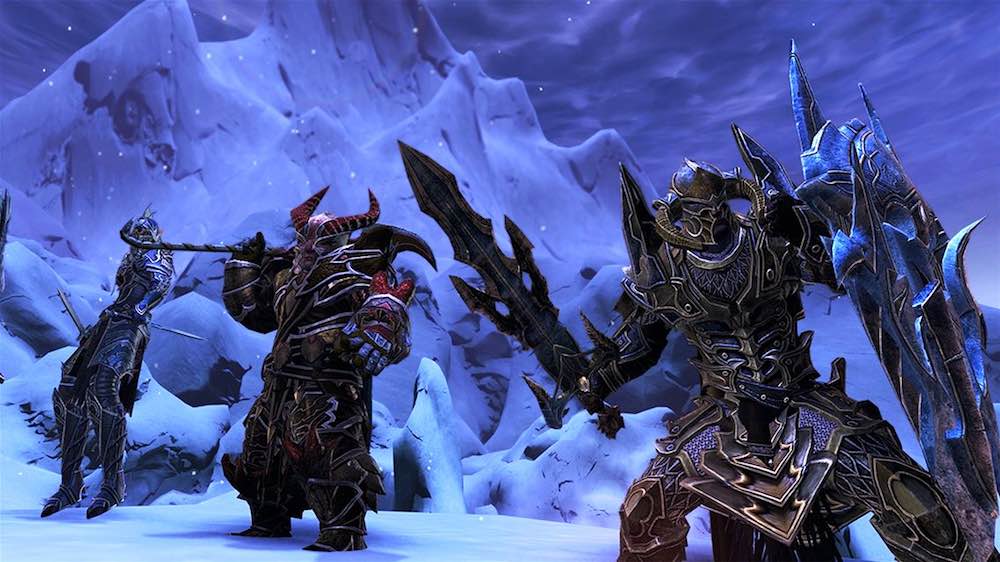 Neverwinter takes place in the infamous Dungeons & Dragons city that has been the focus of three video games and numerous expansions over the past two decades.
It provides a decent place to spend your time in without dropping a dime, with dungeons to battle through, dragons to fight, and a wealth of typical D&D classes to choose from. Whether you like to swing a big sword, chuck a fireball or two, or sneak around without being seen, there's plenty for you to get stuck into.
Not only is Neverwinter generous on a monetisation level, but it also provides a wealth of content on a regular basis so you'll never find yourself short of things to do.
7. Tera
Tera is another free-to-play MMO that will appeal to those that have a penchant for fantasy. If swinging absolutely huge swords at monsters that don't even fit comfortably on your 4K TV is your idea of a good time, Tera will put a massive grin on your face.
The combat system is Tera's biggest appeal. Traditionally, MMOs relied on tab-targeting systems that were made popular by World of Warcraft. Tera doesn't have time for that, introducing a combat system so full of action that even Dante from Devil May Cry would raise an eyebrow.
There's a huge world to explore, thirteen different classes to play as, and plenty of content to dig into either with friends in dungeons or against them in open world PvP.
8. Elite: Dangerous
Elite: Dangerous is for those of you that like layers and layers of depth. You play as commander of your very own starship in the distant 34th century and head on out to explore a full-scale recreation of the Milky Way.
There are over 30 different ships to choose from and customise with hundreds of different modular components. This is where that depth comes in, as you can truly forge your own playstyle if you plan on digging deep enough.
The three pillars of Elite are trading, which allows you to make ridiculous sums of money, fighting, which is where you'll show off your awesome ship, and exploration, because the Milky Way is so vast you'll probably never see all of it.
Buy Elite: Dangerous on Amazon
9. Star Trek Online
If you're a fan of Star Trek, you've probably played Star Trek Online already. This sci-fi MMORPG takes place in the same universe as the hit TV and film series, and will see you interact with recognisable worlds, characters, and alien species.
You'll play as a Captain, and you can customise every aspect of their appearance. Then, you'll get your own starship, hire crew, and head on out on an adventure across over 100 different locations.
Along the way, you'll battle enemies both on the ground and in your starship. It's literally got everything a growing Star Trek fan wants, making it one of the best MMOs on PS4.
10. Trove
Trove takes Minecraft's formula and seasons it with a bit of MMO and RPG to create something a little bit different. You'll build stuff, head out on adventure as a wide variety of different characters, and explore a fully destructible world.
Ultimately, Trove just takes the idea of a sandbox MMORPG to the next level. If you can imagine it, chances are that you can do it in Trove.
There's also a realm for pretty much every fantasy you've got going on in your head. You can fly around on the back of a dragon, sail the seas looking for treasure, or try and look as stylish and brooding as Ryan Gosling in Blade Runner-inspired Neon City. That's right – Trove has it all. It might not be what you typically think of when you think of MMOs, but it's still one of the best on PS4.