When it launched last year on PS4, Xbox One and PC, I quite liked Warhammer: Chaosbane.
An action RPG in a similar vein to Diablo, I enjoyed its deep character development and impressive number of difficulty levels, but was less impressed by its repetitiveness and the fact that it barely explained numerous mechanics that opened up as you delved further into its campaign. Just over a year later, and the game has been bundled up with all of its post-launch content and given a bit of a spruce up for PS5 and Xbox Series X/S. And while some its original issues still cause grief, as Warhammer: Chaosbane Slayer Edition, it's certainly a more appealing package now.
The core of the game, of course, remains the same. You choose a character with which to take on hordes of demons, then progress though a multi-chapter campaign hacking, slashing and shooting your way to the end. Along the way you'll level up, granting you access to a wide range of skills. And there's loads of loot, allowing you to gear up for the challenges that lie ahead. The icing on the cake is that, like Diablo, you can tackle Warhammer: Chaosbane alone if you wish, team up locally with friends and family, or take the action online. And slaying with others is simply more fun.
Since launch, however, Warhammer Chaosbane has been on the receiving end of numerous free content updates, and they all find their way into the Slayer Edition. There's the Tower of Chaos and Invasion, for example, two modes that will keep players entertained once they've finished the main campaign. Offering a considerable challenge, those who journey into them may come away with great rewards. Even more impressive is that a new character has also been added for free, and an additional story chapter. Alongside the bug fixes and gameplay tweaks that you'd expect, Warhammer: Chaosbane is undoubtedly a better game now than it was a year or so ago.
But if you're thinking about picking up the Warhammer: Chaosbane Slayer Edition you rightly expect more. And it does deliver. In addition to all the above you also get pretty much all paid DLC for the game. That includes Jurgen Haider, the new Witch Hunter character – and he's quickly become my favourite thanks to his ability to instantly switch between swords and guns, his skills changing appropriately. There's yet another story chapter too, Tomb Kings, in which you find yourself in an Egyptian setting, fighting against Mummies and scorpions in addition to the usual skeletons. The additional zones and enemies found in the story chapters added since the game's launch also help bolster Warhammer: Chaosbane Slayer Edition's endgame content.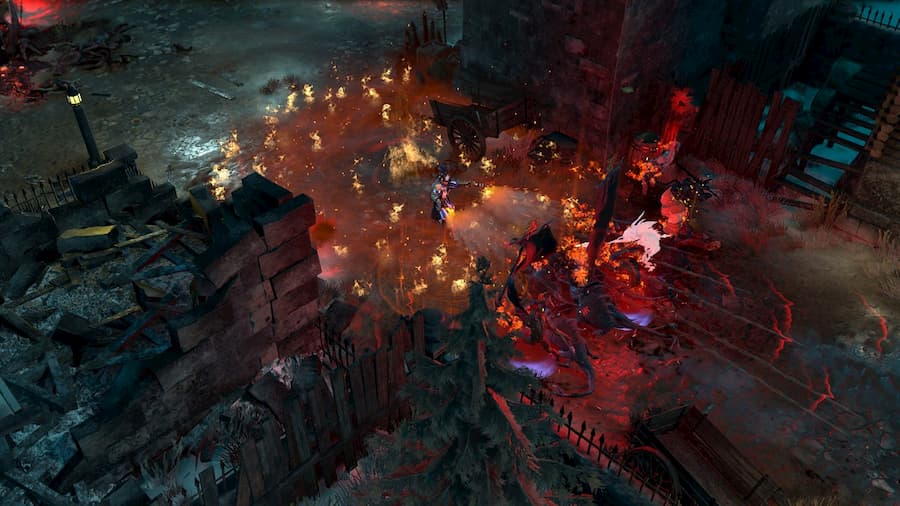 An additional God Skill Tree is part of Warhammer: Chaosbane Slayer Edition's included content, too. With it, the game's already great character development options are further improved. With more passive abilities to unlock, your characters can be powered up to even greater levels, while a wealth of extra active abilities can also be unlocked to further customise and optimise your builds. All of these extras make Warhammer: Chaosbane Slayer Edition a deeper, more fulfilling experience than ever before. It still has some issues, sure, but if you're a fan of loot-filled action RPGs, you'll be in your element with it.
Of course, released on next-gen consoles, there's also the fact that Warhammer: Chaosbane Slayer Edition has been on the receiving end of some beautification. It's now pretty much on par with the PC version played on a high-end PC thanks to the implementation of higher quality textures and 4K resolution. Performance has been boosted, too; now running at 60fps, Warhammer: Chaosbane plays better than ever before on console. It's just so much smoother and more responsive.
My time with Warhammer: Chaosbane Slayer Edition hasn't been all roses though. It still doesn't explain some of its mechanics to you as they open up, leaving you to discover them for yourself. And I've experienced a strange bug playing through the Tomb Kings chapter that results in enemies being stuck in the air. Even a boss fell victim to it. Thankfully, playing as the Witch Hunter, I could just whip out my guns and shoot them until they were no more, but it's not an ideal situation to find yourself in. Hopefully a patch will be issued to remedy the bug soon.
It's a shame that Warhammer: Chaosbane hasn't simply been given the Smart Delivery treatment on Xbox, or the equivalent on PS5, but if you haven't yet added it to your library, the Slayer Edition is definitely the way to go. Performance has been dramatically improved despite the visuals also being markedly upgraded, and all the included content added since launch makes for an expansive affair that can easily eat up thirty-plus hours of your time. It's not quite Diablo, but Warhammer: Chaosbane Slayer Edition makes for a worthy stand-in if you've exhausted everything there is to do in Sanctuary.

Warhammer: Chaosbane Slayer Edition is available on PS5 and Xbox Series X/S. We reviewed it on PS5 with a code provided by the game's publisher.