There's nothing better than getting lost in a huge, digital world. In an open world game, you can forget about your real-world worries and become someone new. Forget about doing the dishes or your stresses at work; instead, you've only got to worry about exploring somewhere new, uncovering fascinating landmarks and engaging in twisting narrative quests. There are tonnes of open world games out there, but which ones are the best on Xbox Game Pass?
Thankfully, with so many games available on Xbox Game Pass, finding a handful of excellent open world games wasn't an issue. Whether you want to battle it out in an apocalyptic world, head to the skies, or simply drive around a recreation of Britain, there's something here for you. Enjoy life in your new world.
Buy discounted Xbox Game Pass membership at Fanatical
1. Grand Theft Auto V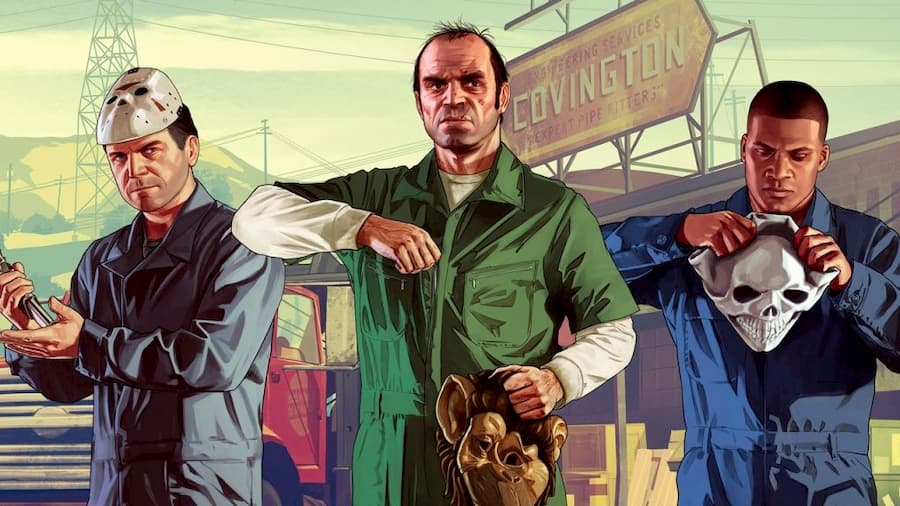 It may be pretty much a classic now, being over a decade old, but Grand Theft Auto V has recently returned to Xbox Game Pass. And we'd be foolish not to include it in our list of best open world games. After all, it's hard to beat the freedom and scale that Grand Theft Auto V offers.
With three character stories to play through, there's also a huge city to explore when you're not committing crimes and running from the cops. Steal yourself a fancy car, or maybe a yacht and take yourself sailing. Not exciting enough? Try your hand at hang-gliding instead. Seriously, the world is your criminal oyster in GTA5, and if you've somehow not played it yet, now's the time.
2. Yakuza 0
Following the exploits of Kazuma Kiryu, each entry in the Yakuza series offers a densely populated open world for you to explore. Though there's a caveat: they're rather small.
Any of the Yakuza games could be deserving of a place on this list of best open world games on Xbox Game Pass. But we've chosen Yakuza 0 as it's the ideal place to start. Largely taking place in Kamurocho, the stalwart location of the series, it also lets you visit Sotenbori. Though wherever you are, you're never far away from something to see or do, meaning the environments feel very rich.
When you're not following Yakuza 0′s gripping story, you can go bowling, bat some baseballs, play in an arcade, or even sing a song or two; the list is endless. And there are more sub-stories than you can shake your fist at too. Speaking of fists, have we mentioned that there's a countless number of thugs, delinquents and yakuza to beat up along the way? If you're after an open-word game that sacrifices map size for activity density, give any one of the Yakuza series a go.
3. The Outer Worlds
Take Fallout, Mass Effect and Borderlands, put them in a pot, mix them up, and you have The Outer Worlds. Rather than having one massive open world, The Outer Worlds has multiple smaller ones. It still feels very expansive though. Using your ship, you can hop between them at your leisure providing you have the clearance to do so, and each one has plenty of quests for you to discover and complete.
The Outer Worlds is quite a funny game, content with making you chuckle just as much as  it is pumping you up for combat or leaving you slack-jawed with its sumptuous visuals. You'll get a kick out of recruiting and bringing along a couple of companions along for the ride, too. They'll help you in combat, and if they have something useful to say they'll helpfully chime in. Though they're also vocal if you do something they don't like as well.
Whether or not The Outer Worlds is truly an open world game or not is up for discussion, but it sure as hell feels like one. So to us, it qualifies as one of the best open world games on Xbox Game Pass.
Read our review of The Outer Worlds
4. A Short Hike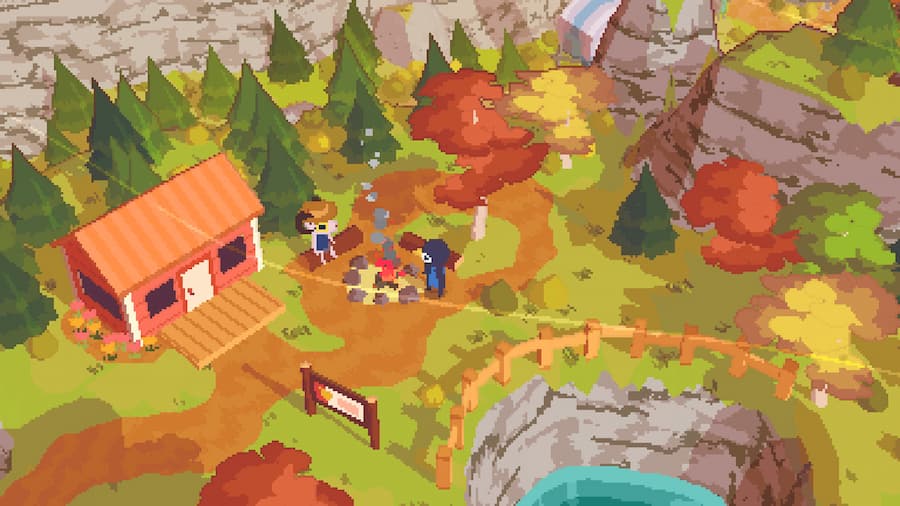 A Short Hike isn't your typical open world game, but it's every bit worthy of a place on this list of the best open world games on Xbox. It's not very long, for a start: you can be done with everything A Short Hike has to offer in a matter of hours. But although its world is small, it's perfectly formed.
You have a beautiful mountain to explore, with characters to meet, missions to complete and collectibles to find: everything you'd expect in any good open world game. But here, everything's on a much smaller, tighter scale. It means you can get to know the world like the back of your hand, learning its shortcuts and nooks and crannies as you explore. It's a delightful little experience, and we can't recommend it enough.
Read our review of A Short Hike
5. Just Cause 4
Okay, so Just Cause 4's campaign might not impress you by itself. If you just want some crazy fun, however, it's definitely worth playing.
While its story missions generally make you activate panels one after the other, Just Cause 4's side content is all about blowing things up and pulling off insane stunts. And no game does explosions like Just Cause 4 – they are simply phenomenal. Making everything even more fun is the fact that you can customise your grappling hook, too. You can use it to tether enemies together, attach them to balloons, and even place boosters. Then, with push of a button, you can cause mayhem.
If you've ever wanted to attach an enemy to a car before making it fly into the air and spin around like a Catherine wheel, Just Cause 4 is the game for you. It's not the best open world game on Xbox Game Pass, but the tools it lets you loose with means it deserves a place on this list.
Read our review of Just Cause 4
6. Rage 2
Rage 2's open world is a bit dull. Or at least it was. Since launch, content has been added to make it a little more lively. Combined with the fact that the game's combat has been absolutely stellar since day one, it's now one of the best open world games on Xbox Game Pass.
Set in a post-apocalyptic world, Rage 2 has you fighting against ruthless gangs and an evil overlord. Luckily for you, you've got a wide range of powerful abilities at your disposal, as well as a varied arsenal and an upgradable vehicle. What ensues is an entertaining adventure as you seek to put an end to the various threats, all the while expanding and mastering your combat options. You can even partake in a bit of racing as well, if you like.
7. State of Decay 2
The world of State of Decay 2 has been overrun by dangerous zombies. Attract too much attention and you might just find yourself swamped. What makes every action you take fraught with peril, however, is that if your character dies, there's no bringing them back. They're gone. You have to carry on your journey with one of the other characters in your group. That makes this open world game one of the most tense, but also one of the most brilliant, on this list.
If you'd like to see how you'd get on in a zombie apocalypse, you'll absolutely love State of Decay 2. It requires you to build up your camp, find supplies, search for other survivors and manage your group effectively. It's basically the best unofficial The Walking Dead video game there is, and it's also one of the best open world games on Xbox Game Pass.
Read our review of State of Decay 2
8. Forza Horizon 5
Is it surprising that one of the best open world games on Xbox Game Pass doesn't involve violence or shooting? It shouldn't be, because everyone should know that Forza Horizon 5 is simply incredible.
Previous Forza Horizon games have been great, but Forza Horizon 5 goes one step beyond. Its visuals make your jaw drop, its map is vast, and its handling is perfect. It's the best open world racing game ever made, and that's not an exaggeration.
There's always a reason to go back to Forza Horizon 5, too. New content is added on a regular basis, so you'll be adding more cars to your garage and taking on new challenges well into the future if you pick it up. And even if you don't feel like engaging with the progression structure, just driving around the world, discovering its recreation of Mexico, is enough of a joy by itself.
Read our review of Forza Horizon 5
9. Sunset Overdrive
Exclusive to Xbox, Sunset Overdrive is balls-to-the-wall crazy, high-speed action. But coming from Insomniac Games, would you expect anything less? Set in a gritty yet colourful post-apocalyptic world, it's an action-packed romp that will have you shooting, ziplining, wall-running and grinding rails all day long. You're in a city overrun with zombies — well, we say 'zombies', but they're people who've turned into mutants after drinking an energy drink. Yeah, it's that kind of game. And it's all the more brilliant because of it.
If you like your games to really stand out from the crowd, you really need to give Sunset Overdrive a try. Although it was a launch title for Xbox One, it still holds up, and it's well worth your time.
10. The Elder Scrolls V: Skyrim Special Edition
The Elder Scrolls games have always provided players with a huge fantasy world to explore, but none have been as varied or cohesive as Skyrim's. Sure, it's been around the block a few times and it's available on several formats. Chances are most gamers have already played it numerous times. But do we ever really get tired of exploring its rich and varied lands?
Abandoning the class system used by previous entries in the series, Skyrim enables players to develop a character as they see fit throughout the course of the game. This, along with a streamlined menu system, makes the game much more accessible to those new to the series. With a world full of mysteries and quests to solve, as well as dragons to defeat, Skyrim is still one of games for those seeking an absorbing and time consuming fantasy. It may be old, but it's one of the best open world games on Xbox Game Pass.
Read our review of Skyrim Special Edition
11. Crackdown 3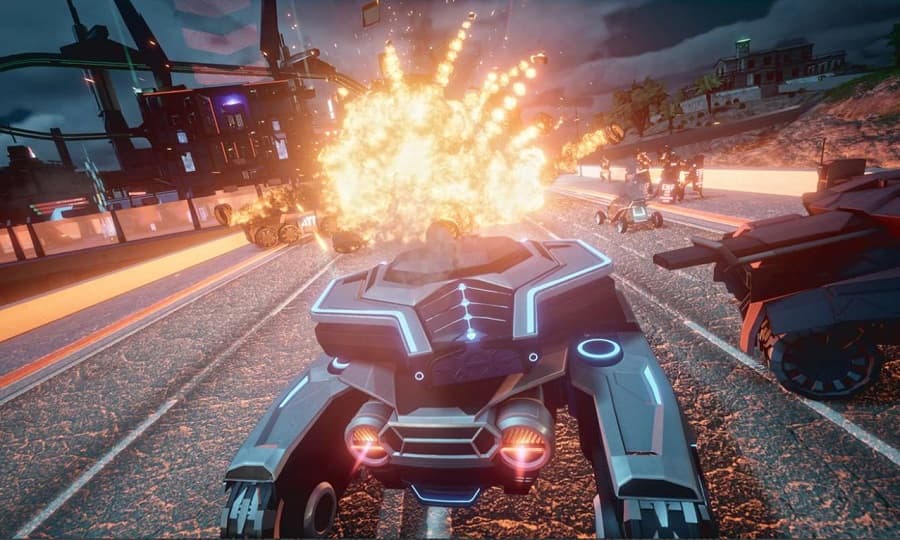 Do you like to have fun? Of course you do! And that's why you need Crackdown 3 in your life. Crackdown 3 is an open world game that's all about insane action. Starting out as a feeble agent, you'll collect orbs by killing enemies in various ways and demonstrating your agility. And before you know it, you become a badass killing machine capable of leaping over buildings and pulling off obscene feats.
How you tackle Crackdown 3 is up to you; you can confront any of its bosses at any time. It's best to brush up your skills first, though, and there's so much to do out in the open world. You can even play it in co-op if you like. Double the agents means double the fun, after all. Complete, unadulterated fun, Crackdown 3 is one of the best open world games on Xbox Game Pass.
Read our review of Crackdown 3
12. Assassin's Creed Origins
To play Assassin's Creed Origins is to love Assassin's Creed Origins. All of the Creed games have been excellent, in our opinion, but Origins is one of the best. Taking a year away from the franchise really helped Ubisoft develop a more refined, enjoyable – and massive – experience.
Seriously, Origins is huge. Its recreation of Ancient Egypt is colossal in terms of scale and the amount of detail that has gone into creating arid deserts, lush landscapes and bustling cities is absolutely breath-taking. If you're really looking for something to get lost in, you can't get much better than this.