Are you wondering what to buy an Elder Scrolls or Skyrim fan, now that the holiday season is nearly here? You can forget about a last minute petrol station purchase, unless you feel like scrawling 'Skooma' on that bottle of bargain-basement cider.
So, to point you in the right direction, we've rounded up the best presents for anyone who's crazy about The Elder Scrolls V: Skyrim or the wider Elder Scrolls series. Here, then, are six Elder Scrolls gift ideas, perfect for dragon-shouting friends and family.
Want more gift ideas? Find our other gift guides here.
1. The Elder Scrolls V: Skyrim – The Adventure Board Game
Who needs Monopoly when you've got a Skyrim board game? The Elder Scrolls V: Skyrim – The Adventure Game can be played solo but also supports up to four players for a Draugr, Daedra, and dragon-dispatching outing. And if you want to build on your adventures there are two expansions, including Dawnguard which adds rules for vampirism. After all, what's a little neck-biting between adventurers?
2. The Elder Scrolls: The Official Cookbook
Sick of people stealing your sweetroll? Then learn how to make your own, with The Elder Scrolls Official Cookbook. It features over 60 recipes including Bosmer Bites, Hot Mudcrab Dip, Apple Cabbage Stew, Black Briar Mead and more, many of which you'll have scarfed down in-game. And since it lists all the real-world ingredients needed to make these there's no excuse not to get cooking.
3. The Elder Scrolls Skyrim Tin Quest Marker Tin Sign
Ever stumbled home after a long day at work, too exhausted to know where your bedroom is? Then what you need is the Skyrim Tin Quest Marker Sign. Simply attach this to any door or other location and your built-in HUD will point you in the direction of your destination. You do have one of those, right?
4. The Elder Scrolls Online – Volumes I & II: The Land & The Lore books
These gorgeous books are absolutely loaded with information about Tamriel, featuring in-game texts, gorgeous illustrations and more. There's two books included, Tales of Tamriel and Times of Tamriel. Even if the recipient isn't actively playing ESO, these stand to be an absolute treasure of Elder Scrolls lore. Or if you'd prefer to delve into the history of and lore of Skyrim itself there's this collection.
5. Skyrim 'You're Finally Awake' pillowcase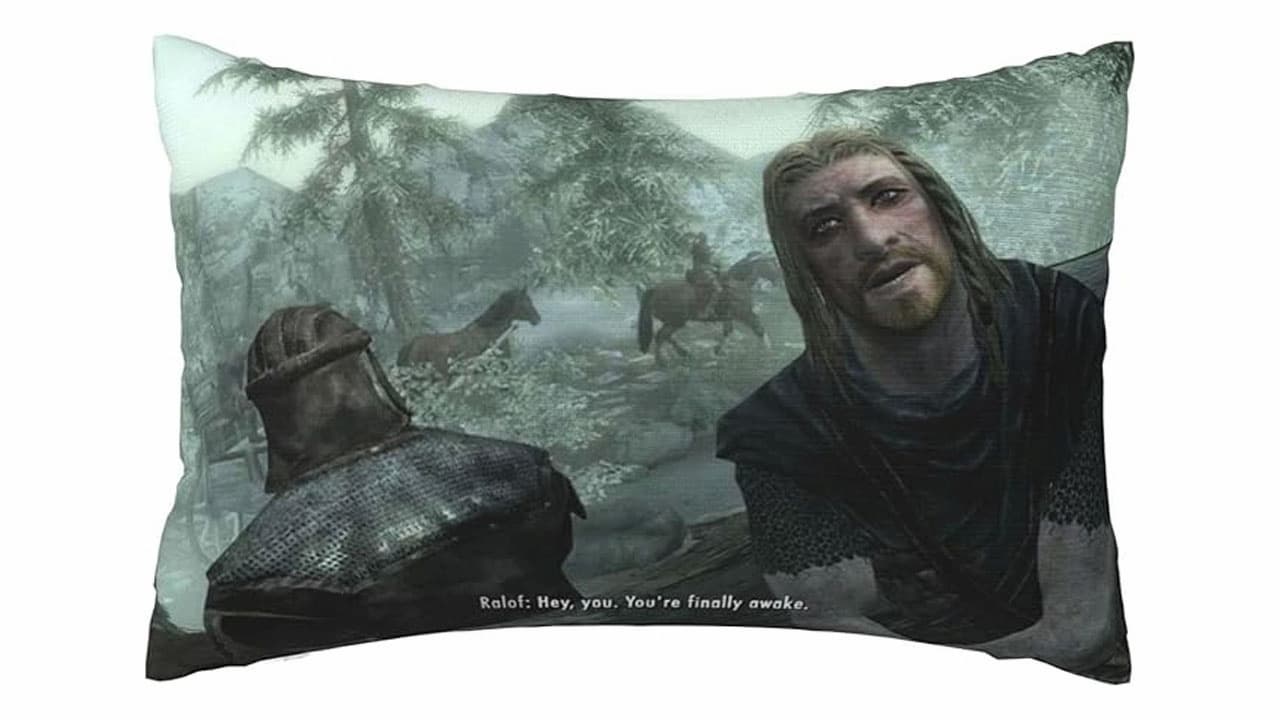 This probably isn't official merchandise but it's still a brilliant way to wake up. Forget about the long day that awaits you by pretending you're in a cart, about to be executed for crimes against.. Okay, maybe that isn't quite as relaxing as we first thought, but it's still a great purchase for any Skyrim player.
6. Good Smile Skyrim Dovahkiin Figure
Worried that fire-breathing lizards are going to unleash their fury upon your or someone else's desk? This Dovahkiin figure (from the company behind Nendroid) could be just what you need to keep your workplace or shelf Alduin free. You just might end up with more dragon bones than you know what to do with.