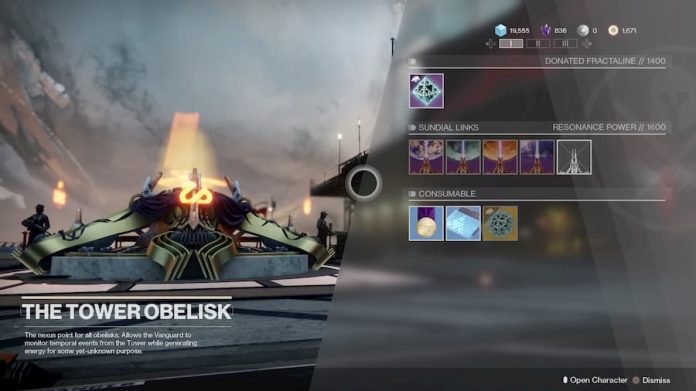 The focal point of this season of Destiny 2 has finally arrived, and Saint-14 and Osiris need your help. Follow this guide to understand what to do during the Empyrean Foundation event.
So, for the past few weeks we've been running around working on synchronising and upgrading various obelisks across the system. While the Timelost Weapon Frame bounties have been a nice reason to do this, the true goal of the season is now here with the start of the Empyrean Foundation event.
You may have noticed if you've logged in to Destiny 2 recently that there's a new obelisk smack dab in the middle of the Tower. We'll get there soon, but first we need to talk to a Titan.
How to Start the Empyrean Foundation Event in Destiny 2
Now that we've rescued Saint-14 by going on a harrowing adventure through time (some of Destiny's best missions, by the way), it's time to get to work on this massive community undertaking. First, we need to speak with Saint-14 in his new home at the Tower Hangar. From him, we'll receive the Cornerstone quest.
To complete the Cornerstone quest, you'll need to complete a few tasks. Here's a quick Cornerstone quest guide:
Some Assembly Required: Defeat powerful Vex, Fallen, and Cabal enemies
Parts and Labour: Return to Saint-14 and deliver the collected materials
Delivery Pending: Go to the Tower Obelisk and interact with it. Pick up specific bounties for each planetary obelisk
Synchronised Resonance: Sync all planetary obelisks with the Tower Obelisks by completing one Timelost Weapon Frame bounty at each Obelisk. Destiny Obelisk locations are: Nessus, EDZ, Tangled Shore, and Mars
Once you've done a Timelost Weapon Frame bounty for each obelisk and completed all those bounties, return to the Tower Obelisk and sync all the planetary obelisks to the main Tower Obelisk.
To sync an obelisk with the Tower Obelisk, simply walk up and interact with the appropriate terminal. Now you're ready to participate in the Empyrean Foundation in Destiny 2!
What are the Empyrean Foundation Objectives?
The overarching task in the Empyrean Foundation is one that the community must complete together. It all comes down to donating mass amounts of Polarized Fractaline to the Tower Obelisk.
As of right now, Bungie has outlined three core milestones in the overall objective. The highest is 1,200,000,000 Polarized Fractaline donated by the community at large.
If you're curious about the progress of the donations, there's a hologram at the Tower Obelisk showing how far the community has come.
Are There Rewards for Empyrean Foundation in Destiny 2?
Sort of. On a personal, player-based level, you will receive a weekly amount of Polarized Fractaline based on the Resonance Power of your planetary obelisks. The higher the resonance, the more Fractaline you'll get each week. If you want the emblem tied to this event, you'll have to donate at least 5,000 Polarized Fractaline before this season is over.
You can also buy a new exotic item from the Tower Obelisk that lets you upgrade an obelisk by one level; though it's a bit pricey.
For the Destiny 2 community, all we've heard from Bungie at this point is that we'll all be granted a shader if we hit the seventh – and final – milestone objective. The Destiny community rarely, if ever, fails to meet the requirements Bungie lays out for them, so it'll be interesting to watch this event unfold.
I, for one, certainly hope there's more than just a shader waiting for us at the end of this road. There's a big, Osiris-inspired display up in the middle of the Crucible director right now that seems to be filling with the donation hologram. Please. Please bring back Trials of Osiris.
How to Farm Polarized Fractaline
If you're keen to learn how to earn more Fractaline in Destiny 2, there isn't an incredibly easy way to do so, but there are various locations you can earn Fractaline from. Right now, here are the ways in which you can earn more Polarized Fractaline:
Use Fractaline Skimmers
Weekly generation from Tower Obelisk
Obelisk Weekly Bounties
Strikes, Crucible matches, Gambit matches
Sundial and Menagerie completions
Saint-14 Bounties
Season of Dawn triumphs
Taking time to invest in planetary obelisk upgrades is the safest, and most consistent, method of upping your Fractaline intake. Since the Fractaline you put into upgrading those obelisks comes back to you through the weekly gift from the Tower Obelisk, it's definitely the smartest investment.
After a few Resonance Rank upgrades at the obelisks, you'll be able to buy Fractaline Extractors that give you a chance to earn more Fractaline from event completions like Crucible, Strikes, Gambit, and Sundial/Menagerie. Keep in mind each planet obelisk is tied to a specific event. They are:
Mars – Crucible
EDZ – Strikes
Tangled Shore – Gambit
Nessus – Sundial / Menagerie
That's really it when it comes to the Empyrean Foundation event in Destiny 2. Get out there and help the community reach this goal by playing your favorite activities while farming for that sweet Fractaline.