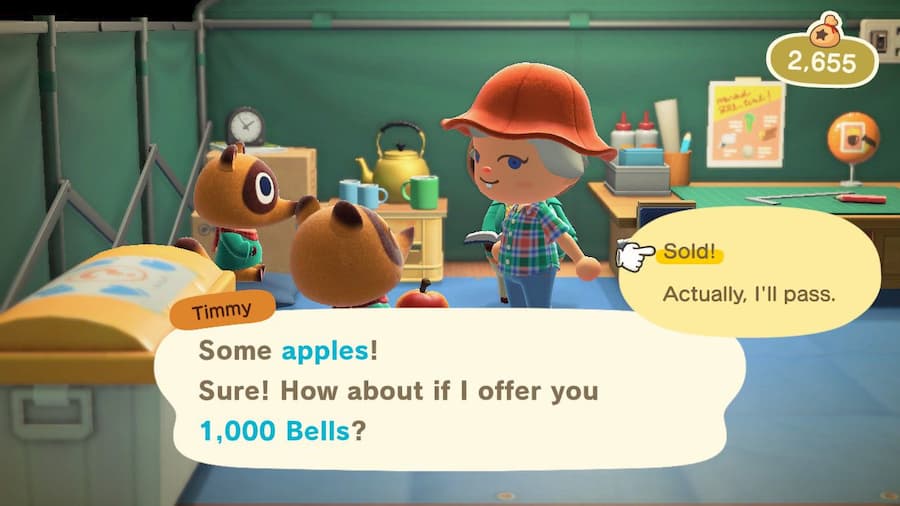 500 Bells for a piece of coral? You've got yourself a deal! Here's everything you need to know about buying and selling items in Animal Crossing: New Horizons.
Animal Crossing is all about earning money and spending money. Giving and taking if you will. So it's very important for players to know exactly how to earn and spend their money in Animal Crossing: New Horizons.
If you're looking to sell early on in the game, you can head over to Resident Services (where you'll find Tom Nook) and approach Timmy the raccoon. He'll give you the option to sell items or buy items. This is where you're going to go to sell all of the fish, bugs and other random crap you pick up all over your island.
Before the end of your first week with Animal Crossing: New Horizons, you'll be tasked with gathering materials to build a new store. Called Nook's Cranny, this will be where you buy and sell your items going forward. There'll be a rotating selection of items every day, including furniture and decorations for your house, flowers and tools.
You can also use your Nook Miles to buy items at the Nook Stop, which you'll find in Resident Services. Here you'll find a growing selection of items including new DIY recipes, island decorations, outfits and more. You can also spend your Nook Miles here on rarer items.
Looking for more Animal Crossing: New Horizons how-tos? Visit our full guides round-up here.