Got a PS5 and want some action RPGs to play? We've got the list for you.
Combining the frantic fun of an action game with the stat-building and other depth-adding features of an RPG, action RPGs are a brilliant way to spend tens of hours glued to your screen. They come in many varieties, too, and there are absolutely loads of great action RPGs available on PS5.
There are action RPGs that play like first-person shooters, action RPGs that let you loose in epic open worlds, and action RPGs that challenge you to make effective use of skills. If you're wondering which are the best action RPGs on PS5, we've assembled a short list of them for you right here.
Each and every one of these has our seal of approval – we've spent many hours playing them ourselves. They're all native PS5 titles, too, which means they have short loading times, stunning visuals, and in most cases, impressive DualSense support. So, if you're after a new action RPG to play, just scroll down and you're likely to find something that catches your eye.
Want to support GameSpew? If you decide to buy any of the games on this list, please consider using our affiliate links, included below each entry. It won't cost you anything extra, but we'll get a small slice of the purchase. Thank you.
1. Diablo 2: Resurrected
Diablo 2 is more than 20 years old, but you wouldn't guess if you jumped into this remaster without knowing. While the old game plays away underneath, a layer of snazzy visuals and other improvements is placed on top, making Diablo 2: Resurrected much more palatable to modern audiences. Of course, there are some signs that this is a game from yesteryear – a few mechanics feel a little clunky – but this is still one of the best action RPGs available on PS5 right now. Hell, it's one of the best action RPGs ever made. If you've not yet played it, make sure you check it out.
Read our review of Diablo 2: Resurrected
2. Tiny Tina's Wonderlands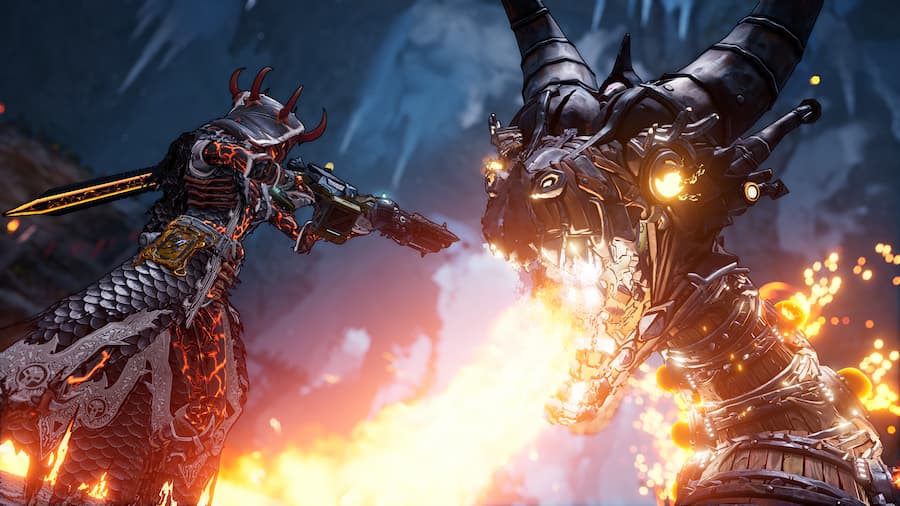 If you like your action infused with plenty of laughs, Tiny Tina's Wonderlands is for you. This spin-off from the Borderlands series, which are also brilliant action RPGs, finds players engaging in a game of Bunkers and Badassess – Tiny Tina's favourite tabletop RPG. With her narrating the experience, they'll embark of a quest to save the world, travelling far and wide to do so. Alongside the usual Borderlands gunplay, there are melee weapons added into the mix, and grenades have been replaced with spells. And to top things off, there's even an overworld to explore, complete with random battles.
Read our review of Tiny Tina's Wonderlands
Check the price of Tiny Tina's Wonderlands
3. Assassin's Creed Valhalla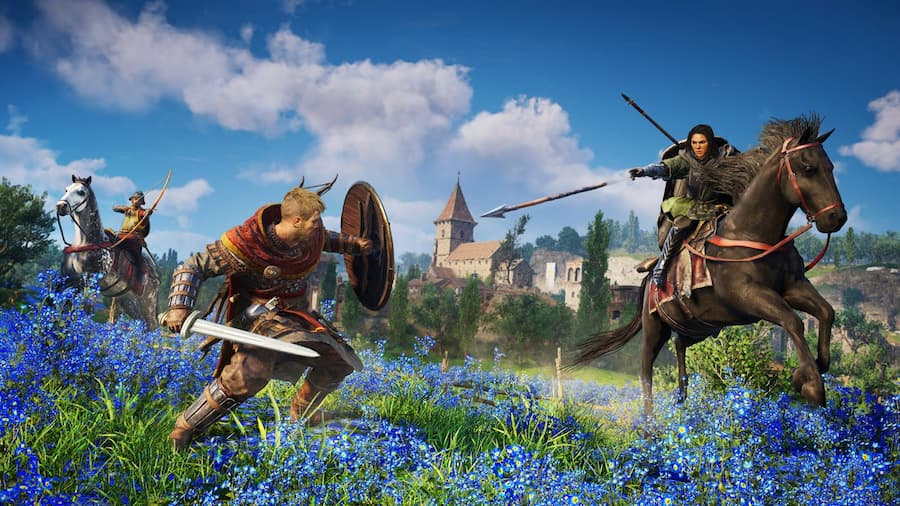 It's crazy just how much the Assassin's Creed series has changed over the years, with the latest entry, Assassin's Creed Valhalla, being a full-blown action RPG where stealth is rarely required. Playing as Eivor, who's landed in England hoping to make a new life, Assassin's Creed Valhalla sends you on an epic journey. As well as dealing with those who don't take too kindly to you encroaching on their land, you've got the matter of revenge to think about, and there are other things of concern afoot, too. But no worries, as Eivor you'll get things done. Often brutally. If you're after the best action RPGs on PS5, this will serve you well.
Read our review of Assassin's Creed Valhalla
Check the price of Assassin's Creed Valhalla
4. Demon's Souls
Are you ready for a challenge? Demon's Souls will certainly provide you one. The original Souls game has been totally remade for PS5, carefully keeping the core gameplay intact while dramatically improving the visuals. Indeed, this is one of the best-looking games on PS5, and it makes great use of the DualSense controller. But be warned, it isn't for everyone. Demon's Souls may well be one of the best action RPGs of all time, but it's also one of the most brutal. You'll face enemies that are uncompromising, and bosses that you'll need every ounce of your skill to overcome. If you're brave and steadfast, this will be one of the most rewarding experiences of your life.
Check the price of Demon's Souls
5. Outriders
Imagine a mix between DOOM Eternal, Gears of War and Diablo: that's Outriders. In this third-person action RPG you lead an expedition to another planet to see if it's safe for humanity. But then disaster strikes. An anomaly picks you up and chews you out, bringing you into a word where conflict has played out for years. Oh, and you also have supernatural powers now. Fighting for the future of all humankind, you'll follow leads and do battle with all sorts along the way. It's the combat here that's the main draw: it has the intensity of DOOM Eternal, though you can take cover if you wish (it's not recommended). And to face tougher enemies, you'll need to find and upgrade the best loot.
6. The Elder Scrolls V: Skyrim
What list of the best action RPGs would be complete with The Elder Scrolls V: Skyrim? While the PS5 version of this must-have title isn't really that much improved over its PS4 counterpart, it's very much worth picking up if you haven't played it yet. Set free in a massive open world, it's up to you how you progress. You can follow the epic main storyline if you wish, or just go off and you your own thing. With so much on offer, there's not really a right or wrong way to play Skyrim. Just immerse yourself in its fantasy world and have a good time.
Read our review of The Elder Scrolls V: Skyrim
Check the price of The Elder Scrolls V: Skyrim
7. Cyberpunk 2077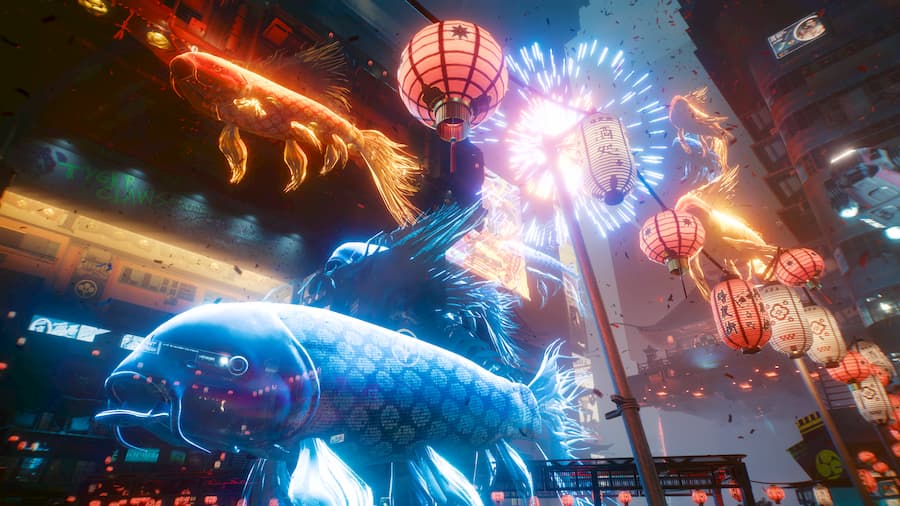 The launch of Cyberpunk 2077 didn't go quite as planned for CD Projekt Red. We very much enjoyed our time with the PC version, but the console versions were a mess. Updated for PS5, however, it deserves a spot on this list of the best action RPGs available on the format. After creating your character, Cyberpunk 2077 lets you loose in Night City. But it's there where your dreams of becoming a legendary merc soon turn sour. Fighting for your life, the story of Cyberpunk 2077 will keep you on the edge of your seat, and the varied gameplay will excite every step of the way.
Read our review of Cyberpunk 2077
Check the price of Cyberpunk 2077
8. Elden Ring
Developed by FromSoftware, it's no surprise that Elden Ring is as tough as nails. But what's unique here is that it takes the combat the developer is known for and masterfully plants it in an expansive open world. After creating your character you're pretty much free to go where you please. You're pointed in the direction of the next "Legacy Dungeon" if you want to push on with the story, but it pays to go off and do your own thing. And the sense of discovery here is absolutely divine. Elden Ring is perhaps the most accessible FromSoftware game because of this, too. And there's also the fact that as a solo player you can summon computer-controlled spirits to help you. As far as action RPGs on PS5 go, they don't get much better than this. If at all.
9. Stranger of Paradise: Final Fantasy Origin
This is Final Fantasy, but not as you know it. The original game that kicked off the series has been reimagined, and with Team Ninja at the helm it's been turned into an action RPG reminiscent of the studio's Nioh. Taking control of one of the Heroes of Light, you're on a quest to stop Chaos from wreaking havoc upon the world. To do that, you can employ a wide range of jobs, each offering up a unique range of skills and more. Often, choosing the right one for the area you're in pays dividends. Ultimately, this offers a rollicking time, especially given its strange tone. And thanks to multiple difficulty levels, it doesn't need to frustrate you.
Read our review of Stranger of Paradise: Final Fantasy Origin
Check the price of Stranger of Paradise: Final Fantasy Origin
10. Eiyuden Chronicle: Rising
Remember Suikoden? If you do, you'll be happy to hear that a spiritual successor is on the way. It's called Eiyuden Chronicle: Hundred Heroes, but before it launches Eiyuden Chonicle Rising has been released to introduce you to the series' world and some of its characters. In this side-scrolling action RPG you take control of CJ, who arrives in New Neveah to prove herself as a treasure hunter. Becoming entangled in a series of events that give her new purpose, however, she'll need to work with her new friends to prevent calamity. Eiyuden Chronicle: Rising can feel a bit repetitive at times, but it's dripping with charm and its unique visual style is wonderful.