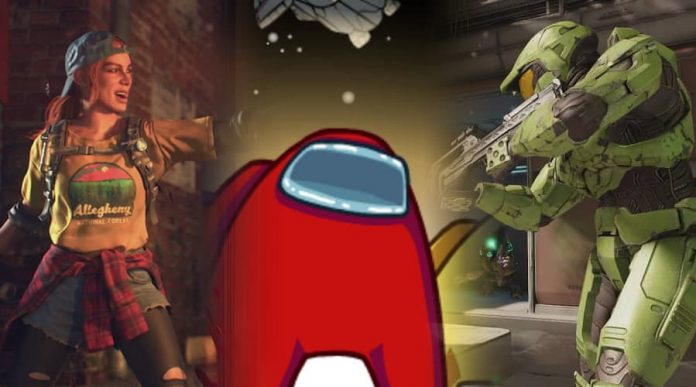 Are you wondering what online multiplayer games are available as part of Xbox Game Pass? We've rounded up the best of them right here.
If you're the social sort, you probably enjoy nothing better than playing a game online with your friends. Or, if you're happy to chat with just about anyone, maybe you're happy to jump into a game with a bunch of strangers. The good news is online multiplayer games are as popular as ever – and Xbox Game Pass is home to some of the best.
Whether you enjoy running from zombies, shooting your way through enemies or trying to avoid the clutches of a cold-blooded killer, there's a game for you and your friends. Read on as we round up the best online multiplayer games on Xbox Game Pass.
Do you need Xbox Game Pass? Use our affiliate link to buy a cheap subscription.
1. Gunfire Reborn
A fast-paced and fun shooter, Gunfire Reborn features elements from first-person shooters, roguelikes and RPGs. Those three genres have been chopped around a bit, put into a bag and shaken up – and this is the result. It works. Particularly if you've got a few friends along for the ride. Up to four players can join in a game of Gunfire Reborn, which sees you shoot your way through levels, surviving for as long as you can. Like a roguelike, it's back to the beginning if you die – but you'll want to keep trying because it's just so much fun.
Its cartoonish art style and interesting locations will keep you engaged, but it's Gunfire Reborn's challenging enemies and multitude of weapons that keep you coming back. Every character has their own unique abilities, and so you'll be more successful if you and your team work together and use abilities that complement each other.
2. Among Us
We'd be foolish not to include Among Us in our round-up of the best online multiplayer games on Xbox Game Pass. After all, this game of subterfuge and impostors has taken the internet by storm in recent years, and it shows no sign of slowing down. If you're unfamiliar with the plot, Among Us tasks you and a group of up to 15 others to prepare a spaceship for departure. Except… you're not all who you say you are. Amongst the crew are impostors whose goal it is to murder the rest of you.
And so, along with preparing the spaceship, you need to, er, try not to die and also work out who the impostors might be. No pressure then. It's great fun, but if you lose friends over accusing the wrong suspect, don't blame us.
3. Outriders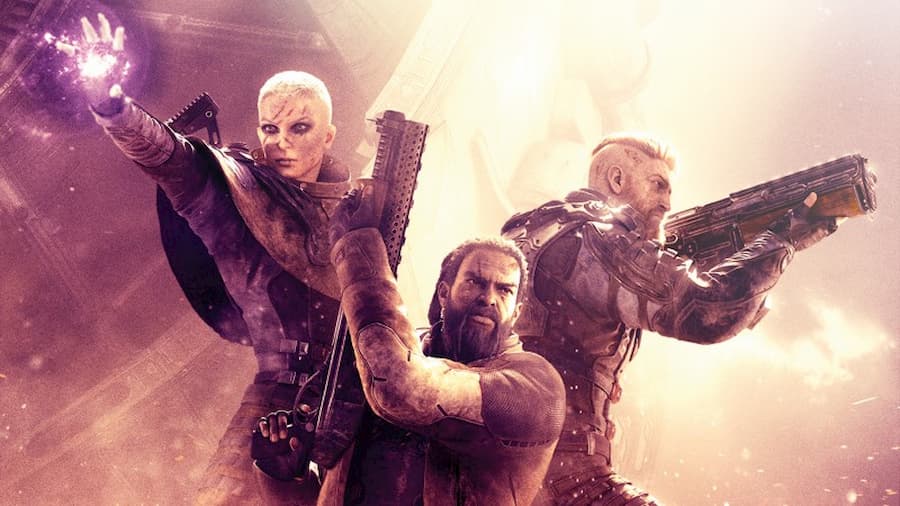 Battling through a hostile planet, shooting all manner of bizarre alien creatures and antagonist humans, is a lot of fun. It's even more fun when you bring a friend or two along for the ride. Looter-shooter Outriders can be played solo, or you can team up with up to two others for some online multiplayer shenanigans.
With multiple character classes to choose from, all with their own skills to master, and a huge range of weapons and equipment to find and upgrade, Outriders provides about 30 hours of entertainment. It's better with friends though, especially when you reach the endgame Expeditions. There, you can enjoy timed challenges that see you battling through waves of enemies. So, if you enjoy fun RPG exploration, explosive gunplay and finding lots of loot, jump into Outriders. It's one of the best online multiplayer games you can play on Xbox Game Pass.
4. Back 4 Blood
If you're a fan of Left 4 Dead, then Back 4 Blood is worth checking out. It's essentially Left 4 Dead in everything but name – or at least, it tries to be. A few teething problems with its design means it doesn't quite hit the highs of Left 4 Dead, but there's no denying that shooting your way through zombie after zombie with your friends by your side is a hell of a lot of fun.
Back 4 Blood sees you make your way through various levels, all with hordes of zombies to mow down, barricades to put up, new weapons and upgrades to be found, and more. In each level, you'll be seeking out a safe point, where you and your friends will take a short breather before heading out into the next zone. It's action-packed and bound to get the adrenaline pumping, especially when playing with friends.
Read our review of Back 4 Blood
5. Dead By Daylight
An asymmetric horror multiplayer, Dead By Daylight pits three survivors against one killer. If you're the killer, lucky you: you get to hunt down those survivors and try to ensure they don't, er, survive. But if you're in the shoes of a survivor, you need to do whatever you can to make sure you don't get caught and, even better, try to thwart the killer if you can. It's no easy task though. We've all seen slasher movies. And in Dead by Daylight, you get to star in one.
This isn't a game for the faint of heart: it's scary and tense. But with the right company, it can be a hell of a lot of fun. Playing with friends, whether you're working together as the survivors, or pitting against each other as killer and survivor, makes Dead by Daylight all the more entertaining. And the huge range of characters on offer via DLC – including famous faces like Ash from Evil Dead, Pyramid Head from Silent Hill and more – means you'll not get bored of this one quickly.
6. Forza Horizon 5
Forza Horizon 5 is a game that certainly doesn't need you to play with friends online to have a good time. Heck, driving around the massive map of Mexico is awesome regardless. But having some buddies driving around alongside you with the option of competing in the same events and challenges makes the game altogether more thrilling.
Let's face it, AI opponents do get a little boring after a while. It's nice to have some fresh competition, so facing off against a couple of mates in a street race or off-road challenge gives you real inspiration to show them who's boss. With literally hundreds of events to choose from, there's plenty to keep you occupied, too. If you enjoy arcade racing, then Forza Horizon 5 is definitely one of the best online multiplayer games on Xbox Game Pass.
Read our review of Forza Horizon 5
7. Halo: The Master Chief Collection
Why have one game when you can have many of them? Halo: The Master Chief Collection wasn't perfect when it launched years ago. It's been heavily improved since, though, and now it's a must-have – especially if you enjoy playing online multiplayer games.
Every game in Halo: The Master Chief Collection – that's Halo, Halo 2, Halo 3, Halo 4, Halo ODST and Halo Reach – allows you to play its entire campaign with multiple players by your side. It undeniably makes each game more hectic, and therefore more fun. Then, when an argument develops, you can just jump into a deathmatch to settle the score. Sorted.
If you have an Xbox console and love playing games online with your friends, you need to download Halo: The Master Chief Collection. You just do. It's easily one of the best online multiplayer games on Xbox Game Pass.