We were rather disappointed by Maid of Sker when it launched on PS4, Xbox One and PC last year.
A horror game which casts players as Thomas Evans, a man summoned to the ominous Sker Hotel deep in the Welsh countryside, Maid of Sker delivers some deliciously tense set pieces. But as mentioned in our previous review, an archaic save system, poor gameplay mechanics and cumbersome controls all work to drag it down. A year later and the game is making its way to next-gen consoles. But does it make it any more of an essential purchase? The short answer is yes, a little. But even on next-gen consoles Maid of Sker still remains disappointing.
We've spent some time with the PS5 version of Maid of Sker, and as you'd expect, the visuals are noticeably improved, especially over the standard PS4 version. There are two graphical settings: fidelity and performance. In performance mode Maid of Sker runs at a silky smooth 60fps, albeit with the occasional hitch. Much to our delight, it makes the controls wonderfully responsive too. It's just a shame that in performance mode the visuals don't have any kind of wow factor.
Make the switch over to fidelity mode and your eyeballs will be pleased by the improved picture clarity that really does emphasise the game's assets. But you won't want to play in fidelity mode thanks to the poor framerate and the element of lag that it introduces to the controls.
When it comes to DualSense support, Maid of Sker has it, but it's nothing to write home about. You mainly feel the pitter-patter of your feet as you walk around the Sker Hotel. Other than that, there's very little that's noteworthy.
New to the next-gen versions of Maid of Sker, and also patched into the last-gen versions, are a number of challenge modes that introduce fully-fledged combat into the mix. These challenge you to escape Sker Hotel under a variety of conditions. The easiest, for example, gives you access to all weapons and grants you three lives. The hardest powers up your enemies to make them truly formidable and only gives you one life.
With the main game pretty much devoid of actual combat, these challenge modes are a breath of fresh air. They introduce some new, more inventive, enemies, that attempt to end your life in a number of new ways. There's a man with a diving helmet on, for example, who shoots you with a blast of energy, and a female enemy type that warps around, avoiding your shots. In fact, the latter is perhaps a little too fiendish to combat – you can easily waste your ammo trying to get a clear shot, or find yourself backed up into a corner, trapped like a sitting duck.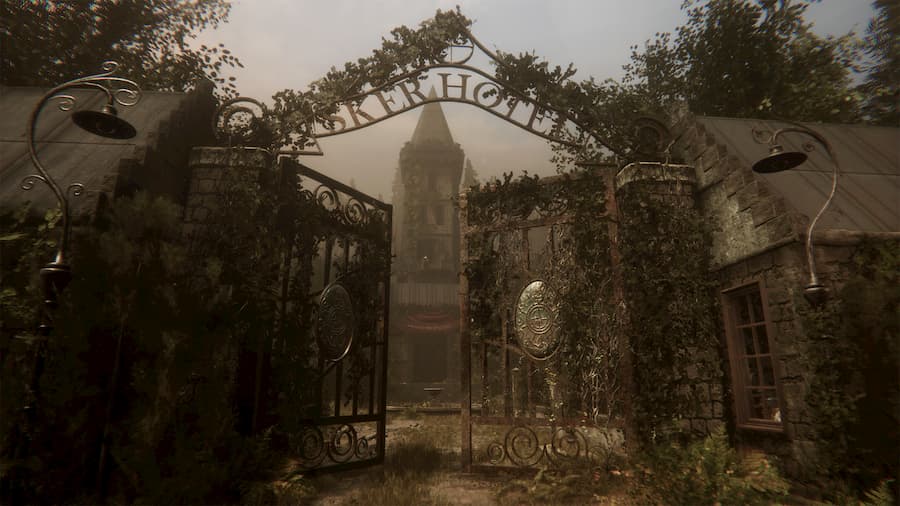 Getting hemmed into a corner by enemies is by far the most grievous issue with Maid of Sker's challenge modes, as it can be frustrating to see your health reduced to nothing with no way of escaping. Though there's also the issue of its .357 Magnum sounding weedy as heck. The sawn-off double-barrelled shotgun and bolt-action infantry rifle both sound decent though.
When it comes to the actual game itself, it benefits from nearly a year's worth of updates. That means a number of bugs have been quashed, and it's been rebalanced in a number of ways to make it a fairer, more enjoyable, experience. It doesn't magically turn the campaign around though; it's still same game with nearly all of the same problems. The rebalancing means that maintaining stealth is perhaps a little less frustrating, for example, but the mechanics are still woefully basic. And while there are some interesting puzzles to solve, you'll still find yourself creeping between switches too often.
There is one new notable, and very much welcome, feature to Maid of Sker's campaign, however. A new 'Safe' difficulty allows you to play through the game with enemies and damage removed, allowing you to focus on its story while soaking in the eerie atmosphere. Of course, it locks out some trophies for those who care about such things, but it's a very welcome addition, opening the game up to a wider audience and alleviating some of its frustrations.
Maid of Sker is certainly a better game now than it was a year ago, no matter what format you play it on. It's still doesn't quite achieve its potential though, and while there are some clear improvements on PS5, there are unfortunately more disappointments. While it's nice to finally be able to play the game with a silky smooth frame rate and responsive controls on console, it's a shame that to achieve that you have to opt for visuals that don't really impress. In you're in the mood for an atmospheric horror you'll probably eke some enjoyment out of this improved Maid of Sker, but you'll soon forget the experience.
---
Maid of Sker PS5 Review: GameSpew's Score
This review of Maid of Sker is based on the PS5 version, with a code provided by the game's publisher. It's available on PS4, PS5, Xbox One, Xbox Series X/S and PC.