Looking for a new life sim game to sink your hours into? We've got you covered.
Life sim games come in a variety of shapes and sizes. There are farming and life simulators, like Stardew Valley, and games like The Sims 4, which allow you to micro-manage every single element of a character's life. We've rounded up six of the best life sim games you can play right now, all offering something slightly different to the one before it.
Just why are life sims so popular? After all, video games are meant to be about escapism, right? So why would we want to play a game that mimics real life? We all have our own reasons, of course, but the fact is these games still offer escapism, just a different, often more grounded type. We don't all get to become a famous artist in real life, but The Sims 4 lets you make that happen, for instance. Others, like Animal Crossing, let you curate an island exactly how you want it. Doing the gardening in your little suburban home just isn't quite the same.
And so, read on to find out the best life sim games you can play on PC and consoles. We're confident you'll find something to love.
We've included affiliate links under the entries on this list. If you're thinking about purchasing any of the games we've written about, please consider using these links. It won't cost you anything extra, but GameSpew will get a small percentage of your sale. Every penny helps us keep running, and your support means a lot!
1. The Sims 4
Available on PC, PS4, Xbox One
It would be impossible to have a list of the best life sim games without including The Sims 4, wouldn't it? Around since the early 2000s, The Sims series has taken the world by storm, becoming the premier go-to 'god simulator'. Controlling a single sim or an entire household, you can control just about everything they do – down to when they go to the toilet or take a shower.
With a multitude of expansions available, The Sims 4 is the biggest and best Sims game yet, in our opinion at least. Your Sims can live in the city, hit the ski slopes, chill in a Japanese-inspired spa, have a pet, go on an epic vacation, or be a vampire. And that's just the tip of the iceberg.
Check latest prices for The Sims 4
2. Stardew Valley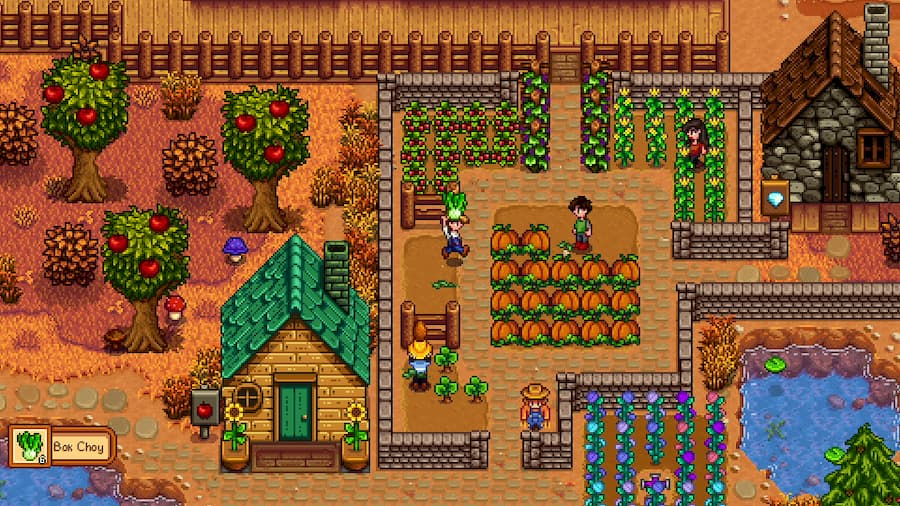 Available on PS4, Xbox One, Switch, PC
Fancy running your own farm and designing it exactly how you see fit? You can, in Stardew Valley. But there's much more to this life sim than simply farming. You can explore the town's mines, finding valuable treasures, or you can potter around the village, making friends with the locals – even finding someone to get married to and spend your life with is an option.
This is the type of game that's so easy to spend hours upon hours in at a time. Whether you're tending to your vegetable patch, organising your land or going off exploring, there's always something to do. And that's part of what makes Stardew Valley – and life sims in general – so special.
Read our review of Stardew Valley
Check latest prices for Stardew Valley
3. My Time at Sandrock
Available on PC (coming to consoles next year)
One of the newest games on this list of best life sim games, My Time at Sandrock is also one of our favourites. It's a follow-up to My Time at Portia, and it's just entered Early Access on PC. We've spent some time with the Early Access build, however, and it's fully-featured, beautiful, and a lot of fun to play.
In My Time at Sandrock, you're a newcomer to a run-down desert town. After being given a workshop, you're set to work at creating some new tools that will help you fix some things around town. You'll gather materials, craft, spend time getting to know the locals, and explore the surrounding areas. There's so much to do in Sandrock, from combat to making friends, and you'll want to soak up every moment of it.
Read more about My Time at Sandrock
4. Animal Crossing: New Horizons
Available on Nintendo Switch
Animal Crossing: New Horizons may be one of the least realistic on our list of best life sims, but that doesn't make it any less enjoyable. Finding yourself on an island inhabited by various anthropomorphic animals, New Horizons is about making a home, making friends, and simply enjoying relaxing, island life.
There aren't any survival elements here: you won't have to craft food and eat to survive, for instance. How you spend your time in Animal Crossing: New Horizons is largely up to you. You can gather fruit, go off exploring, get to know your neighbours, or decorate your house and the island. Or maybe you'll want to hunt for rare fossils and insects to hand into the museum. The choice is yours, but however you decide to spend your time, we're fairly certain New Horizons will keep you coming back for more.
Read our review of Animal Crossing: New Horizons
Check latest prices for Animal Crossing: New Horizons
5. Cat Cafe Manager
Available on PC and Switch
Cat Cafe Manager may be one of the more simple games on this list of best life sim games, but it's perhaps that simplicity that makes us love it. As the owner of a new cat cafe, it's your job to keep things running by serving customers. You'll also need to expand, growing your cafe, adding more furniture and new items to the menu. And don't forget the cats: you'll want to take in strays and ensure you're giving them the food and enrichment you need.
With interesting characters to meet from around town, and engaging but simple gameplay to sink into, there's a lot to love about Cat Cafe Manager. Particularly if you love cats.
Read our review of Cat Cafe Manager
6. Grow: Song of the Evertree
Available on PS4, Xbox One, PC, Switch
This may be the last entry on our list of best life sim games, but it is by no means the least. We love Grow: Song of the Evertree, from the developers of Yonder: The Cloud Catcher Chronicles. There's so much to do, for one. The titular Evertree has various worlds for you to explore, where you'll gather materials and nurture each world to make them thrive. Back at the root of the tree, you can create a number of villages where you'll inspire people from all over the land to come and live.
There's always somewhere new to explore, and the townsfolk you meet will often have tasks and missions for you to complete. So whether you're wandering around town or farming on one of the Evertree's beautiful worlds, Grow is sure to keep you entertained. It's original, unique, and a great deal of fun; a life sim not to be missed.
Read our review of Grow: Song of the Evertree