Horror and multiplayer are two words that you don't expect to see together.
The feeling of being isolated and alone is generally intrinsic to the horror genre. After all, there's strength – and safety – in numbers. But in recent years, many games have proved that you can indeed make something that's multiplayer-focused yet still quite a bit scary. And so, if you're a fan of playing with others while also being on the edge of your seat, what are the best multiplayer horror games you can play right now?
Hopefully we can help you with that. We've put together a short list of the best multiplayer horror games you can enjoy with friends, family members or random strangers. Some of them are truly co-op focused, and others offer an asymmetric 4v1 experience where one person plays as a monster or villain out to thwart a team of survivors. In any case, each of these games offer fun for multiple players while also being tense, atmospheric, and sometimes downright terrifying.
Want to support GameSpew? If you decide to buy any of the games on this list, please consider using our Amazon affiliate links, included below each entry. It won't cost you anything extra, but we'll get a small slice of the purchase.
1. Evil Dead: The Game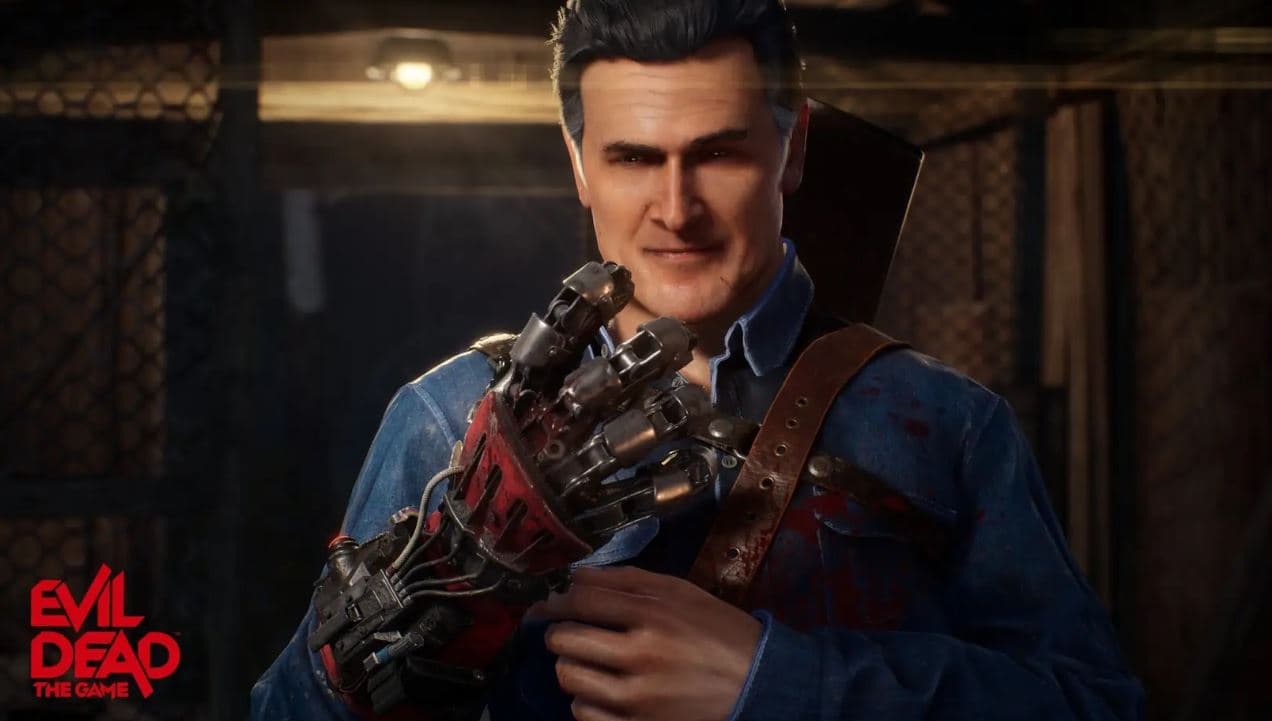 Available on: PS4, PS5, Xbox One, Xbox Series X/S & PC
Alright you primitive screwheads, listen up: Evil Dead: The Game is the newest multiplayer horror game on this list. And from what we've played so far, we think it might just be the best. Although we do love the Evil Dead franchise so we might be a bit biased.
Evil Dead: The Game is a multiplayer horror game of the asymmetrical variety. That means that a team of four survivors go up against a player-controlled demon. While the survivors have to complete a chain of objectives to emerge victorious, the demon has two options: kill all of the survivors, or destroy the Necronomicon – the Book of the Dead – in the final stage of the match. Needless to say, Evil Dead: The Game isn't very scary when you're playing as a demon but it sure is fun. Thankfully it's also fun playing as survivors though. So much so, in fact, that it deserves the top spot on our list of the best multiplayer horror games.
Read our review of Evil Dead: The Game
2. Dead by Daylight
Available on: PS4, PS5, Xbox One, Xbox Series X/S, Switch & PC
You could say that Dead by Daylight is the game that made multiplayer horror games popular. Or at least 4v1 asymmetrical ones. In any case, if the idea of four people working as a team to escape while another player takes control of a killer to hunt them down appeals to you, you simply need to play it.
Since its launch in 2016, Dead by Daylight has grown considerably. While it initially only featured original killers, its success has led to many killers and survivors being added from some of the biggest franchises in the world. Fork out for DLC and you can add Halloween's very own Michael Myers and Laurie Strode into the mix, for example. Or if you're a fan of horror video games in general, you might like the chapters based on Silent Hill and Resident Evil. It's safe to say that Dead by Daylight is the biggest multiplayer horror game around around right now. And to some, the best. If you haven't yet given it a try, maybe it's time.
3. Left 4 Dead 2
Available on: Xbox (via backwards compatibility) & PC
Now nearly 13 years old, Left 4 Dead 2 still inexplicably remains one of the best multiplayer horror games available. It just goes to show that a simple yet solid game concept combined with co-op elements can really have legs.
Sequel to – you guessed it – Left 4 Dead, Left 4 Dead 2 builds on the four-player co-op action of its predecessor, offering new survivors, campaigns game modes and more. Working together as a team, you'll need to fight off hordes of zombies as you move from one safe house to the next. And it's the simplicity of Left 4 Dead 2 that keeps players going back for more. There's nothing complicated for players to get their head around or tie up their time. Throw in additional versus and survivor modes and you have a package that will still be being played in years to come.
4. World War Z
Available on: PS4, Xbox One, Switch & PC
As you can imagine, lots of multiplayer horror games feature hordes of zombies. We've already had Left 4 Dead 2 on this list and here's another: World War Z. The difference is, though, is that World War Z is a modern game with snazzier visuals and more complex mechanics.
Another four-player co-op game, perhaps the most notable thing about World War Z, however, is just how many zombies it throws at you. It makes Left 4 Dead 2 look like child's play. At key points during World War Z's numerous campaigns you'll fight against so many zombies that they'll climb on top of each other to form mountains, allowing them to gain access to higher ground that you though was safe. That, alongside the many special zombies that will make your life hell, is what keeps World War Z interesting. It's tense and sometimes jaw-dropping. So, if you're after the best multiplayer horror games, be sure to give it a go.
Read our review of World War Z
5. Aliens: Fireteam Elite
Available on: PS4, PS5, Xbox One, Xbox Series X/S & PC
Love the Alien films? Why not get closer to the action by playing Aliens: Fireteam Elite? The horrifying Alien Isolation remains the best Alien game so far, but if you like shared experiences, then Aliens: Fireteam Elite shouldn't be overlooked.
Becoming a marine, it's your job to investigate a mysterious new planet. And yeah, you guessed it: it's infested with Xenomorphs. During the course of four campaigns you'll encounter more drones than you can count, but it's the more deadly, elite-type Xenomorphs that will cause you the most trouble. And to keep you on your toes, you'll encounter hostile androids and other threats, too. Fun for up to three players, Aliens: Fireteam Elite is assuredly the game that tools you up the most to deal with threats on this list. But thanks to some truly fearsome Xenimorphs, it's still one of the best multiplayer horror games you can play right now.
Read our review of Aliens: Fireteam Elite
6. Back 4 Blood
Available on: PS4, PS5, Xbox One, Xbox Series X/S & PC
With Left 4 Dead 2 being nearly 13 years old yet still so popular, you might be wondering why there hasn't been a Left 4 Dead 3. Yeah, us too. The fact that the studio that created the Left 4 Dead games for Valve re-founded and went independent in 2011 is perhaps the biggest reason. And just last year it released its own spiritual follow-up: Back 4 Blood.
As you'd expect, Back 4 Blood is very much like Left 4 Dead; a team of four survivors must work together to make it across a map and reach a safe house. The visuals here are much improved though, obviously. And there are some additional complexities to the gameplay. One of these is the introduction of a card system, which allows players to improve their characters and also modify the gameplay. Some will love it, others not so much. Still, if you're after the best multiplayer horror games, it's definitely worth giving a go.
Read our review of Back 4 Blood
7. Phasmophobia
All of the entries on this list of the best multiplayer horror games so far have put you against physical threats. But what about if you want something more paranormal in nature? For that, there's Phasmophobia, a game that challenges you to work as a team to collect evident of ghostly manifestations.
In Phasmophobia it's up to you if you want to hang back and support your team by monitoring CCTV cameras, or get into the thick of the paranormal evidence hunting action. If you opt for the latter, however, your time with the game is likely to be much more hair-raising, especially with the ghostly activity getting more hostile as time goes on. What's particularly noteworthy about Phasmophobia is that you can use your actual voice to communicate with spirits. And if you want to get even more immersed, you can play it in VR. Be warned, though, as it's an option that can truly lead to terrifying results.
8. Midnight Ghost Hunt
Like Phasmophobia above, Midnight Ghost Hunt concerns itself with matters of the paranormal rather than zombies, aliens or other dangerous creatures. But this time, the ghosts are controlled by actual players. Needless to say, a spooky time can be had if you're playing as a hunter.
Pitting four ghost hunters against four spooks, Midnight Ghost Hunt essentially plays out like hide and seek. As a ghost you can possess seemingly harmless objects in the environment such as chairs or clocks to avoid detection. And once you've got the upper hand, you can use your telekinetic powers to bombard your pursuers. What's more, with each match taking place close to midnight, when the clock strikes twelve the ghosts get powered up, challenging the ghost hunters to escape with their lives. Currently in Early Access, chances are Midnight Ghost Hunt will change over time. But if you're after the best multiplayer horror games, you shouldn't overlook it.