If you're after the best racing games you can play that are included in PS Plus Extra or Premium, you've come to the right place.
Sony may have revamped its PS Plus service very recently, but if you subscribe to its Extra or Premium tiers, there's already a decent range of racing games available on it for you to play at no additional cost. But you might be wondering which ones are worth your time: what are the best racing games on PS Plus Extra and Premium?
Hopefully we can help you with that. We've played pretty much all of the racing games included in PS Plus, and so we've put together a quick list of the ones we feel are the best. All of these are playable on PS4, and some even have native PS5 versions too. In any case, they get our seal of approval. And there are a wide range of racing games included to suit all tastes. So, simply scroll down the page and you should find a new racing game to play.
Not signed up to PS Plus Extra yet? Buy a subscription from Amazon to get started. You can see the full list of games available on the service here.
Last updated 27th September 2022
1. Assetto Corsa Competizione (PS4 & PS5)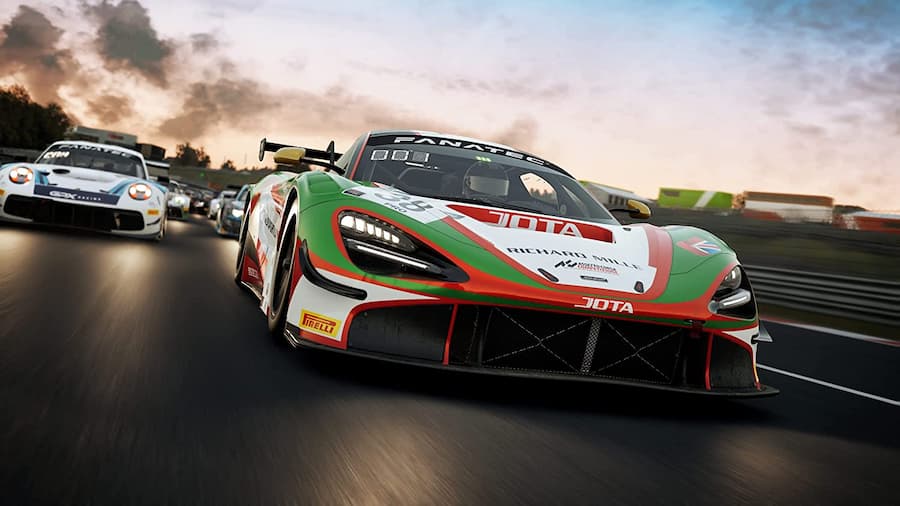 If you're a racing sim fan, Assetto Corsa Competizone is 100% the best racing game on PS Plus Extra. This is the most serious racing sim available on consoles, challenging players to master control of their vehicles, learn the ins and outs of tracks, and devise the perfect pit strategy. Ultimately, it won't be to everyone's tastes, but those seeking a realistic experience will be in their element. Thanks to a PS5 native version, owners of Sony's latest console also benefit from improved visuals and performance.
Read our review of Assetto Corsa Competizione
2. Hotshot Racing
We do wish Bandai Namco would make a new Ridge Racer game, but until then we'll make do with Hotshot Racing, which is perhaps the next best thing. This arcade racing game is all about boosting and drifting, and so you'll need to be able to do both effectively to succeed. Grand Prix mode offers up multiple cups for you to compete in, and there's a suite of accompanying modes, too. No matter which you chose you'll have a good time thanks to Hotshots Racing's enjoyable gameplay and gorgeous art style.
Read our review of Hotshot Racing
3. Monster Truck Championship (PS4 & PS5)
"Good" and "monster truck" haven't been words that have gone together in the world of video games. Monster Truck Championship bucks the trend, however. It's not perfect, but Monster Truck Championship is the best racing game featuring monster trucks yet, and thanks to PS Plus Extra, you can try it for yourself without having to fork out any extra money. Jump into its career mode and you'll find a variety of events to compete in, and as you make your through them you can make your truck truly your own. The PS5 native version even makes it look and perform a bit nicer.
Read our review of Monster Truck Championship
4. MXGP 2021 (PS4 & PS5)
If you're after the best racing games on PS Plus Extra and prefer two-wheeled vehicles instead of four, MXGP 2021 has you covered. And it's even better if you like dirt. The latest entry in this long-running series is undoubtedly the best yet, offering challenging dirt-bike action with authentic teams and physics. You can jump into its career mode if you like, or take on others online. Either way, you're going to get dirty, and you'll love it.
5. RIDE 4 (PS4 & PS5)
RIDE 4 is another one of the best racing games on PS Plus Extra for bike lovers. There's no dirt involved in this one, though. Not unless you go off-road, anyway. And that's not recommended. RIDE 4 is the closest thing you can get to Gran Turismo with bikes, with a single-player campaign that you can really get invested in. Develop your skills, take on more challenging events and buy new bikes; if this sounds like fun to you, consider this a must-play. And while it looks great no matter which format you play it on, on PS5 it's almost photo-realistic.
6. Skydrift Infinity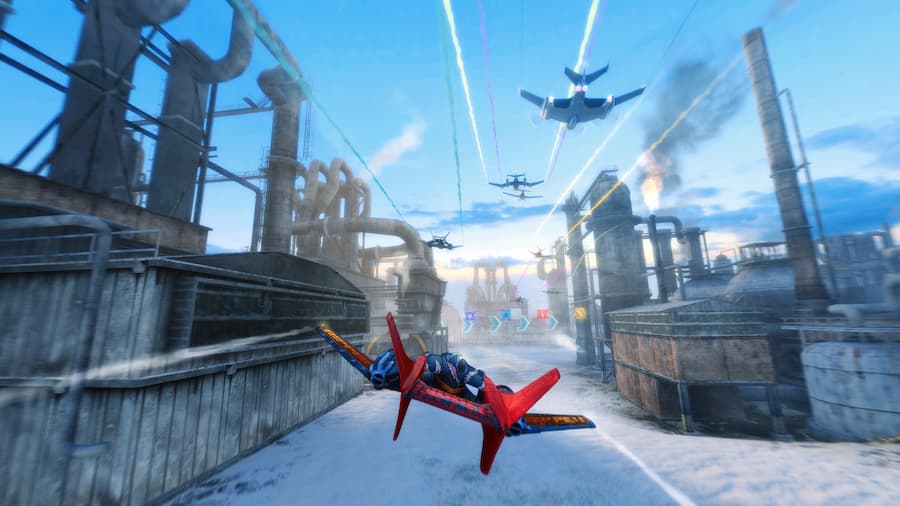 Skydrift Infinity feels like a blast from the past, when arcade racing games were all the rage. Here you're in control of planes, not cars or bikes, and you soar through courses high up in the air. It makes a refreshing change, truth be told, and it's also simply very enjoyable to play. It's not the largest game, but you might find yourself playing through events multiple times thanks to pickups that make them quite unpredictable. There's online multiplayer, too, which hopefully should be more active thanks to the game's inclusion in PS Plus Extra.
Read our review of Skydrift Infinity
7. The Crew 2
When it comes to open world racing games, the Forza Horizon series rules the roost. Alas, it's not available on PlayStation. The Crew 2 is though, and while it pales in comparison, you can still have a heck of a lot of fun with it. Letting you loose on a massive map, The Crew 2 gives you the freedom to progress how you see fit. You might want to race tuner cars, but you could also choose dirt bikes, boats, or even planes first. Even racing is actually optional; you can just explore and complete challenges if you wish. Despite its age, The Crew 2 is still being supported by Ubisoft, too. In fact, a patch was recently released to enhance the game for PS5.
8. Trackmania Turbo
Fancy racing against the clock rather than having other drivers on the track with you? Trackmania Turbo is the game for you. In this outlandish racing game you're presented with one rollercoaster-like track after another. Your goal is to complete each one as fast as possible, but to get the top times you're going to have to practice and really brush up your skills. There is more direct multiplayer for those who want it though, as well as VR support. Just be warned that the latter might make you feel a bit sick.
9. Monster Energy Supercross 5 (PS4 & PS5)
There's already a game for you on this list if you like getting dirty on two-wheeled vehicles, but if you're a supercross fan, chances are Monster Energy Supercross 5 is going to further appeal to you. The latest entry in this series is easily the best yet, with improved visuals and the best physics so far. It also packs in all the features you've come to expect, such as online multiplayer, a career mode, and the ability to create your own tracks. It won't be for everyone, but those prepared to put in the time to master its unique gameplay will love it.
Read our review of Monster Energy Supercross 5
10. Wreckfest (PS4 & PS5)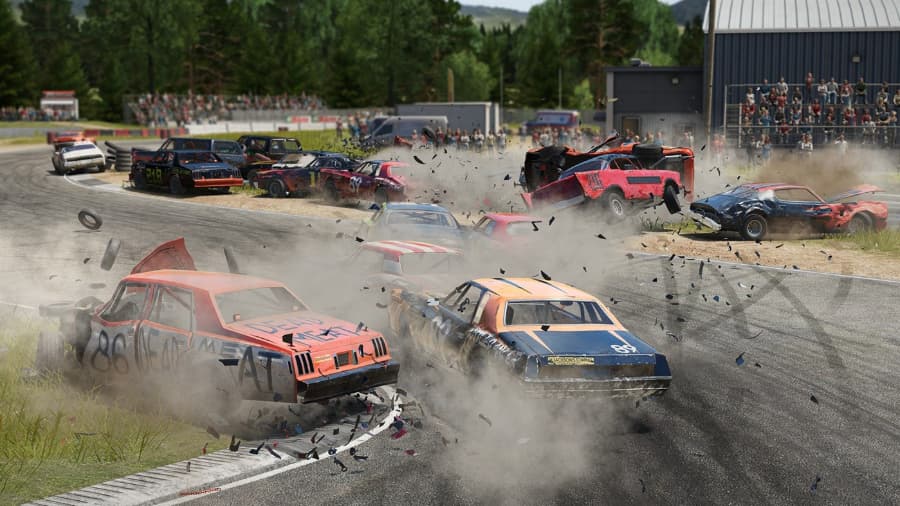 Like your racing to be a bit maniacal? In Wreckfest, while finishing first is generally your goal, you're coerced to bump into your opponents where possible. In racing events, causing damage to other cars is often simply an optional objective. But then there are destruction derby events where it's imperative. Turn the damage up to realistic levels, however, and even races often become a case the last driver with a working vehicle wins. Easily one of the best racing games on PS Plus Extra, this one is a personal favourite of ours, and so we very much recommend that you give it a try.