One of the best things about couch co-op gaming is that you only need one copy of a game for multiple to play. And with Xbox One and Xbox Game Pass, it's even cheaper.
Though the games available to Xbox Game Pass subscribers change rather fluidly, there's always a decent number of local co-op games to get stuck into. Many of the best have also seemingly took permanent residence in Xbox Game Pass, allowing Xbox One gamers to go back to them time after time to get their couch co-op thrills.
So, what are the best couch co-op games on Xbox Game Pass? We think we've got the answer. Check out our list to discover which games you should download the next time you want some couch co-op fun with friends and/or family.
Want to play any of these games? Head over to CD keys to grab a discount on an Xbox Game Pass membership.
1. LEGO Star Wars: The Skywalker Saga
Is there a better couch co-op game than a LEGO game? We'd argue not. And the latest, LEGO Star Wars: The Skywalker Saga, is available to play on Xbox Game Pass. This LEGO game tells the story of all nine mainline Star Wars films, allowing you to experience the full story of Luke Skywalker alongside many other well-known faces.
It's perhaps The Skywalker Saga's drop-in, drop-out co-op play that makes this one of the best couch co-op games on Xbox Game Pass. A second player can grab a controller and join in playing at any point. Perfect for younger players who might not be able to concentrate on a full level. Regardless of who you're playing with, though, this is a fantastic game filled with puzzle-solving, combat and, of course, plenty of brick-smashing.
Read our review of LEGO Star Wars: The Skywalker Saga
2. It Takes Two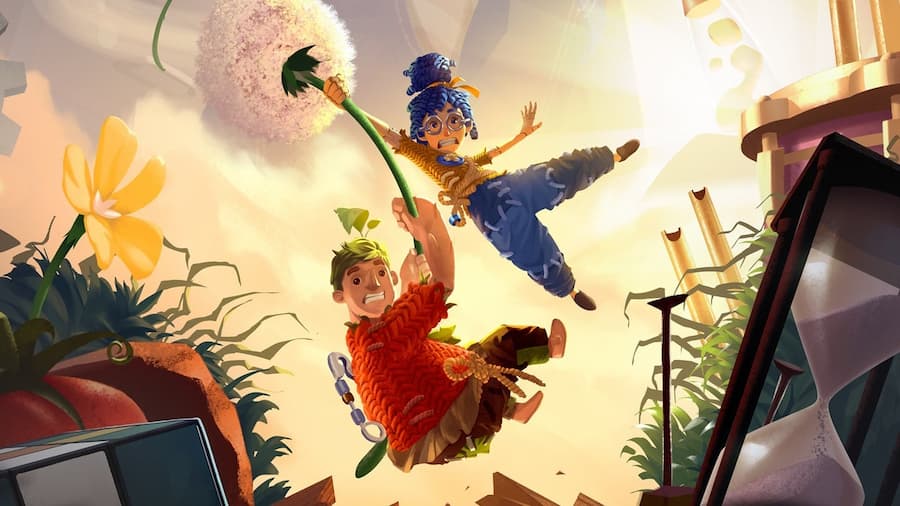 We've waxed lyrical a lot about It Takes Two. But when it comes to couch co-op games, they really don't get much better than this. From Hazelight Studios, the team that brought us A Way Out (which you'll also find further down this list), It Takes Two is special because it can only be played in co-op. That's right; there's no single player option. Whether you're playing with a friend locally or online, you need a second player to be able to play.
And because of this co-op centric design, it means it's balanced perfectly for playing together. There's no player 2 syndrome here, where one player isn't as important as the other. Whether you're playing as the comedic Cody or the more straight-laced May, you're just as critical to the game. You'll need to work together through a bunch of puzzles, platforming sections, adventuring, combat and even flying sections. This really does have everything, and without a doubt It Takes Two is one of the best couch co-op games on Xbox Game Pass.
Read our review of It Takes Two
3. As Dusk Falls
This interactive narrative is not going to be the type of couch co-op game that everyone wants to dive into. It's certainly not a fun-filled party game, that's for sure. But if you enjoy your couch co-op games with some serious substance, then As Dusk Falls is one of the best.
Essentially a TV drama that you play along with, As Dusk Falls tells the story of a group of people caught up in a burglary gone wrong. You'll play from the perspective of the perpetrators and the victims, making key decisions and shaping how the story turns out. It's pretty heavy going at times, but the story will keep you hooked. It's well worth a go if you have a few evenings free.
Read our review of As Dusk Falls
4. Escape Academy
Like escape rooms? Then Escape Academy is for you. This delightful puzzle game is essentially a series of wonderfully-designed escape rooms, all packed with brain-teasing challenges for you to solve in order to break free. While you can play it by yourself, it's best enjoyed in couch co-op, where puzzles are tweaked to allow for co-operation. Besides, some of them are seriously tricky: having another noggin to help you solve them can only be a win.
It'll take around six hours to beat everything that Escape Academy has to throw at you. Maybe a little less if you're really good at puzzle-solving. But it's six hours filled with fun. We loved it, and it's undoubtedly one of the best couch co-op games on Xbox Game Pass. Be sure to give it a go before it's removed from the service.
Read our review of Escape Academy
5. Battletoads
If you're after the best couch co-op games on Xbox Game Pass, you really must give Battletoads a try. Essentially a reboot of the Rare classic, Battletoads masterfully mixes up multiple game genres. At the heart of it lies a side-scrolling beat 'em up, but along the way you'll also engage in some twin-stick shooting, 2D platforming, and more. Our favourite stages are those that have you riding hover bikes into the screen, doing your best to avoid obstacles.
Battletoads supports up to three players in local co-op, with each player taking control of a different Battletoad. So, you might find yourself arguing if more than one person prefers a certain character. Regardless, it's heaps of fun, especially when you factor in its zany humour and amusing minigames. And as it's on Xbox Game Pass, you have nothing to lose.
Read our review of Battletoads
6. Minecraft Dungeons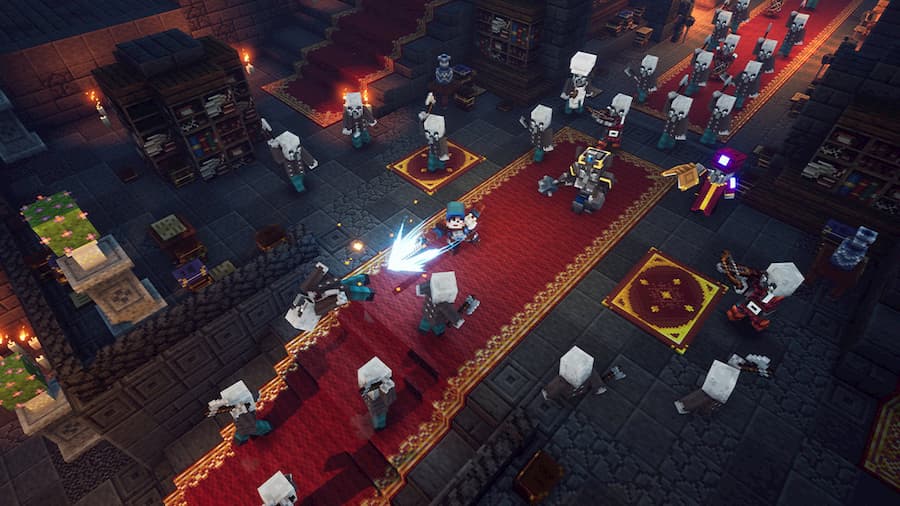 Adore Minecraft? Love dungeon crawlers? Minecraft Dungeons is the game for you. As a first-party title, Minecraft Dungeons launched into Xbox Game Pass on day one and is likely to stay there. Even better, it's best enjoyed when played in couch co-op. It tasks you with taking down the nefarious Arch-Illager, and to do so you'll have to make your way through numerous dungeons. On the way there are monsters to defeat, switches to pull, and mountains of loot to be discovered. It's basically My First Diablo.
Up to four players can play in local co-op, and more players means more fun. Also, while Minecraft Dungeons' campaign is quite short, multiple difficulty options means there's plenty reason to go back time and time again. More content has been added for free since launch though, and paid DLC is also available for those who want more.
Read our review of Minecraft Dungeons
7. A Way Out
When it comes to two-player co-op games, they rarely come much better than Hazelight Studios' A Way Out. It's perhaps only bettered by the studio's most recent game, It Takes Two. But since that colourful adventure isn't available on Xbox Game Pass, we can't recommend A Way Out enough.
Only playable in co-op (that's right – there's no single-player option  here), A Way Out sees you and a friend take on the roles of Vincent and Leo. Both prisoners, they make a pact to break out. And so, you and your friend will need to work together in order to carry out their escape plan. But breaking out of jail is just the beginning; once on the outside, Vincent and Leo have many more obstacles to face – and a lot of police officers to avoid.
With a fantastic story, some truly innovative co-op gameplay and characters you can't help but love, A Way Out is without a doubt one of the best couch co-op games available on Xbox Game Pass. You'll need Xbox Game Pass Ultimate to play this one, though, since it's part of EA Play.
8. Gears 5
The Gears of War series has always been good for a spot of couch co-op, and Gears 5 thankfully doesn't break the trend.
The overarching story continues, with Marcus and co. facing off against yet more new adversaries. Though Gears 5 does attempt to inject a fresh bit of life into the tried and tested formula, with new features and some semi-open world sections. There's also the fact that it looks gorgeous, especially on Xbox Series X.
Two local players can play through the campaign in split-screen. They can even tackle Horde mode, or jump online to play with or against others in a wide variety of multiplayer modes. Needless to say, if you like playing with others in any shape or form, Gears 5 has you covered. And if you want the full story, all of the Gears of War games are available via Xbox Game Pass. Why not play them all in couch co-op?
9. Halo: The Master Chief Collection
It launched with a number of issues, but Halo: The Master Chief Collection is now essential for all Xbox owners, make no mistake about it. And if you have Xbox Game Pass, it's yours to play whenever you like.
A remastered gathering of Halo games one through to four, it offers hours upon hours of brilliant couch co-op gaming thanks to split-screen functionality. Halo and Halo 2 only allow two players, but Halo 3 and Halo 4 allow up to four local players to get in on the action. The more the merrier!
Remastered versions of Halo ODST and Halo Reach are now also available to Xbox Game Pass members via Halo: The Master Chief Collection too, offering even more couch co-op goodness. Needless to say, if you love first-person shooters and local co-op gaming, get it downloaded.
10. Overcooked! 2
Bigger and better than its predecessor, Overcooked! 2 is undoubtedly one of the best couch co-op games available on Game Pass right now.
Working as a team, you'll need to cook dishes on demand as efficiently as you possibly can. But it's not always easy when the kitchens you're working are utterly chaotic. Keeping your cool is necessary, as well as playing to each others' strengths. But most importantly, just have fun. If you love couch co-op, Overcooked! 2 deserves a space on your hard drive.