It's Friday, we're ready to relax for the weekend, and we're feeling contemplative.
As usual, we've all been playing a healthy amount of games this week (or maybe not, according to the World Health Organisation, those schmucks). And you know what? We like to share. That's why we write, after all.
Here are the games we've been mostly playing this week. They might be good, bad, or downright ugly, but we've played them. And who knows, you might be inspired to pick up one of these titles for yourself to enjoy this weekend. Maybe.
---
Rich: Once again, The Crew 2 has been my game of choice this week. When I've not been racing around the streets like a maniac, I've been flying planes closer to the ground than I'd be comfortable with in real life and taking photos at every opportunity. I've also spent some serious time with Red Faction Guerrilla Re-Mars-tered, which has well and truly impressed me with its destructibility. Right now though I'm tackling the Xbox One version of Crash Bandicoot N.Sane Trilogy, which looks mighty fine on Xbox One X, and Pocket Rumble on Switch. In fact, I'll have a review done for that streamlined fighting game soon.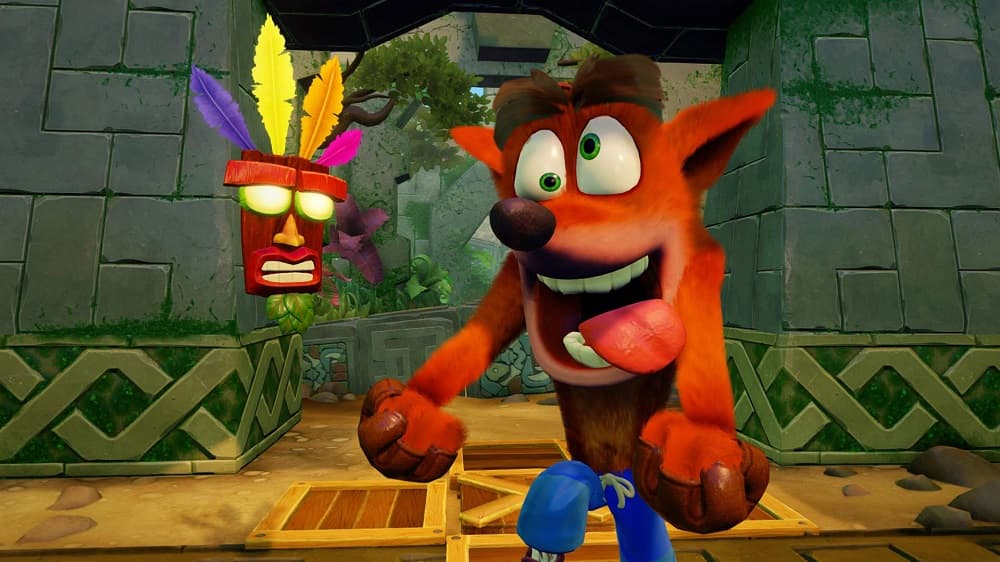 Kim: I'm ashamed to admit that I've continued to spend a whole lot of time playing goddamn Gardenscapes on my mobile phone. When I've managed to drag myself way from match-three puzzle hell however, I sank a bit more time into Mario Tennis Aces and actually enjoyed myself despite my initial misgivings. I've also been playing LEGO The Incredibles. LEGO and Pixar together in one place; is there anything better? Look out for my review of that next week.
Robert: England are still in the world cup, this time through the dreaded penalty shootout. I have been celebrating this win by playing Fifa 16 with my close friends. Why 16, I hear you ask. Well, because it was the only one we had to hand – and the fact that my beloved Charlton are still in the Championship for that year. In the hours we dwindled away, we managed quite a few of our own penalty shootouts. It reminded me that 2015 was a simpler time; a time before the more confusing and tactical penalties that were introduced in Fifa 17. While I am one of the few fans of this new approach to the penalty kick, it was fun going back and being able to play the old-fashioned way. If only I could've emulated England's success.
Chris: I've been Nazi-terminating my way through Wolfenstein: The New Blood and having an absolute blast. I cranked the difficulty down a notch within the first few minutes of playing the game, turning it into a more authentic Wolfenstein experience. True, cover shooters may be all the rage but having grown up with the original, I wanted to be able to wade in guns blazing.
I've also been delving into Nier Automata: Become as Gods Edition which not only looks absolutely gorgeous but has managed to make me feel like an absolute heel. Watch out for my article explaining why I'll never be able to look at a metal dustbin again without being wracked by guilt.
Becca: This week I decided to take a gander at the new Overwatch hero Wrecking Ball on the PTR. He's definitely going to be a very high skill character because you have to be very strategic with his grappling hook and rolling ability. Here's hoping everyone who chooses Wrecking Ball doesn't charge ahead to the point without their team – or worse, pick a place to grapple to and swing around doing nothing the entire game. Players have enough to worry about with the new insane Symmetra changes that no one is going to be prepared when the big hamster joins the team.
Jack: I feel like Warframe's hooks dig ever deeper into me with each passing day. It is one of those games though where I can never tell if what I'm doing is the right thing, and it probably isn't. I've decided to focus on unlocking all the planets and moons to have access to every resource. What sets it apart from other free-to-play games, especially mobile ones, is when you're waiting for stuff to build, there's hundreds of other things to do – Warframe doesn't come to a standstill because you need to wait a day for a town hall to build.
I also started Kingdom Hearts HD 1.5 and 2.5 Remix this week and so far can't get over how derpy Sora looks in cutscenes. Also, Riku, 'The Highwind' is a rubbish generic name for a ship. My suggestion, Archibolde, was much better.
Matt: Like Rich, this week I've put the majority of my time into The Crew 2. I love open world racing and now with the ability to fly, drive a boat, and go off-road, there's so much to do. It's a bustling world that's just as much to drive around in as it as to take in and just snap some screenshots. I've dipped into Arena of Valor on Switch a little, which is a by-the-books MOBA. That's not necessarily a bad thing for the Switch though. I've also played a little of Esper on PSVR, and solving puzzles in VR is as fun as ever. Look out for write-ups of both of those from me next week.
Want to get in touch and let us know what you've been playing this week? Tweet us @game_spew. Have a great weekend, everyone!