As 2022 draws to a close, there's only one thing left for us to do: reflect on the best games of the year.
There have been some truly great games in 2022, and not all of them have made it into our top 10 games of the year. There's the early access – and eventually free-to-play Disney Dreamlight Valley, which has kept us entertained for over 100 hours thanks to its calming and relaxing blend of busywork and creativity. We also loved Neon White, a game unlike anything other that blends speedrunning and first-person shooting to be something rather special.
There's also Core Keeper, Tinykin, Soul Hackers 2, Need for Speed Unbound, The Callisto Protocol, The Devil in Me, Mario + Rabbids: Sparks of Hope, Arcade Paradise and dozens of other games we've absolutely loved in 2022. But this list is to celebrate the best of the best: the games of 2022 that stand out above all others. These 10 games are those we've enjoyed the most, those that have impressed us the most, either down to technical prowess or sheer ingenuity. They're the games that have stuck with us long after we've put our controllers down, and the games we can't wait to go back to play again – if we haven't already.
It's safe to say that despite all the challenges of the industry over the last few years, there are some seriously talented teams out there creating incredible experiences for us to enjoy and revel in. And our picks of the 10 best games of 2022 are just a small sample of that. So here's to the games industry and all the people working in it: a place that can be truly magical, filled with some of the most talented people in the world.
Without further ado, here are GameSpew's best games of the year, 2022.
10. Gran Turismo 7
Available on PS4 and PS5
Release date: 4th March 2022
While Gran Turismo Sport eventually felt like a true entry in the long-running series thanks to a wealth of single-player content being added post-launch, our excitement for Gran Turismo 7 was unprecedented.
Did Gran Turismo 7 live up to our lofty expectations? Perhaps not quite, due to its new menu-based progression system that feels a tad restrictive. But there's no denying that it's proven to be the racing event of the year; its phenomenal handing and physics once again stealing the show alongside its exhaustive selection of cars. As ever, this is a game by car lovers for car lovers, and so it's hard not to fall in love with it once it has you in its embrace. It even sports one of the best photo modes ever conceived.
Read our full review of Gran Turismo 7
Check latest prices of Gran Turismo 7
9. Teenage Mutant Ninja Turtles: Shredder's Revenge
Available on PS4, PS5, Xbox One, Xbox Series X/S, Switch and PC
Release date: 16th June 2022
With the side-scrolling beat 'em up genre seemingly more popular than ever before, it only seems fitting that the Teenage Mutant Ninja Turtles get another slice of the action.
Shredder's Revenge perfectly captures the essence of the old-school arcade classics that the half-shelled heroes are known for. While players have more combat abilities at the their disposal than ever before, the gameplay is still simple enough for anyone to jump in and have a good time. Even better, there's plenty to go at thanks to a campaign filled with a large number of stages and boss battles. Rounding things off is strong visual style that packs in loads of character, and multiplayer options that allow a while group of friends or even a family to get in on the act.
Read our full review of Teenage Mutant Ninja Turtles: Shredder's Revenge
Check latest prices of Shredder's Revenge
8. Strange Horticulture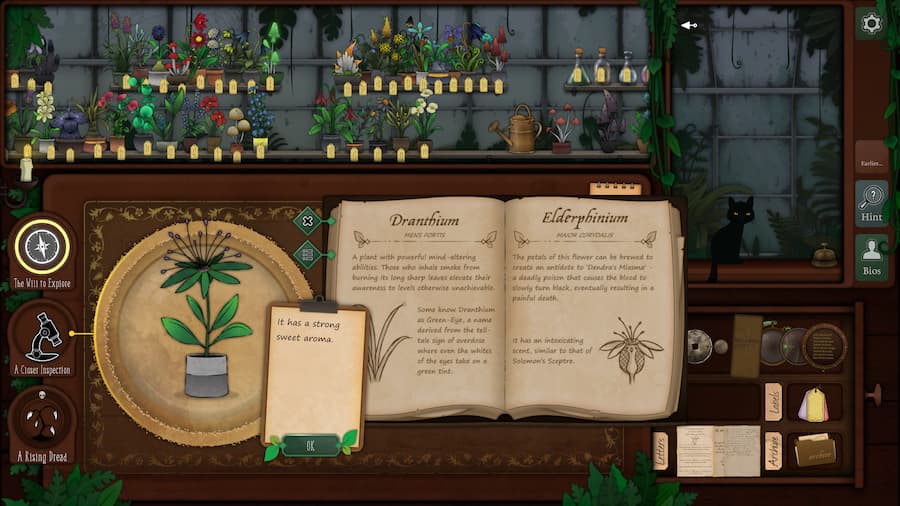 Available on Switch and PC
Release date: 21st January 2022
Despite coming out nearly 12 months ago, we haven't been able to stop thinking about Strange Horticulture since we completed it in early January. A game about running a flower shop might not sound like the most interesting contender for Game of the Year, but there's something rather magical about Strange Horticulture's simplicity. This is a game that doesn't hold your hand in any way: let loose in your own horticulture store located in an eerie English village, it's up to you to help residents acquire the plants that they need. Plants with mystical or magical properties – but you'll have to identify them first.
Equipped with only a reference book, you'll need to identify all your plants yourself, labelling them however you see fit to be able to correctly serve every customer. But you're not just a shopkeeper: Strange Horticulture is filled with satisfying mysteries to get to the bottom of, its setting of Undermere absolutely brimming with secrets to be uncovered. There's so much to love here, and we're rarely so disappointed when a game comes to an end. We could keep playing this forever.
Read our full review of Strange Horticulture
Check latest prices of Strange Horticulture
7. MADiSON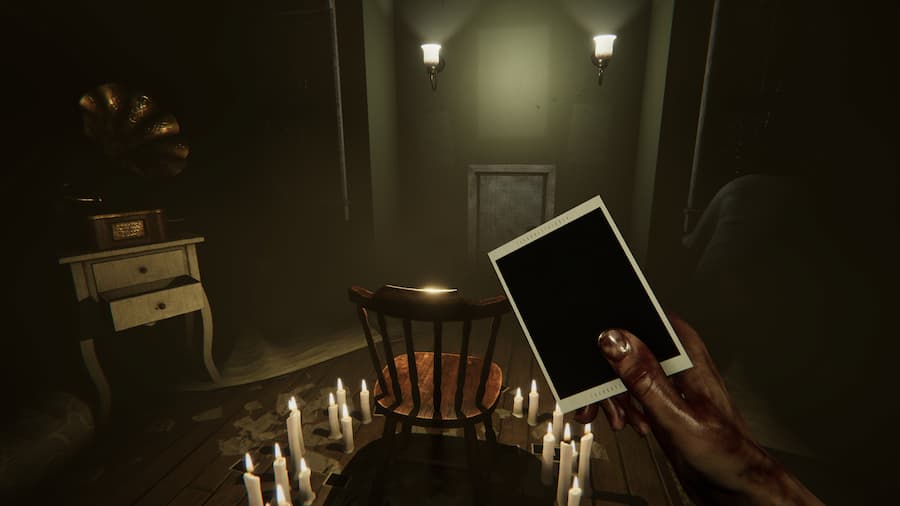 Available on PS4, PS5, Xbox One, Xbox Series X/S, Switch and PC
Release date: 8th July 2022
Indie horror games have released by the bucketload this year, as they do most years. It's a well-worn genre, but very few horror games manage to reach the terrifying highs of MADiSON. We were truly surprised by this first-person puzzle-filled horror game when it released this summer. It's the first game from studio Bloodious, and it has left us eager and excited to see what else the team might come up with in the future.
Not simply relying on jump scares, MADiSON creates an eerie, oppressive atmosphere from the moment you start playing. The area you explore over the course of the game may be fairly small, but it's used to great effect, with new rooms becoming available slowly, each one housing terrifying new secrets for players to digest. The puzzles remind us of genre classics from the 90s: sometimes they've had us scratching our heads, but solving them is always logical and satisfying. MADiSON has set a new standard of indie horror for us, and if you're a fan of scares, this really is a must-play.
Read our full review of MADiSON
Check latest prices of MADiSON
6. Escape Academy
Available on PS4, PS5, Xbox One, Xbox Series X/S, Switch and PC
Release date: 14th July
Harking back to the escape room Flash games that dominated the internet in the early 2000s – and of course recreating physical escape rooms that have become popular in the last few years – Escape Academy is the best escape room experience you can have without having to leave your house. You're the latest student to enrol at the eponymous Escape Academy – and in order to prove yourself, you'll need to work through a series of expertly-created escape rooms, all designed to test your intelligence in various ways.
Escape Academy uses a variety of puzzle types, each one incredibly satisfying to solve. Hints are on hand if you need them, but you'll get the most out of this taxing yet enjoyable game if you figure everything out yourself. It's the type of game you'll need a notebook by your side for – the very best kind of puzzle game – and with a co-op mode baked into the game, you can have a friend help you out along the way. It's rare a puzzle game keeps us as engrossed as Escape Academy did – and we lapped up its first DLC, Escape From Anti-Escape Island, too.
Read our full review of Escape Academy
Check latest prices of Escape Academy
5. Horizon Forbidden West
Available on PS4 and PS5
Release date: 18th February
While the PS5 may not have many true exclusives at this point, the likes of Horizon Forbidden West have proven that Sony's cross-gen focus hasn't held developers back. That is to say that Horizon Forbidden West not only looks phenomenal, but it plays exceedingly well, too.
Picking up where Horizon Zero Dawn left off, Forbidden West finds Aloy still fighting for the future of mankind. And of course, a new location means new enemies and potential allies. You'll encounter them all as you make your way through the game's story, full of twists and turns. And you'll have lots of fun making use of the new weapons and abilities available to you. But be warned, the robotic monstrosities you face here are more fearsome than ever. It makes taking them down all the sweeter, though.
Read our full review of Horizon Forbidden West
Check latest prices of Horizon Forbidden West
4. God of War Ragnarok
Available on PS4 and PS5
Release date: 9th November 2022
2018's God of War reboot well and truly blew out socks off. And so we were of course excited for its follow-up. It didn't disappoint, either, despite not really evolving the formula in any meaningful way.
God of War Ragnarok is simply bigger and better than its predecessor in every conceivable way. The combat is faster-paced, more fluid, and you have more options at your disposal than ever before. Exploration has also been given more focus, allowing you to put the main story on the back-burner at times while you engage in equally riveting side quests. And then there's the story, gripping you like a vice from beginning to end. Who would have thought, a decade or so ago, that a God of War game could make us so emotional? Not us, that's for sure. But here we are.
Read our full review of God of War Ragnarok
Check latest prices of God of War Ragnarok
3. Marvel's Midnight Suns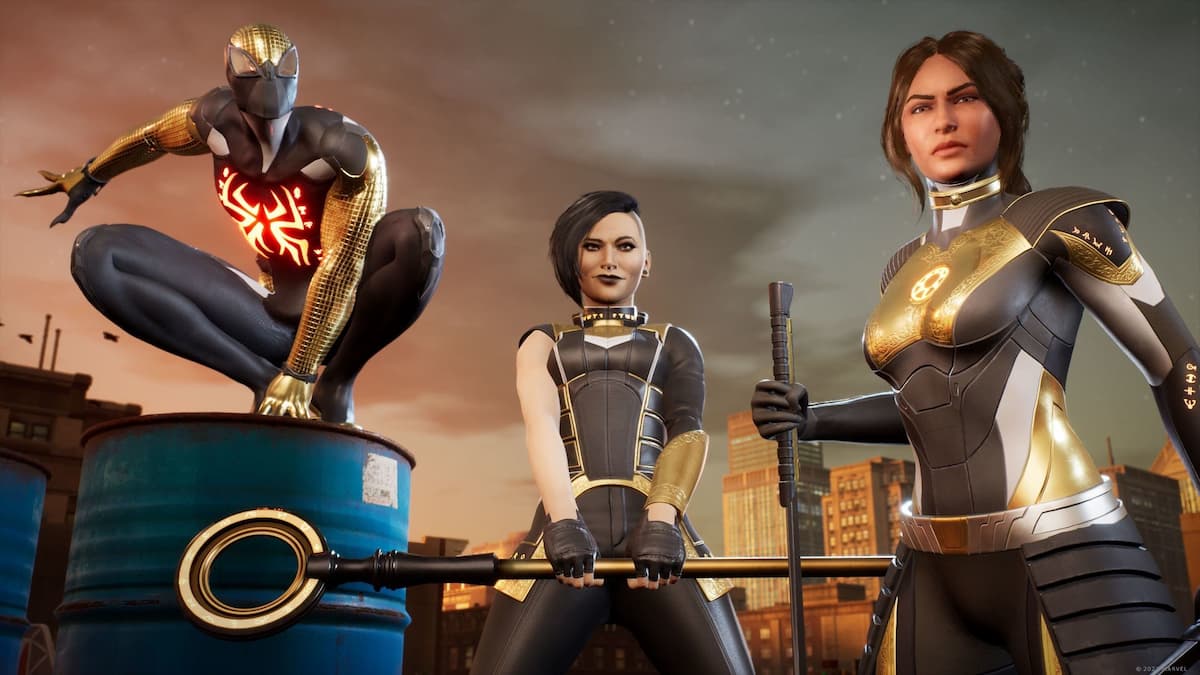 Available on PS5, Xbox Series X/S, PC
Release date: 2nd December 2022
It's safe to say that Marvel's Midnight Suns took us by surprise. Developed by Firaxis, we we expected XCOM with superheroes. Instead, we got a mish-mash of genres with fast-paced, card-based combat. But we wouldn't have it any other way.
Touching on the darker side of the Marvel universe, Midnight Suns has you building relationships with your allies, engaging in epic battles and exploring the vast grounds surrounding your base of operations, the Abbey. It's the combat that really stands out here though, challenging you to make the best of the cards you've been dealt while also using the environment to your advantage. Just play it, and you'll quickly see why it's made its way onto our game of the year list.
Read our full review of Marvel's Midnight Suns
Check latest prices of Marvel's Midnight Suns
2. Eternal Threads
Available on PC
Release date: 19th May 2022
We've never played a game as quintessentially British as Eternal Threads, and that's perhaps why we love it so much. There's a good chance that some of what we love about it will be lost in translation across the Atlantic Ocean. After all, some of the storylines you'll find yourself becoming engrossed in while playing do feel like sub-plots from a slow episode of Coronation Street. But that's the joy of Eternal Threads. It combines a mind-bending supernatural plot with the absolute mundanity of life in a northern English town. The result is something unlike anything we've ever played – and a game that we still think about on a daily basis.
In Eternal Threads, you take on the role of an agent from the future, sent back in time to change a series of events. You're not saving the whole world: rather, your goal is to save the lives of six housemates who all perished in a house fire. To do so, you'll need to work your way through events over the course of the week before they died. You'll witness conversations and actions, with the power to change some of what the six housemates do. Sometimes events seem inconsequential – after all, how can drunk-dialling an ex at a party save someone's life? – but you'll be surprised how events feed into each other. As you unravel hidden secrets and the minutae of the lives of these six people – six people who you'll come to care an awful lot about – you'll hopefully save each of them. Work hard enough and they'll not only survive, but go on to live their happiest lives, too.
Read our full review of Eternal Threads
Check latest prices of Eternal Threads
1. Elden Ring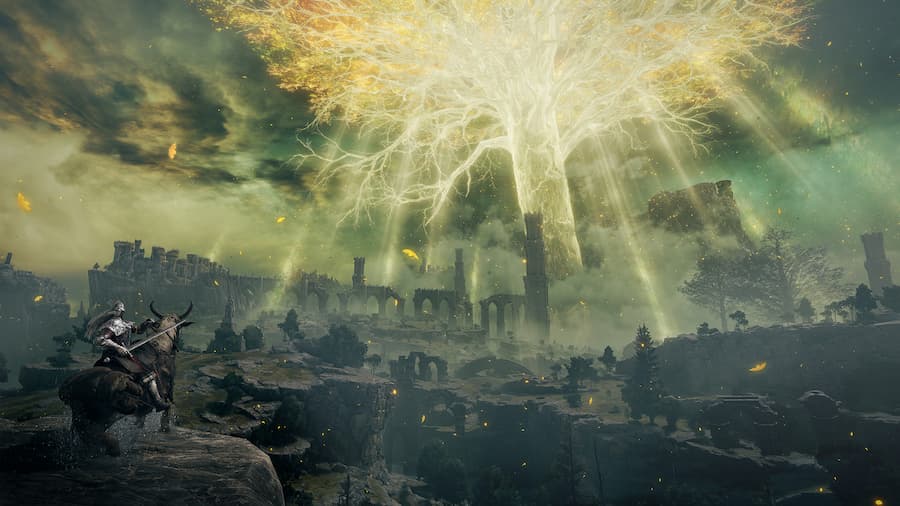 Available on PS4, PS5, Xbox One, Xbox Series X/S and PC
Release date: 25th February
Surprise, surprise. But could there really be any other game in the top spot? Elden Ring is truly a masterpiece, marrying the brilliant level design and combat that FromSoftware is known for with a truly mesmerising open world. Every journey here is full of wonder and surprise, and no moment with the game feels wasted.
This is perhaps the most accessible FromSoftware game yet as well: if you get stuck, you can simply go off, do some exploring and return later, all powered up. And while you can still play with others to take down the game's fiercest foes, when going it alone you can make use of Ashes to summon useful computer-controlled spirits. All this, and more, makes Elden Ring our undisputed Game of the Year.
Read our full review of Elden Ring