Home
Tags
Summer Game Fest 2023
Tag: Summer Game Fest 2023
With Summer Game Fest coming to an end, we're processing everything we've seen, and praising Ubisoft Forward for its excellent pacing.
With this year's Summer Game Fest coming to a close, we take a look at some of last year's games.
Avatar: Frontiers of Pandora, showcased at Ubisoft Forward, certainly looks good but it's got more competition than at the movies.
Coming later this year, Microsoft Flight Simulator's Dune expansion will let you soar over Dune's sandy landscape in an ornithopter.
The Summer Game Fest showcases are over and done with, and so we've rounded up 10 of the best indie games from the show.
Are we going to play Ace Attorney: Apollo Justice Trilogy? Absolutely. But we're still waiting on another pair of Ace Attorney games.
Set 30 years after the original Frostpunk, Frostpunk 2's city has settled down enough that people have their eyes on power.
It's not a next-gen Dino Crisis remake but Capcom Town is still a great way to celebrate Capcom's 40th anniversary.
Ghost Trick: Phantom Detective is a puzzle adventure where you possess objects in order to solve your own murder.
Did you miss the livestream of the Capcom Showcase 2023? Don't worry: we've rounded everything up right here.
If you missed Ubisoft Forward 2023, don't you worry. We've rounded up all of the announcements for you right here.
Launching this October, Assassin's Creed Mirage takes players back to the roots of the series, and we can't wait for it.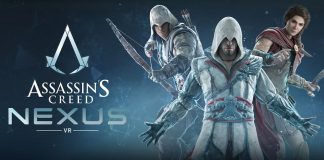 Designed for Meta Quest 2, Assassin's Creed Nexus lets players take control of three legendary assassins from a first-person viewpoint.
Revealed during the Future Games Show, Laika: Aged Through Blood is a brutal and unforgiving motorcross shooter about revenge.
Out in September, Paleo Pines is a farming/life sim set in a world where people live alongside dinosaurs, and it's shaping up to be delightful.
Remember how dire the Umbrella Corporation was in Resident Evil? Undead Inc. could be your chance to get things right.
Sure, slimy things are scary but we get the feeling that Still Wakes the Deep could be terrifying even without them.
Coming this July, Sea of Thieves is getting a three part The Legend of Monkey Island adventure. Now, if only if we could play as Stan.
Star Wars Outlaws is giving us big Doctor Aphra vibes and we're absolutely on board with that. Plus, it has just the cutest sidekick.
Did you miss the PC Gaming Show 2023 livestream? Ah, not to worry: we've got a full round-up for you right here.